Dates:
Thursdays through Sundays, January 18 through March 26
Hours:
10 a.m. – 3 p.m.
Tickets:
Members: Free
Nonmembers: $14
Above prices are discounted $2 when purchased online.
Some individual activities may not be available due to weather and for the safety our guests. In general, Conner Prairie will only close when the outdoor air temperature or wind chill is below 10 degrees, a Winter Storm Warning is issued by the National Weather Service, or freezing rain or sleet is forecasted during operation hours. Updates will be posted on our Facebook page and website.
Join us beginning January 18 for special programming highlighting the beauty of winter! Winter on the Prairie is a one-of-a-kind way to experience everything Conner Prairie has to offer. Grab your boots and mittens as you journey across acres of nature to explore. Discover the tranquility and beauty that can only be found after a fresh snow. Then, join the community of Prairietown to warm up by the hearth as you take in the smells of the food on the fire. Make new friends as you learn how winter was embraced with parlor games and time spent indoors with friends and family — much like it is today.
Looking for a place to play? Check out our two indoor play spaces featuring elements of Discovery Station and special programming that celebrate creativity and play!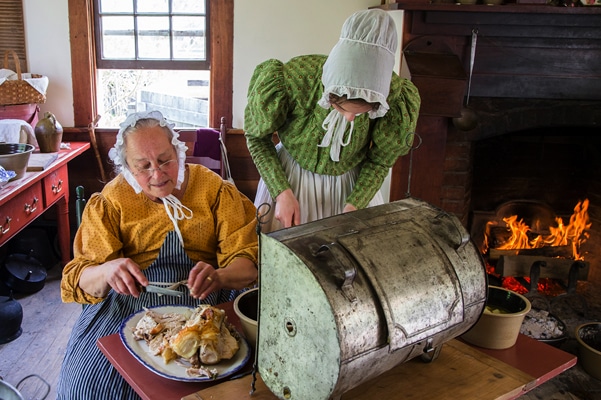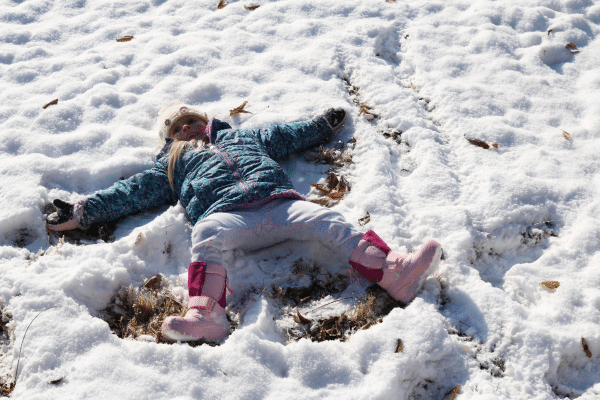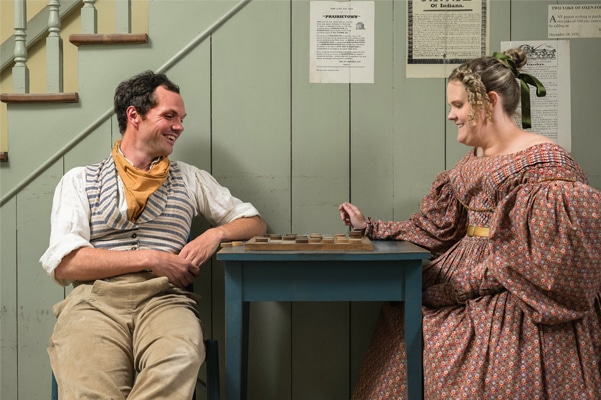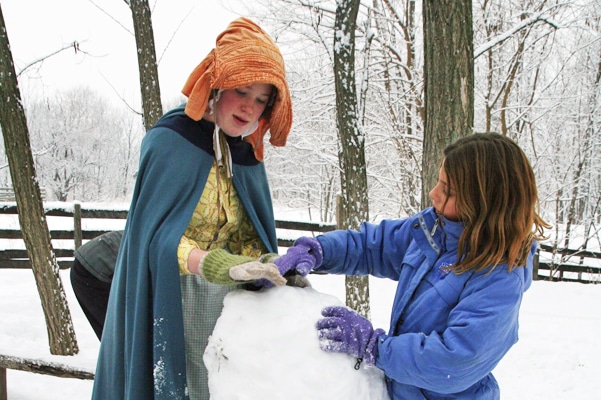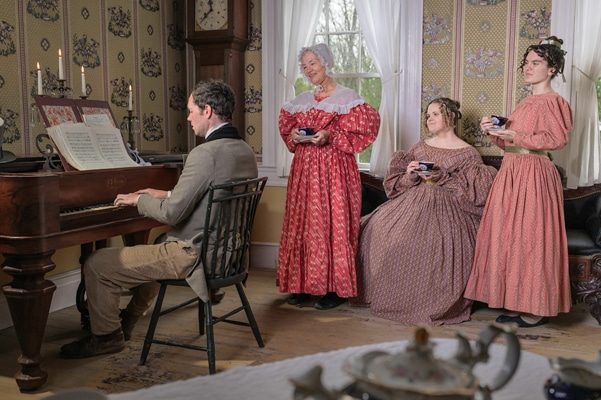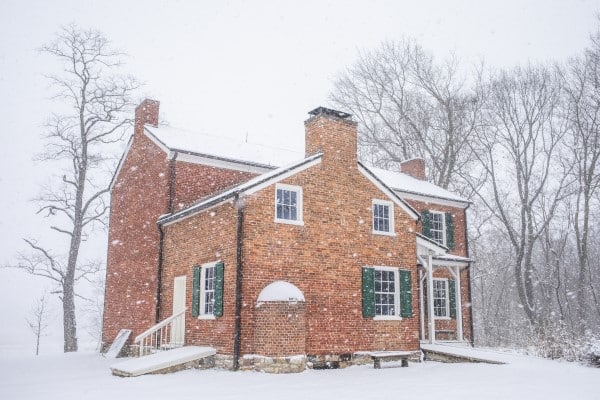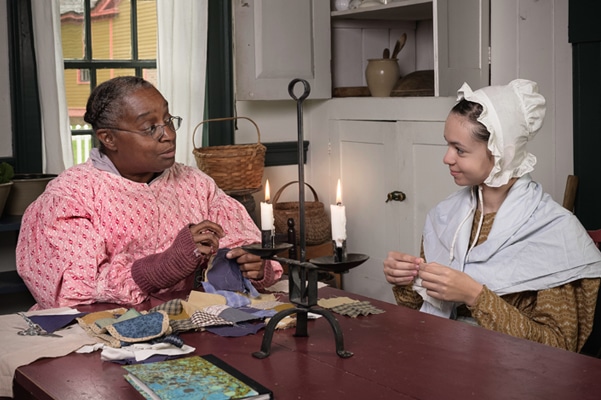 Special Activities in Bayt Pavilion
10 a.m. – Noon: Owl Pellet Dissection (Thursdays and Saturdays)
10 a.m. – Noon: Loose Part Art (Thursdays and Saturdays)
10 a.m. – Noon: Ceramic Tile Storyboarding (Fridays and Sundays)
Play Spaces
Early Learning Play Space: This is a temporary space for Discovery Station/Anything Can Happen Art, and will include the Rig-a-ma-jig, blocks, books, Play Invitations and Art Invitations.
River Crossing (indoor playspace only)
Interactive Buildings
Origins Cabin
William Conner House
Dr. Campbells' House

Healing in the Home: Treating illness in the 1800s was a serious business. Discover the medical remedies from the time with your gallery guide.
Past Patterns: Everyday life always needs some beauty and decoration - past and present. Join residents of Prairietown in exploring the patterns present in embroidery, quilting and weaving before trying your had at these decorative arts.

Golden Eagle Inn

Hearth Conversations: Hearth cooking has similarities and differences to the types of cooking we do today. Explore the kitchen at the Golden Eagle Inn with one of our guides to see how making, baking and cooking in the 1800s was like.
Music at the Museum: Past or present, no one can resist clapping or humming along to a good song. Sing, dance and play along with residents in Prairietown as they fill the Golden Eagle Inn with music and dances from various 19th-centry traditions.

Carpenter's Shop
Morgan's Raid in the Mayfield Nichols store in 1863 Civil War Journey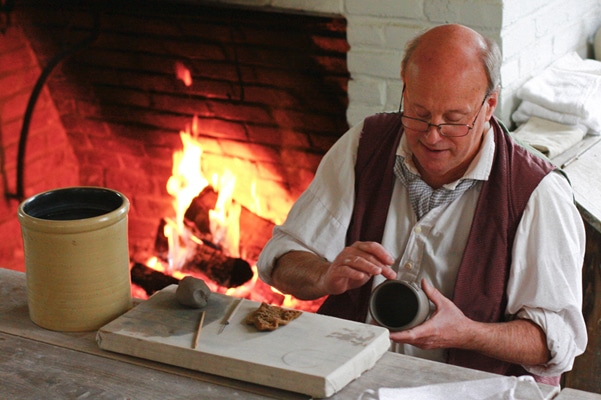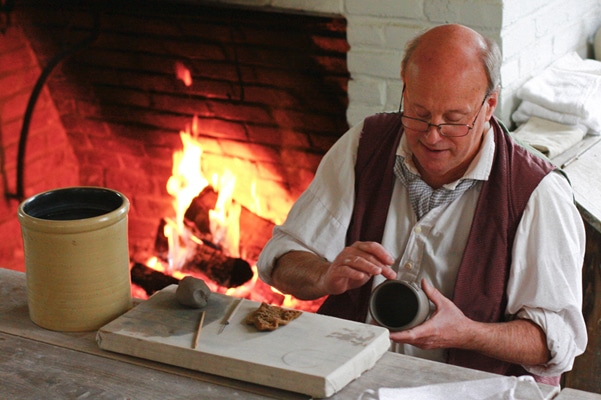 Special Activities
10 a.m. – Noon: Owl Pellet Dissection (Thursdays and Saturdays)
10 a.m. – Noon: Paint to the Beat (Thursdays and Saturdays)
10 a.m. – Noon: Ceramic Tile Storyboarding (Fridays and Sundays)
Play Spaces
Early Learning Play Space: This is a temporary space for Discovery Station/Anything Can Happen Art, and will include the Rig-a-ma-jig, blocks, books, Play Invitations and Art Invitations.
River Crossing (indoor playspace only)
Interactive Buildings
Origins Cabin
William Conner House
Dr. Campbells' House

Healing in the Home: Treating illness in the 1800s was a serious business. Discover the medical remedies from the time with your gallery guide.
Past Patterns: Everyday life always needs some beauty and decoration - past and present. Join residents of Prairietown in exploring the patterns present in embroidery, quilting and weaving before trying your had at these decorative arts.

Golden Eagle Inn

Hearth Conversations: Hearth cooking has similarities and differences to the types of cooking we do today. Explore the kitchen at the Golden Eagle Inn with one of our guides to see how making, baking and cooking in the 1800s was like.
Music at the Museum: Past or present, no one can resist clapping or humming along to a good song. Sing, dance and play along with residents in Prairietown as they fill the Golden Eagle Inn with music and dances from various 19th-centry traditions.

Carpenter's Shop
Morgan's Raid in the Mayfield Nichols store in 1863 Civil War Journey
Special Activities meet at Bayt Pavilion
11 a.m. – Noon: Prairie Architecture Tour, meet at Bayt Pavilion (Thursdays and Saturdays)
11:00 a.m. and Noon: Wonder Walk, Meet at Bayt Pavilion (Fridays and Sundays)
1 p.m. - 2 p.m.: Animal Encounters at Bayt Pavilion
Experiences
Treetop Outpost (weather permitting)
Habitat
Tubing Hill (weather permitting)
Ag Adventures Playground (weather permitting)
Prairietown est. 1836
1863 Civil War Journey
1859 Balloon Voyage exhibit — the balloon will not be flying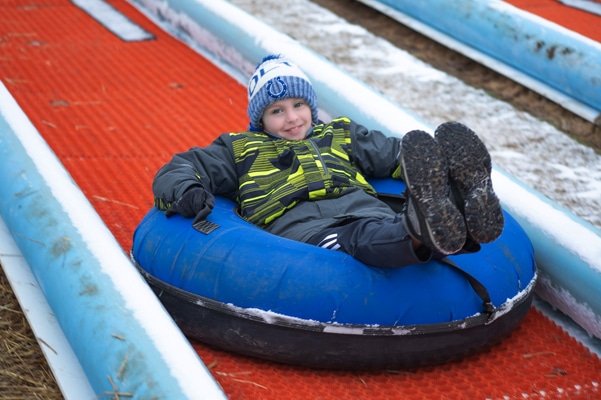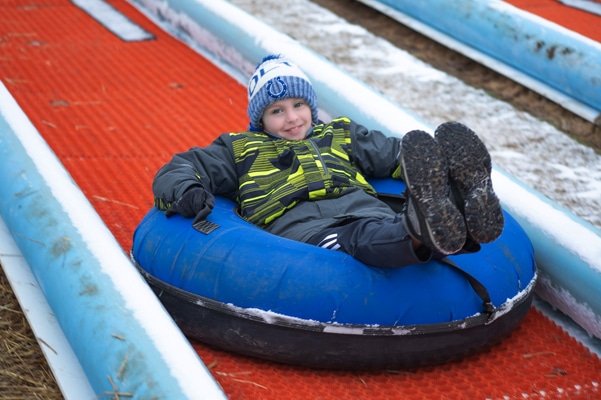 Special Activities
11 a.m. – Noon: Prairie Architecture Tour, meet at Bayt Pavilion (Thursdays and Saturdays)
11:00 a.m. and Noon: Wonder Walk, Meet at Bayt Pavilion (Fridays and Sundays)
1 p.m. - 2 p.m.: Animal Encounters at Bayt Pavilion
Experiences
Treetop Outpost (weather permitting)
Habitat
Tubing Hill
Ag Adventures Playground (weather Permitting)
Prairietown est. 1836
1863 Civil War Journey
1859 Balloon Voyage exhibit