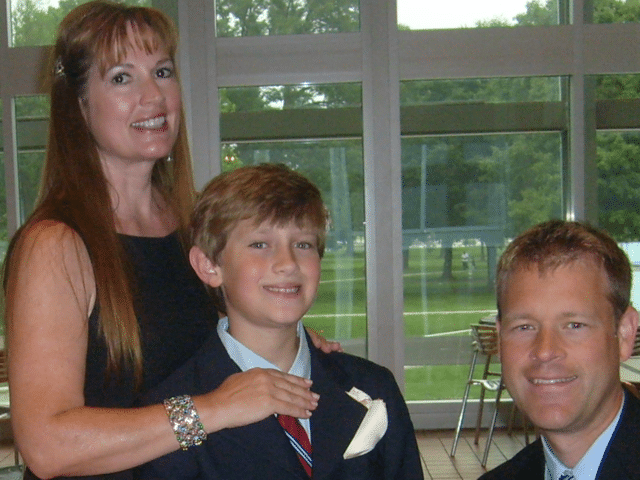 For Kim Gangstad, Conner Prairie's grounds seem to be painted with personal memories.
Originally from Wabash, IN, Kim has now been coming to Conner Prairie for over 20 years. It all started with her first date with her husband Mike when they attended Symphony on the Prairie. Now, Kim is an active member of the Alliance and frequent Apple Store volunteer. Being on the grounds brings back memories from her past - time spent with family and friends at the barn, and watching her son enjoy doing chores at the Golden Eagle Inn.
"It feels like my childhood, because I grew up in the country with a bank barn and all kinds of different animals. That's something my son didn't have."
In addition to the memories, the experience of being in nature is an important part of Kim's connection to Conner Prairie - walking and relaxing with cell phones turned off. To Kim, immersion is something that makes Conner Prairie special.
"What Conner Prairie means to me is the immersive experience that you receive from being out in open nature. It has such a pastoral feel. You can see a simpler way of life, and you learn that history through immersion. You're not looking at it through pictures. You come her and you get to live it."
After years of spending time with her family on the grounds, Kim decided it was time to become a Donor Level Member.
"It started with a Voyager membership. Part of that was because we enjoyed Headless Horeseman so much and I really wanted to be able to bring guests here. I wanted to share everything here with my friends, and if I could say "I have a membership! I can include you"  they'd feel comfortable coming."
Kim continues to see the impact that philanthropy has on Conner Prairie. Philanthropic supports passes along opportunities for learning. It allows the museum to stay and immersive experience that connects past, present, and future. To Kim, this idea is central to her case for support. "It's handing down history to children, to adults, people of all ages through an immersive experience. Sustaining, more children being able to come and have the experiences that my husband and I are fortunate enough to give to our son at any given time. It goes towards costumes for the interpreters."
What would Kim say to someone considering giving a gift to Conner Prairie?
"It would be supporting a continuation of our heritage. When you think about your heritage, it's how you connect. I believe that's how people make connections and that's how you become empathetic and sympathetic."