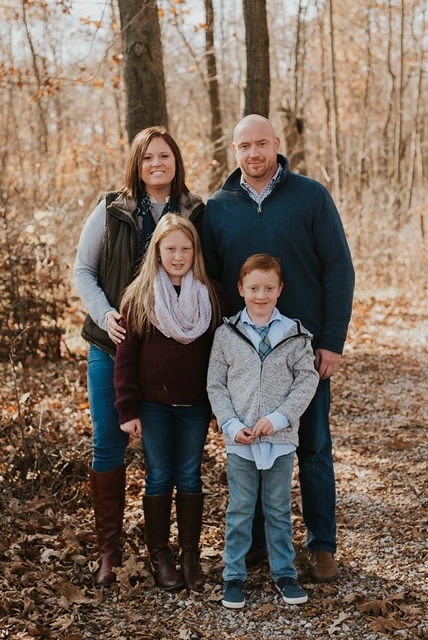 When did you and your family first visit Conner Prairie and what has kept your family coming back?
We discovered Conner Prairie when our daughter was a toddler. It was close to where we lived and easy to get to, so we visited frequently. She loved the animals and play area at that age, but the experiences have kept us coming back. We find something new each time we visit and as the children get older, new things will pique their interest. The balloon was always been a favorite. "Conner Prairie Balloon" was one of our son's first phrases. He would point and said "Conner Prairie Balloon" every time he saw it. To this day, he still looks forward to going up in the balloon!
What impact has Conner Prairie had on your children through its mission to inspire curiosity and foster learning?
Our experiences at Conner Prairie have had a tremendous impact on our children's curiosity and learning.
They love the hands-on learning in Maker Space, as well as the interaction they have with the interpreters in Prairietown or the Civil War Journey. As early as two or three years old, they'd bring eggs from the chicken coop to the Inn and learn what the Innkeepers were making, and how they made it without modern day conveniences. It is just so special and different from other museums and makes learning fun and interactive. The outdoor spaces is a huge attraction as well, and they explore something different each time we visit.
At what point did you decide to support Conner Prairie beyond a standard membership and what impact do you see or hope to see through your giving?
We started in incremental steps. As we started using more of the museum beyond the play area, we saw advantages to the first level of donor membership. After upgrading our membership that first time, we reflected on what it means to be at the donor level. It means giving the opportunities and experiences our family loves so much to others that may not be able to experience Conner Prairie in the same way we have. Knowing our membership is helping others be exposed to Conner Prairie is why we've increased our contribution and continue to donate every year.
You previously served as the President of the Horizon Council. How do the voices and perspectives of young professionals inform Conner Prairie's future?
Conner Prairie has historically been thought of as "a place your visit on a 4th grade field trip," but it is so much more than that. As a member of the Horizon Council, I've been afforded the opportunity to not only facilitate, but to provide input on how to best create awareness and engage adults in the lesser-known programming Conner Prairie offers. Some of our favorites so far are History on Tap, Sunset Balloon Flights and Hearthside Supper. What we really enjoy during those events is being able to experience history, the grounds and friends in a new way. It is my belief that exposing young professionals to Conner Prairie will foster ongoing engagement that will help bring fresh ideas and continue to grow their importance in the community. As a nonprofit organization, community engagement is crucial to awareness and growth.
Any words to share to encourage others to continue their support of Conner Prairie and/or how they can inspire others to get involved?
Our connection to Conner Prairie grows when we reflect on time we've spent there with our family and friends. When we visit Conner Prairie, we put the rest of our lives on hold and spend quality time with each other. We put away our phones, forget about our to-do lists and focus on each other. It's rare to get those moments anymore  with kids' sports, homework, careers and devices creating noise in our day-to-day lives. What we love about Conner Prairie is the ability to push pause on our chaotic lives and find endless ways to experience history, the outdoors and each other in its purest form...without electronics. We are always looking for new opportunities to give that timeless gift to others through our service and donations to Conner Prairie.