It's time to visit, explore and step into the story this fall at Conner Prairie!
Our historic interpreters are excited to meet you outside in areas that you have come to know and love, like Prairietown! You'll also have opportunities to participate in special outdoor experiences at Animal Encounters, Lenape Indian Camp, the William Conner House and other spaces across our grounds.
We will be abiding by all CDC recommendations, including the mandatory wearing of masks by staff and guests inside of buildings, bathrooms, admission check-in, and outdoors where social distancing isn't possible (you may remove your mask while drinking and eating).
Hours of Operation:

Member Only Hour - Wednesday 10:00am-11:00am
General Admission - Wednesdays 11:00am-3:00pm , Thursday - Friday 10:00am-3:00pm, Saturday - Sunday 10:00am-5:00pm
Family Night (open to all)- Saturday 5:30pm-8:00pm. Same experience as is offered during the day. Same ticket rates apply.

1859 Balloon Voyage is scheduled to fly, weather permitting

Ticket Prices

Tickets: Adults/ $18, Seniors 65+/$17, Youth 2-12/$13 (advance online only)
Group tickets (15 guests or more): Adult/$14 and Youth/$9. All groups will be required to have a capacity of 25 or less and remain as a group during visit. Thursday-Sunday only; reservations in advance required. Call Guest Services at (317) 776-6000 or email groups@connerprairie.org
Access Pass Cardholders with ID: $2 at gate
Military Cardholders with ID: Free admission for Military personnel, Military Adult/$9 and Military Youth/$6.50 at gate
Frequently Asked Questions
Members: Advance online tickets must be printed and ready for scanning at the Entrance Check In gate. Member cards and photo ID are required. 
Guests: Advance online tickets must be printed and ready for scanning at the Entrance Check In gate.
No. The Welcome Center will be closed; please follow the Entrance and Check In signs after parking. Once admitted at the Entrance outside admission gates, there will be no re-entry.
Yes. The Cafe on the Commons will be open with credit card only orders. You may also bring in a picnic lunch and blanket and eat on the Amphitheater lawn. Please keep your belongings with you at all times during your visit.
Conner Prairie will only accept credit card payments, no cash accepted.
No. Stroller and wagon rental will not be available at this time, please plan accordingly. Wheelchair rental will be available; limited quantities.
No. In order to minimize exchange of items between guests and staff, coupons will not be honored during this time. 
Yes. We know our members have lost time due to our unexpected closure, and we want to reassure you that you can still enjoy a full year of visits with your membership. We have extended all memberships that were active or purchased during our closure by three months. This extension has already been applied automatically, and no action is required on your part. Although we will not be sending out new membership cards, your existing cards will still work for three months beyond the printed expiration date. We can't wait to see you again!
Mask Requirements for staff & guests - Conner Prairie will display signage asking guests to comply with CDC recommendations regarding wearing of masks. Masks are required in the following areas: admission check-in, restrooms, indoor buildings and all areas where social distancing is not possible. All front-line, guest-facing staff will wear masks and be separated from guests by a barrier placing them greater than 6ft-26ft from guests.
Restrooms/Mom's Rooms - Staff and guests will have access to public restrooms located on our grounds that will be regularly cleaned. The Welcome Center Mom's Room and River Crossing Mom's Room will be made available by request to families in need of changing and breastfeeding locations.
Hand sanitizer will be located throughout the grounds.
Grounds Patrol - Conner Prairie staff will be located inside and outside the museum to answer questions, encourage social distancing, monitor access to areas and provide general customer service.
Food and Beverage - outdoor lunch locations will be located on our map around Clowes Commons and Featherston Barn for families and group picnics. Our Cafe on the Commons will provide food and beverages within guidance from governmental officials.
Store - Conner Prairie Store will operate in the Welcome Center at designated times.
Weather/Emergencies - In the event of bad weather or an emergency that would require guests to otherwise move indoors - all guests and staff will be instructed to shelter in cars.
Conner Prairie will only accept credit card payments for all transactions, no cash accepted.
Our Welcome Center and Conner Prairie Tram will not operate at this time. To gain entry to our grounds, all members and guests will enter through our Symphony Gates with their printed advance tickets.
Upon entry, guests will be given a map providing details of our modified experience areas. Most of our outdoor experiences will be open with some elements closed. River Crossing will remain closed until permitted to reopen by the City of Fishers.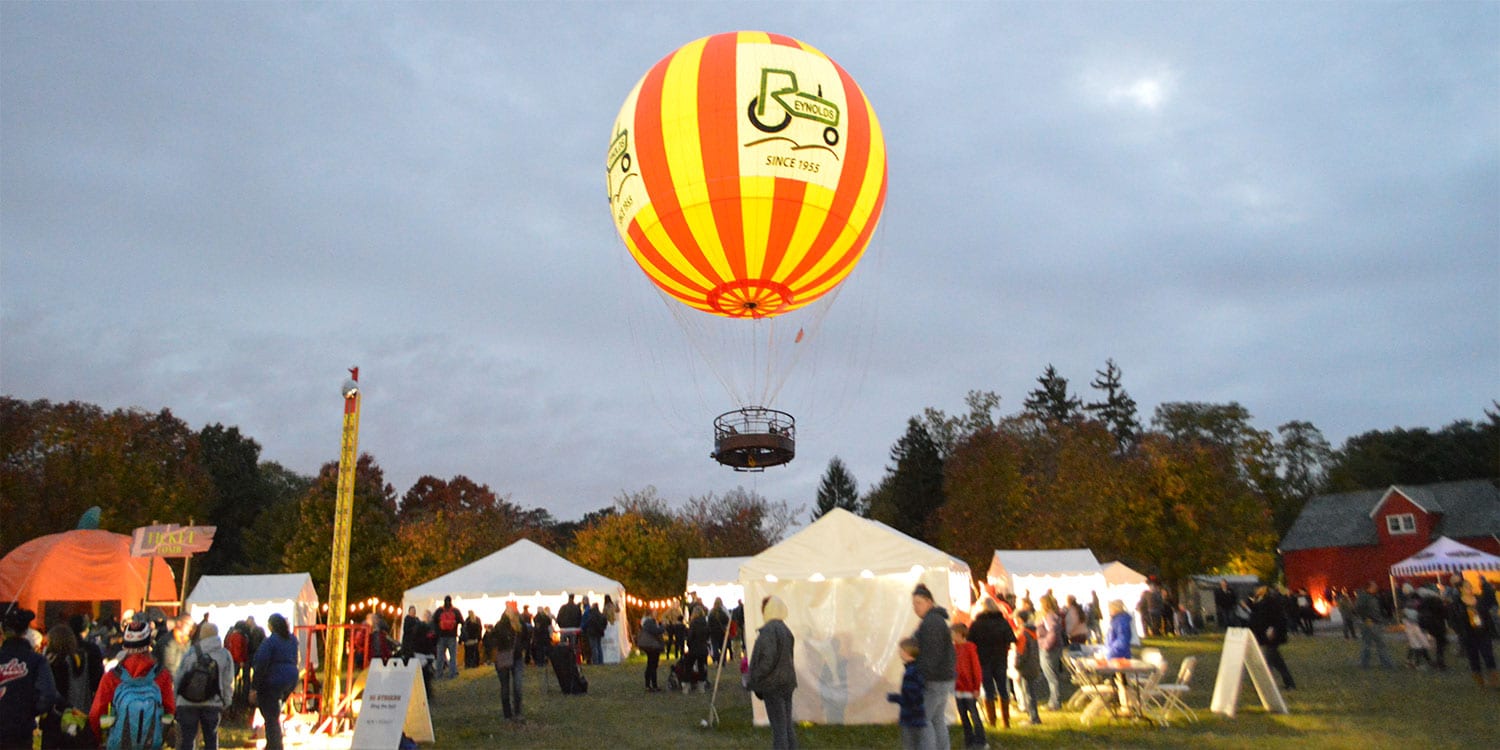 Ticketing 
All flights for the 1859 Balloon Voyage are limited to 12 passengers or less. If passengers arrive and are waiting in line to board prior to 15 minutes of their flight time, they will be directed to a designated area outside of the normal boarding entrance. No food or drink will be permitted in the waiting area.
View Conner Prairie's Back on Track plan: