Record attendance, national honors highlight 2017 for Smithsonian affiliate Conner Prairie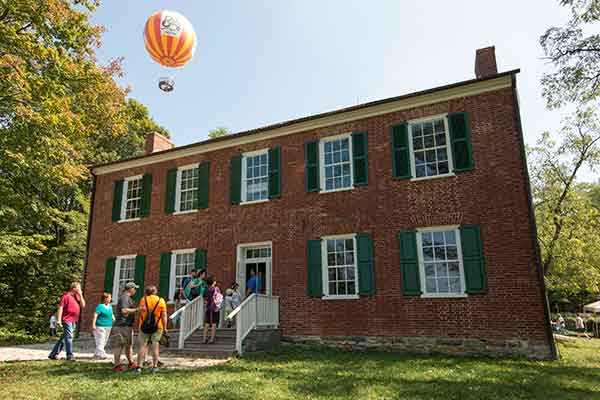 Conner Prairie breaks it's annual attendance record.
FISHERS, Ind. – Conner Prairie, one of the most-visited outdoor history museums in the U.S., broke its all-time annual attendance record and several special event attendance records last year.
At its 2018 Annual Meeting Wednesday, the Indiana museum announced its 2017 attendance was 428,602, the highest since Conner Prairie was founded 84 years ago. That number is up 37,341 people from 2016. Visitors came from 46 U.S. states and 22 foreign countries.
Membership also grew to a record high as 8,267 families consisting of 39,332 adults and children joined Conner Prairie last year. Other milestones:
21,005 people took flight in the museum's tethered helium balloon, generating record annual revenue of $231,048
123,855 people attended Kroger Symphony on the Prairie, an all-time record
32,500 people attended the Headless Horseman fall festival
11,570 guests attended three free admission days, including a record 4,757 people on President's Day
575 adult volunteers gave a combined 41,273 hours of service to the museum and 100 youth volunteers ages 10-18 gave 120 hours each throughout the year
In 2017, Conner Prairie received a national award for exhibit excellence from the American Alliance of Museums. The museum was also named one of the most-visited outdoor museums in the U.S. by Education.com, Ancestry.com, Family Living Magazine and Outdoor History Museum Forum. And Conner Prairie made international headlines when an extremely rare English Longhorn calf was born via embryo transfer at the museum.
This year, new programming and exhibit enhancements will be occurring now through the fall. One enhancement will open March 27, the first day of Conner Prairie's 2018 outdoor season. Fort Hoosier will be an addition to Treetop Outpost, a four-story treehouse surrounded by hands-on activity areas nestled in the woods along the White River. The new area will promote free play in nature.
Spanning more than 1,000 wooded acres in central Indiana, Conner Prairie is a Smithsonian Institute affiliate. The museum offers outdoor, historically themed destinations and indoor experiential learning spaces that combine history and art with science, technology, engineering and math to offer an authentic look into history that shapes society today.
SOURCE
Conner Prairie