Start planning your Wedding on the Prairie.
Your wedding day is a once in a lifetime event. Why not make it the best experience possible at a truly unique location?
Whether you are looking for a traditional wedding package that is affordable and all-inclusive, or hoping for something truly unique, Conner Prairie has many options available for you. We offer a variety of venues and dining selections that can accommodate the wedding style you envision.
To get started, please contact Catering and Banquet Sales at 317-776-6000 ext. 381 or email catering@connerprairie.org.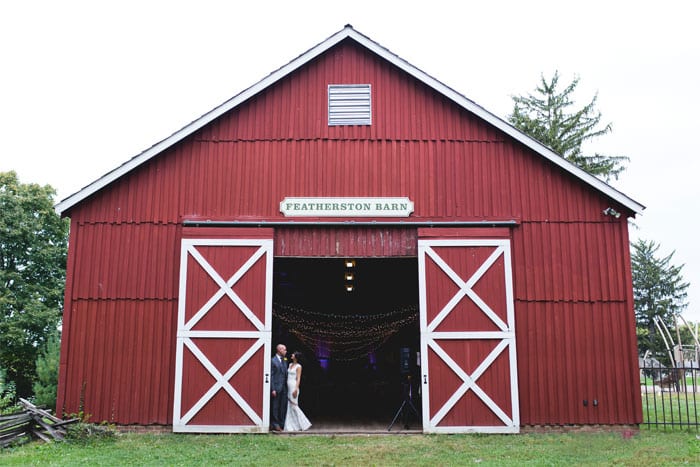 Weddings on the Prairie Venues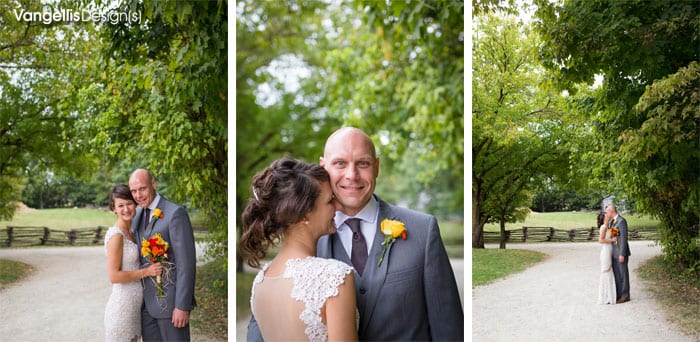 Everything has led you to this place in time.
Our unique setting offers a variety of indoor and outdoor venue options. Whether you are planning an extravagant evening or a casual social affair, we can help ensure that your event runs perfectly.
Nestled in a wooded setting is a house with an artistic interior.
Tucked away among the trees and rolling hills, this house has spacious cabin style.
The iconic red barn provides a rustic feel inside and out.
A room with a view and a stone fireplace makes a perfect setting for celebration.
This large meeting space in the Welcome Center can be divided or kept open for large groups.
Science, technology, engineering and math come together with history in a seamless, one-of-a-kind voyage through time.
"We enjoyed working with you, and have had so many compliments on the venue, the event, the food! Thanks for all your help!"
Karen
Frequently Asked Questions

Reservations for all events, including weddings, typically may be booked one year in advance. Due to Conner Prairie's open-to-the-public schedule, some event planning may have time, place and advance planning restrictions.
Typically your officiate will orchestrate the ceremony, but the staff at Conner Prairie is very accustomed to hosting wedding ceremonies and receptions and will assist you with many details and the order of events.
All food and beverage excluding the wedding cake must be purchased through Conner Prairie and/or the preferred food vendor.
The guaranteed number of persons attending your function is required 7 days prior to the event date. If more guests are in attendance than the guaranteed number, the actual number served will be charged.
Conner Prairie is responsible for the quality and freshness of food served to your guests. Due to health code regulations, food may not be taken off of the premises, packed in to-go containers or left out longer than the set serving time.
In order for Conner Prairie to properly set up for your wedding, we ask that you keep the number of people assisting you during your set up time to six (6). A two hour set up time can be allowed and must occur before or after the prevailing historic park's normal operating hours. Time allowed outside of the parameters must be discussed and agreed upon with Conner Prairie management. Conner Prairie reserves the right to refuse entry to the facility to anyone who arrives earlier than their designated time. Please notify your sales contact regarding your outside vendors e.g. florists, cake providers, musicians/DJ or decorators who will be coming in to set up for your event.
Rehearsal times for ceremonies are offered as a courtesy to the wedding party and are arranged by your sales contact. Rehearsal times cannot interfere with any other scheduled events and must be finished by 7:00 pm. Approximately one hour is allotted for rehearsals and may or may not be in the same area as the actual wedding ceremony.
Conner Prairie will not be liable for weather or any other cause beyond the museum's control. Refunds will not be given for weather related changes. The staff at Conner Prairie does have your best interest in mind and will do everything possible to ensure a successful event.
Ceremonies held outside of the contracted reception space are subject to set up and equipment fees. Please reference Weddings on the Prairie for more information.
Any components of the event that are based on consumption and/any additional agreed-upon "add-ons" to the contracted terms during the event will be invoiced and submitted to the contracting client within five (5) business days following the event. A client-supplied credit card may be charged or another approved method of payment can be arranged. All contracted food and beverage will be assessed and an 8% sales tax and a 20% service charge added to the final bill.
Bubbles and ringing bells may be used to celebrate the departure of the bride and groom. Rice, confetti, birdseed, balloons and sparklers are not permitted.
Your sales contact will revise your event agreement when your final count is given 7-10 days prior to your event. You will pay at this time based on the estimate. If there are any items that are on a consumption basis, a client-supplied credit card may be charged or another approved method of payment can be arranged.
Most ceremonies are approximately 30 minutes and wedding receptions are approximately four hours long.
The historic grounds of Conner Prairie have long been a desired backdrop for wedding photographs. Limitations of our historical park open for business hours and/or special events that take place throughout the year make special scheduling necessary to get picture taking accomplished. Conner Prairie will work with you and your photographer, to the best of our ability, for "day of" photography. This may mean that picture sessions on the grounds may not take place until after the park closes at 5 p.m.or can be taken prior to the park opening at 10 a.m. A Conner Prairie staff member must escort the picture-taking excursion. Your sales contact will discuss the fees associated with photography services.
All deposits are non-refundable and are not transferable to other dates. If your event is cancelled fewer than 30 days prior to the function date, a cancellation fee of up to 100 percent of the estimated charges on the event agreement may be assessed.
There is no fee for parking. However, for wedding events held the same day as a Conner Prairie special event, or on Symphony on the Prairie dates, parking for all guests of is based on a first come, first served basis. If arranged for during the contracting process, a limited number of parking passes will be provided for wedding party attendants and designated family members. The use of these passes does not guarantee preferred parking but will give a few designated wedding guests the chance to park as close as possible to the main building. The passes merely direct the parking attendants to allow access to surface parking; it does not guarantee availability. Any party members who have personal license plates and/or placards for accessible/handicapped parking will be directed to that special parking lot with proper display and documentation of their plates/placards.
Further Questions about Weddings on the Prairie? 
Contact Catering and Banquet Sales
317-776-6000 ext. 381  | catering@connerprairie.org