Whether it's an important corporate meeting or a day as significant as your wedding, Conner Prairie will make your event an unforgettable experience.
Choose from a room with a spectacular view of the open prairie or a private retreat house nestled in the woods. How about an outdoor picnic pavilion or a rustic-chic barn? Spread out over 800 acres of scenic land, this is the perfect setting for your next big event. You won't find another staff more dedicated to making your event flawless. Large or small, casual or elegant, we can handle your catered event and add the special touches that make Conner Prairie unique.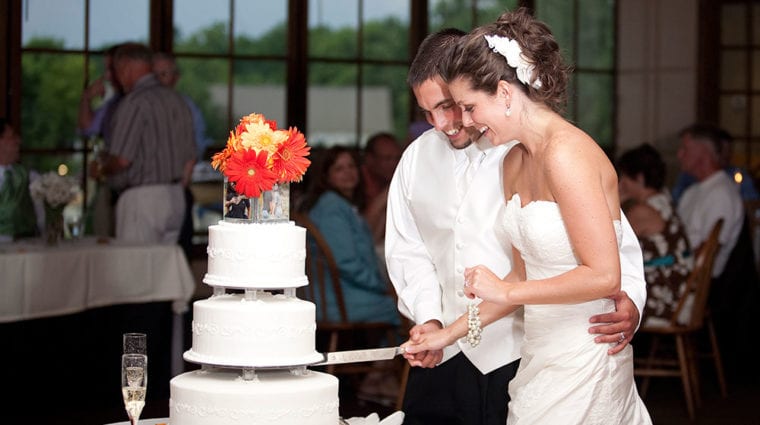 Prairie House
Rustic with a modern update.
Tucked among the rolling hills of Conner Prairie's northern grounds, the newly renovated Prairie House offers a refined, rustic ambience with ample onsite parking. The vaulted, window-lined meeting space opens to a covered deck overlooking scenic woodlands. Ideal for wedding receptions, corporate retreats and other large gatherings.
Dimensions: 57 ft. x 39 ft. (meeting room)
Area: 2,223 sq. ft.
Capacity:
Banquet: 180 (5-ft. tables of 10)
Standing Reception: 370
Featherston Barn
It's the real thing.
The perfect stage is set for a rustic chic wedding, reception or event. Rough-hewn posts and solid plank floors frame oversized barn doors that open onto an enclosed grass lawn - ideal for outdoor ceremonies or pre-meeting cocktails. Accommodates up to 140 seated guests (10 per table) allowing for buffet, dance floor, display tables and bar.
General admission is required during public hours.
Dimensions: 59 x 25 x 15
Area: 1,475 sq. ft.
Capacity:
Banquet (rounds with 8~10 seats): 112 ~ 140
Standing Reception: 150
Overlook Room
A room with a spectacular view.
Panoramic views, a massive fireplace and an adjoining outdoor deck make this a spacious and welcoming backdrop for a wide range of meetings, receptions and holiday celebrations.
Dimensions: 63 x 38 x 12

Area: 2,394 sq. ft
Capacity
Banquet (round tables of 8): 120
Standing Reception: 250
Woodland Hall
Flexible meeting and dining areas for any gathering.
This large, flexible space is ideal for corporate meetings, receptions, classes or banquets. Woodland North and Woodland South combine into one large meeting room or can be divided into two smaller ones. North-facing windows provide light and a wide view of the lawn and grounds.
Dimensions: 90 x 36 x 12

Area: 3,240 sq. ft
Capacity
Banquet (round tables of 8): 200
Standing Reception: 300
Facility Fees
Daytime - Ending at 5:00 p.m.: $800.00
Evenings - Starting at 6:30 p.m.: $1,100
Dimensions: 56 x 36 x 12
Area: 2,016 sq. ft
Capacity
Banquet (round tables of 8): 144
Standing Reception: 200
Dimensions: 34 x 26 x 12
Area: 1,224 sq. ft
Capacity
Banquet (round tables of 8): 64
Standing Reception: 125
1859 Balloon Voyage
Events at the balloon
Welcome to our 1859 Balloon Voyage, and your chance to take flight! The exhibit surrounding the balloon is an immersive experience with interactive activities, fun photo backdrops and realistic town square stores. After hours, this venue can be reserved to host meetings or a cocktail reception guests will always remember.
The culmination of this experience is the ability to step into the gondola of our tethered balloon, and be lifted 370 feet over Conner Prairie.
Chinese House
A House with an Eli Lilly Connection
One of Conner Prairie's crown jewels is tucked away in the woods and not open to the public. But this historic home is available for corporate retreats, weddings, and parties year round. Eli Lilly purchased this 1910s house in 1949 and refurbished it using Chinese art and architectural touches. Today, guests can see the intricately painted ceilings and Asian-architectural elements in this unique space and enjoy the long screened in porch that overlooks the White River. The house features a main seating area and four breakout rooms.
General admission is required during public hours.
Lilly Theater and Meeting Rooms
Presentation-style and the space you need.
The Welcome Center features a theater with a capacity of 100 for business meetings and classes. Breakout rooms nearby provide plenty of room for conferences and classes.
Dimensions: 25 x 35 x 15

Area: 875 sq. ft
Capactiy: 100
Dimensions: 30 x 16 x 10
Area: 480 sq. ft
Capacity
Classroom: 33
Conference: 23
Dimensions: 29 x 23 10
Area: 667 sq. ft
Capacity
Classroom: 33
Conference: 30
Dimensions: 53 x 16 10
Area: 848 sq. ft
Capacity
Classroom: 50
Conference: 30
Choose from three different-sized outdoor shelters that offer outdoor fun with a respite from the elements.

Bayt Pavilion
Gather your larger groups here.
The Bayt Pavilion seats 315 at classic wooden picnic tables with plenty of room for food and drink. This three-sided pavilion provides shelter from the elements and a fireplace for colder days and nights.
General admission is required during public hours.
Dimensions: 93 x 38 x 10

Area: 3,534 sq. ft
Seated Capacity: 315
Hilltop Shelter
Picnic with a view.
Our mid-sized picnic shelter is set away from the hustle and bustle with a scenic view of grassy fields and the 1859 Balloon Voyage. Enjoy the adjacent volleyball court, too.
General admission is required during public hours.
Dimensions: 56 x 32 x 10

Area: 1,792 sq. ft
Seated Capactiy: 125
Picnic Shelter
Picnic steps from the experiences at Conner Prairie.
The Picnic Shelter is ideal for small gatherings and birthday parties. Children can climb and slide on the nearby playground and guests have room to relax in the shade. Enjoy the view of Featherston Barn, the 1859 Balloon Voyage and the scenic beauty of the open areas around this picnic space.
General admission is required during public hours.
Dimensions: 38 x 17 x 10

Area: 646 sq. ft
Seated Capacity: 64
Download Venue Information and Maps