$13/adult
$9/youth age 2–12
Free for tour escorts and bus drivers
Minimum: 15 people
March 27-October 28, 2018
Let us plan the perfect day for you and your group. Email grouptours@connerprairie.org or call 317-776-6000.
Connect with your group as you dive into the ultimate discover-and-learn experience! You not only see what life was like in the 1800s, you experience it together. Immerse yourself in the lives of the Lenape Indians, strike a deal with the Prairietown store owner or experience the 1863 Raid on Indiana. Trek along the Nature Walk, soar in the 1859 Balloon Voyage and experience Create.Connect where we celebrate Indiana's innovative spirit! Each area offers dynamic and interactive experiences to help engage you and your group with a piece of our past.
Guided Architectural Tour for Groups
Join us for this 90-minute guided walking tour where we discuss the origin and history of the William Conner House and the select buildings in 1836 Prairietown. Filled with behind the scenes information, including original construction dates and relocation history, this is sure to please both history buffs and lovers of architecture.
When your tour ends, your group admission allows you to stay and visit our experience areas for the remainder of the day. Wind your way back through Prairietown, experience it as a "visiting traveler", or cross the covered bridge and experience our 1863 Civil War Journey. You may also want take a flight in our 1859 Balloon Voyage (additional cost and weather dependent).
$17 per person for groups of 10 or more (includes admission to visit our historic grounds after the tour).
To reserve your Guided Architectural Tour and plan your visit, call Guest Services at 317-776-6000.
*Please note; this program requires walking and standing for 90 minutes.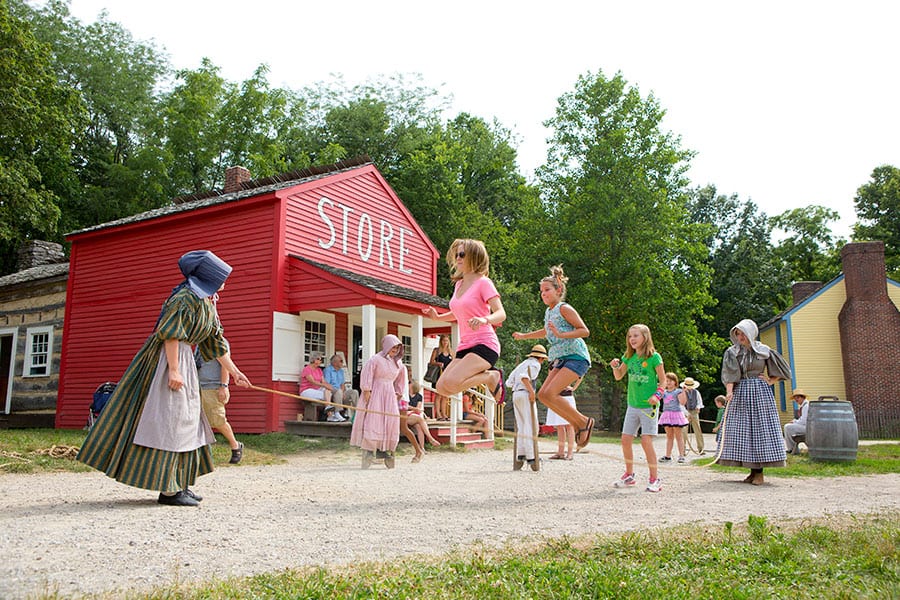 Bulk & Bundled Tickets
Conner Prairie is pleased to offer discounted bulk admission tickets for businesses and organizations to use as gifts, promotions or rewards.
Whether you use them to say "Thank you" to a client, "Well done" to an employee or "Give us a try!" to prospective customers, Conner Prairie tickets are a unique gift. These tickets are also great for church groups, moms' groups, neighborhood associations, and others. Purchased in a bundle, these tickets can be used with a group or in any combination you choose.
General Guidelines
Tickets can be paid in the form of cash, check or credit card.
Tickets must be purchased in bundles of 20 and are available in both adult and youth tickets.
Tickets are for daytime, general admission only and are valid for one year from the order date. Bulk admission tickets cannot be combined with any other offer and cannot be used for Headless Horseman, special events, classes or programs.
Your guests will bypass the general admission ticket line. All bulk-ticket guests will check in at the Information Desk to redeem their tickets and receive a map and guest sticker for the day.
To purchase tickets
To purchase tickets call Group Sales at 317-214-4468 or email jyoung@connerprairie.org.
Adult tickets: $14
Youth Tickets: $10 (a 20-25% discount off general admission rates)
Prepaid tickets will be distributed via regular mail within 10 days of purchase, or are available for prearranged pick-up at the Conner Prairie Information Desk.
Tickets expire one year from date of purchase and are good for daytime admission only. All sales are final, no refunds or exchanges will be given for unsold or unused tickets.