Currently Closed - See you next fall!
The Apple Store is our primary fundraiser with proceeds supporting the mission and programs of Conner Prairie. This seasonal treasure is managed by the Conner Prairie Alliance.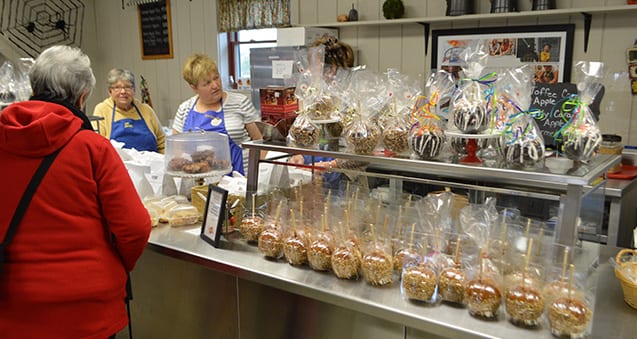 Hand-dipped caramel apples
Salted chocolate caramel dipped apples
Gift Baskets
The Apple Store takes special orders during its open season for gift baskets, gourmet dipped apples, and specialty items for work parties, birthdays, and other celebrations.
Fun Facts - 2017 in Review
Our little Apple Store sold a lot!
700 single apples
115 pecks of bruised apples (think
applesauce and baking pies)
1,001 gallons of cider
2,341 hot ciders
13,162 slushies
6,220 plain caramel apples
6,156 nutty caramel apples
595 gourmet apples
891 chocolate toffee apples
1,136 salted chocolate apples
1,658 plain Annie apples
1,434 nutty Annie apples
4,337 specialties
2,428 apple fitters
2,836 bags of fresh popped popcorn
441 pies
820 pie slices
4,330 dozen donuts (that's 51,960 individual donuts!)
24,120 donut holes
What a year! Now let's do it again!
Apple Store Recipes
Check out these quick videos on some delicious treats you can make with ingredients from our Apple Store!
Apple Butter Coffee Cake
Learn how to make delicious coffee cake featuring apple butter from the Apple Store.
Spicy Apple Bread
This spicy apple bread features raisins, nuts and fresh, delicious apples.
Apple Store Crisp
This Apple Store Crisp recipe features crunchy apples, a sweet topping and is best served warm with ice cream on top!
Apple Cranberry Salad
A perfect fall salad! Learn how to make Apple Cranberry Salad using our delicious apples.
Thank you to Conner Prairie Alliance for making The Apple Store possible!