New Hires to Help Conner Prairie Transform its Role in the Community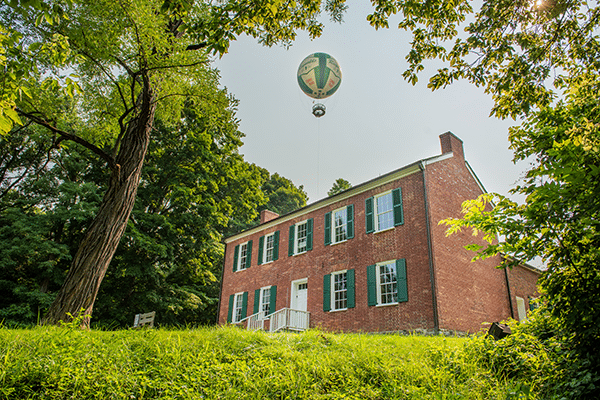 Strategic Leadership Additions Will Advance Guest Experience; Interpretation; Development; And Diversity, Equity, Accessibility, And Inclusion
INDIANAPOLIS — Over the past year, Conner Prairie has expanded its teams with several key strategic new hires to advance guest experience; interpretation; development; and diversity, equity, accessibility, and inclusion (DEAI) efforts at the living history museum and Smithsonian affiliate.
The growth kicked off in February 2021 when Conner Prairie welcomed Dr. Charlene J. Fletcher as Curatorial Director, in part to help Conner Prairie develop a new permanent exhibit, and original programming focused on Black Americans' religious experience in the 19th century.

"Dr. Fletcher is helping us tell a larger story about the historical and contemporary complexities of Black life in Indiana in the 1800s," said Norman Burns, president and CEO of Conner Prairie. "Her guidance is driving Promised Land As Proving Ground — an exciting expansion of the Prairietown experience, which will explore the vital role of religion in the lives of antebellum Black settlers, who often thought of the Northwest Territory as their Promised Land."

Fletcher brings key experience gleaned in her past work with The Children's Museum of Indianapolis; from her time as a research fellow for the Kentucky Historical Society and the Gilder Lehrman Institute of American History in New York; and from her tenure as an editorial assistant for the American Historical Review. She was the Emerging Voices Postdoctoral Research Associate in Slavery and Justice at Brown University, and holds a Ph.D. in History from Indiana University, specializing in 19th century United States and African American history and gender studies. Fletcher is currently an affiliate faculty member in Africana Studies at Indiana University – Purdue University Indianapolis, and previously served as a lecturer of Criminal Justice at the City University of New York and an adjunct lecturer in Global and Historical Studies at Butler University.
In April, the museum hired Mari Carpenter as Director of Interpretation and Historic Research. Carpenter's 25 years of museum experience in collections management, exhibitions, curation, education, historic research and registrar methodology has made her an invaluable resource and leader for the interpretation department. She joins Conner Prairie from the John and Mable Museum of Art in Florida, where she was the associate director of collections/ chief registrar and responsible for over 50,000 objects and exhibitions displayed in galleries and historic buildings on an 66 acre museum campus. Other leadership roles at the State of Delaware Division of Historical and Cultural Affairs, the National Civil Rights Museum in Memphis, The Children's Museum of Indianapolis, and the Smithsonian Institution Traveling Exhibition Service have allowed her to make a quick impact on Conner Prairie's interpretation programs and strategy. Carpenter holds a BA in American History from Indiana University and a MA in American history in African American history from the University of Cincinnati.
The addition of impact staff will continue In December, when Abbie Edens joins the team as Associate Vice President of Guest Experience. A museum educator at her core, Edens' 19 years in the museum field has included work with the National WWII Museum (New Orleans, Louisiana), The Columbus Museum (Columbus, Georgia), the Taubman Museum of Art (Roanoke, Virginia), and Heritage Museums & Gardens (Sandwich, Massachusetts). She holds a BA in Art History from Purdue University and an MA in Art History from the University of Louisville, and brings extensive experience in project management — especially around programming for children, families and adults.

Conner Prairie will also welcome back Jennifer Sommers as Associate Vice President of Development in December. Sommers will lead strategy for the entire Development Division of Conner Prairie, including cultivating strategic growth, and stewarding its annual fundraising goals. She previously served as a Director, responsible for the diversification of local and national Foundation relationships, and has also held key leadership and fundraising roles with Herron Classical Schools (Indianapolis), The Josselyn Center (Northfield, Illinois), Stop Childhood Abuse and Neglect (Fort Wayne, Indiana), Turnstone Center for Children & Adults with Disabilities (Fort Wayne, Indiana) and Science Central (Fort Wayne, Indiana).

"Our teams have been energized by the leadership and insights of these four talented women," Burns said. "The year ahead is going to be full of transformative and exciting changes for Conner Prairie, and I am confident that they will all play a major role in helping our museum continue to meet the community where it is, and elevate what we can aspire to be in 2022 and beyond."
To learn more about what's new, and what's on the horizon at Conner Prairie, visit our website.
###
About Conner Prairie
Spanning more than 1,000 wooded acres in Central Indiana, Conner Prairie welcomes more than 400,000 visitors of all ages annually. As Indiana's first Smithsonian Institute affiliate, Conner Prairie offers various outdoor, historically-themed encounters and indoor experiential learning spaces that combine history and art with science, technology, engineering and math to offer an authentic look into history that shapes society today. Conner Prairie is a 501(c)3, nonprofit organization – accredited by the American Alliance of Museums – that relies on grants and philanthropic donations from individuals, corporations, and foundations for sustainability and growth. For more information visit ConnerPrairie.org.