Conner Prairie stewards 1,046 acres of natural habitat and green space including over six miles of shoreline across the White River. Through our community efforts, ecology preservation, river education, and restoration, our outdoors allows us to learn, explore, play, and inspire curiosity.
White River Education and Ecology Center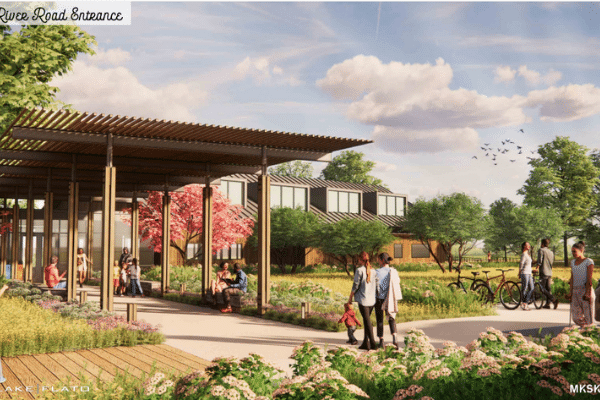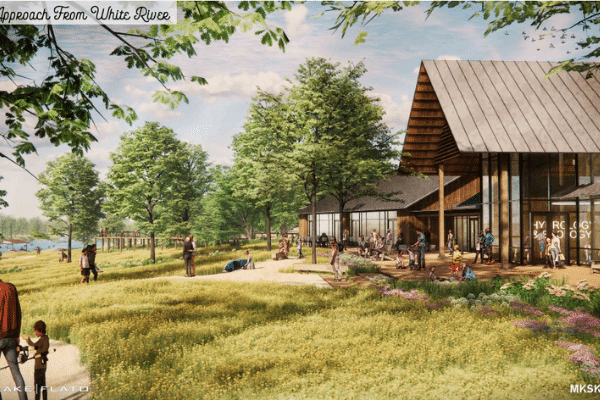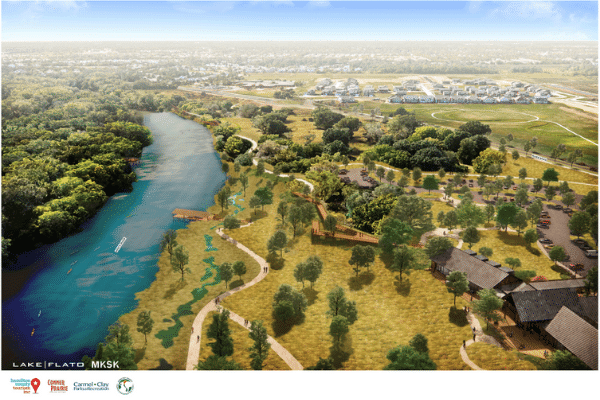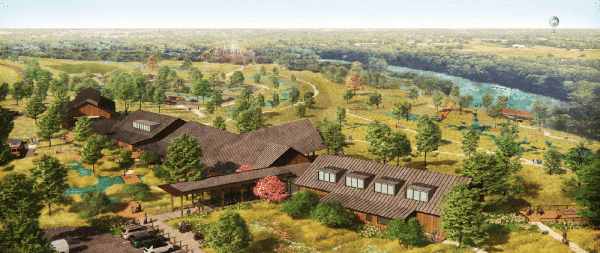 Connecting Community Through a Shared Vision of the White River
The Conner Prairie White River Education and Ecology Center is an opportunity for Conner Prairie, neighboring municipalities, and higher education institutions to come together to create environmental education, programming, and research. The Center will allow visitors to experience the White River and its role in the regional ecosystem and will complement other planned environmental and programmatic improvements in this area.
Learn more about how Conner Prairie is working to enhance the White River
We propose the creation of a Transformational Outdoor Nature Experience that will foster informal learning and well-being through play and nature exploration.  It will be designed to accommodate guests of varying ages and abilities and will:
Activate an additional 260 acres, immersing guests in woodlands, prairie and the shore of the White River
Create nearly 3 miles of trail and up to four Education Hubs along the shoreline of the River
Provide evolving Education Hub content such as nature, history, art, or environmental learning
Inspire land and water stewardship by educating guests about the White River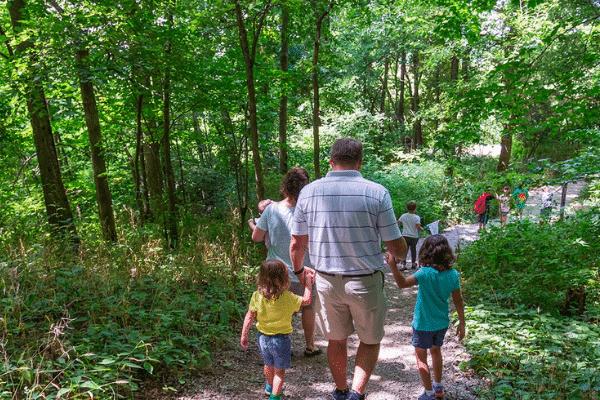 Take learning outside with our nature walk and discover the plants and animals that call this land home. Interpretive signs along the way display how this land was used in the past and how it is being used today.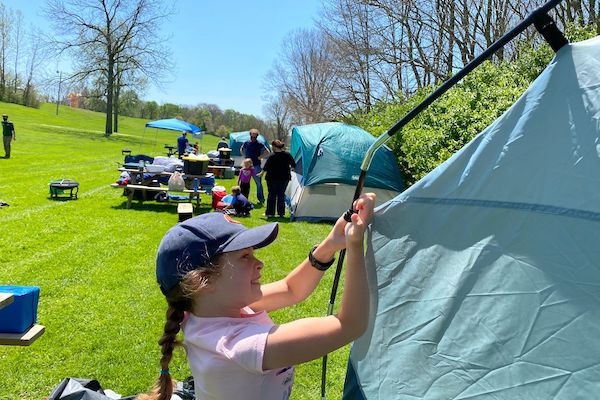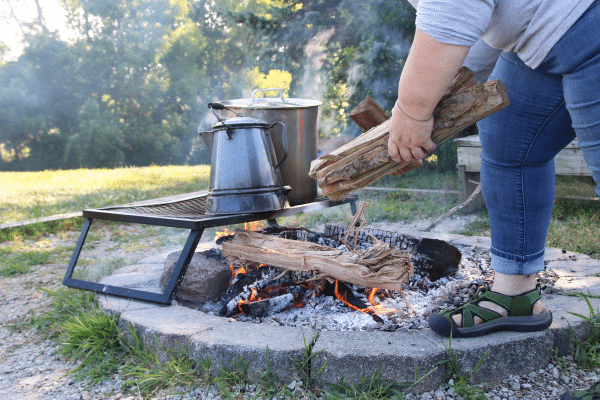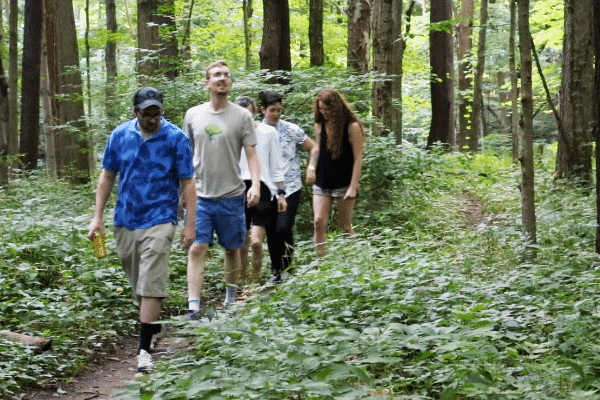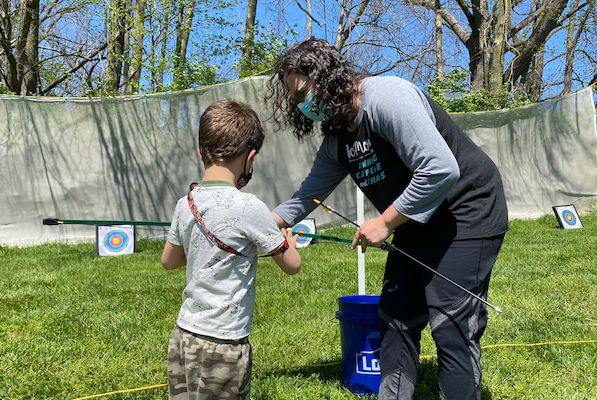 Experience the best of Conner Prairie Adventure Camp as an adult during "Throwback Camp". Enjoy a grownups-only day of canoeing, ziplining, archery, camp crafts, field games, summer tubing, and more! Feast on a catered lunch and dinner with s'mores and beer/wine available. Admission includes a ticket to Symphony on the Prairie, exclusive concert seating and bar, both meals, and all activities.
At We Can Camp! you learn basic camping skills, enjoy fun outdoor experiences and spend the night on our grounds in a tent! This program is perfect for first-time campers or anyone looking for a refresher.
We provide all the camping gear you'll need, along with modern restrooms and overnight security.
Are you ready for an action-packed summer? Our adventure camp is a unique environment to explore Conner Prairie's natural habitat while providing meaningful and lasting connections.
New for 2022, get ready to stir up some dust on our dirt track! Ride a Trek mountain bike (ages 8–15) or pedal go-kart (ages 5–9) and feel that need for speed! Returning this year are all of our best-loved summer activities, including a backyard zip line, swimming, canoeing, fishing, summer tubing hill, hiking, low ropes challenge course, archery, and more!
Treetop Outpost features a 4-story treehouse for guests of all ages to explore, observe, wonder and play.
Conner Prairie partners with the Indiana DNR on Arbor Day. We will be passing out White Pine, River Birch, American Plum saplings for guests to take home and plant in their yards. During this time we talk about the importance of our environment and conservation in daily interpretation at Treetop Outpost.
Conner Prairie is taking a Clear Choices Clean Water Action pledge that helps us understand how the choices we make impact our waterways.
Conner Prairie has begun the journey to becoming a leader in museum sustainability.
We have already begun to lessen our environmental impact.
Recycling is a combination of comingled glass, paper, plastic, and aluminum. There is no way to differentiate the rates of individual material recycling, but the office of resources conservation and recovery have a volume-to-weight conversion sheet that can be utilized in this case.
Bins across the grounds should be color-coded, to signify what can be placed in them. Blue for recycling, green for compost, orange for cardboard, and black for landfill. 
According to Animal Encounters manager Stephanie Buchanan, Conner Prairie produces 3,000 bushels of compost a year. This equates to 100,000 pounds (50 tons) of compost produced on the grounds annually, with the main pile located behind the animal encounters barn. Homemade compost such as this is typically composed of 2% nitrogen, 0.75% phosphorous, and 2% potassium.
The environmental impacts of improperly discarded batteries is astounding. Most batteries released carcinogens into soil and groundwater during decomposition. They are also a significant fire hazard and resulting flames can smolder for years if not controlled.
A large front yard tree absorbs ten pounds of air pollutants per year, including four pounds of ozone and three pounds of particulates, and cleans 330 pounds of carbon dioxide annually from the atmosphere through direct sequestration in the tree's wood and reduced power plant emissions due to cooling energy savings (CUFR, 2001)
A tree can absorb as much as 48 pounds of carbon dioxide per year, and can sequester one ton of carbon dioxide by the time it reaches 40 years old. [1] https://cnr.ncsu.edu/news/2022/04/5-benefits-of-urban-forests/
For every five percent of tree cover added to a community, stormwater runoff is reduced by approximately two percent.
A heart for meaningful conservation and stewardship of water, land, and structures.
A head for implementing new, bold, and practical ideas to reduce reuse and recycle.
A eye on becoming an example, to teach a legacy of sustainability awareness and action.
Conner Prairie's staff is working hard on being good stewards of our 3.3 miles of the White River by participating in White River Cleanup days that was activated with the help of the White River Alliance.
Conner Prairie's staff is working hard on being good stewards of our 3.3 miles of the White River by participating in White River Cleanup days that was activated with the help of the White River Alliance.
Celebrating Earth Day Since April 22, 1970, Earth Day has been a traditional celebration regarding the protection of our natural environments. A beautiful day dedicated to the thoughts and understandings…
Read More