Makerspace exhibit Makesmith Workshop to open Jan. 11 at Conner Prairie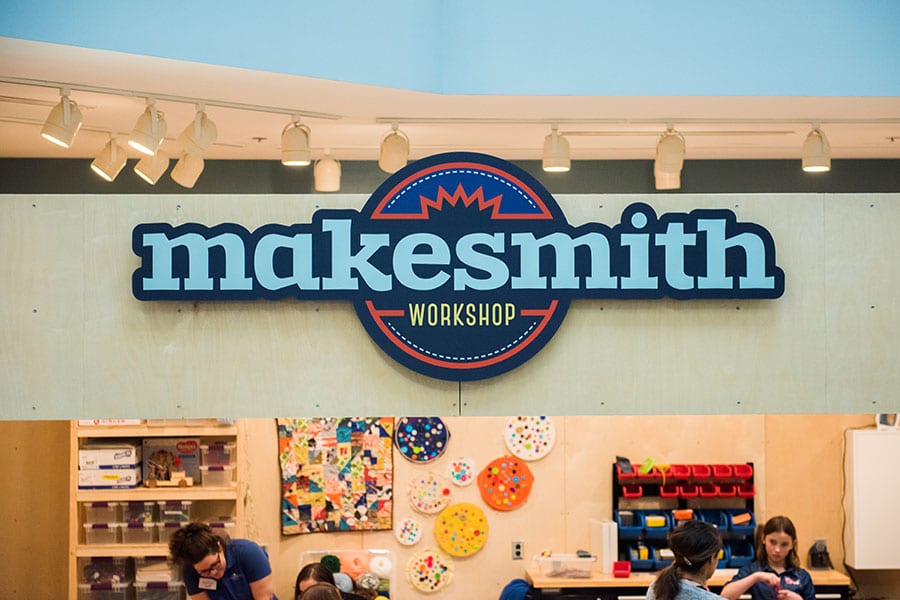 New, year-round exhibit helps visitors learn new skills and use their creativity to make items with their hands.
FISHERS, Ind. (Monday, Jan. 8, 2018/Conner Prairie) – A new, year-round exhibit opening at Conner Prairie Jan. 11 will help visitors learn new skills and use their creativity to make items with their hands.
Construction on Makesmith Workshop, a 500-square-foot makerspace built by general contractor the Hagerman Group, began in November.
Through daily hands-on activities, the exhibit will engage visitors of all ages and skill levels to work with textiles, wood, metal, pottery and other materials.
January programming inside Makesmith Workshop will focus on working with textiles, as visitors will learn sewing, stitching and weaving skills and can choose to help create a visitor-made quilt. Programming from February through April will help visitors work with wood, as they'll learn how to create a dovetail joint and saw, hammer and carve.
"For the majority of human history, nearly everyone created, tinkered and repaired. We have become disconnected from the time when we fixed broken objects on a work bench and explored creative solutions to the challenges of our daily lives," said Conner Prairie President and CEO Norman Burns. "The maker movement seeks to reverse this trend and help people think through what it means to work with their hands to achieve their goals."
The exhibit will evolve and change as Conner Prairie's interpretation staff adapts to the space and ways that people interact with making.
Funding for Makesmith Workshop was provided by the Institute of Museum and Library Services; Church, Church, Hittle + Antrim; Nicholas H. Noyes Jr. Memorial Foundation; the Hagerman Group; Duke Energy Foundation; Strada Education Network; and private individuals.
Spanning more than 1,000 wooded acres in central Indiana, Conner Prairie welcomes nearly 400,000 visitors of all ages annually. As Indiana's first Smithsonian Institute affiliate, Conner Prairie offers various outdoor, historically themed destinations and indoor experiential learning spaces that combine history and art with science, technology, engineering and math to offer an authentic look into history that shapes society today.
###
ABOUT CONNER PRAIRIE
Conner Prairie's mission is to inspire curiosity and foster learning about Indiana by providing engaging, individualized and unique experiences. Created by Eli Lilly in 1934, Conner Prairie combines history with science, technology, engineering and math and encourages visitors to explore Indiana's natural and cultural heritage through hands-on, immersive and interactive experiences. Inspiring visitors of all ages to discover more about the events, discoveries and forces that shaped the American Midwest, Conner Prairie offers various historically themed, indoor and outdoor experience areas throughout its more than 1,000 acres of wooded property in Fishers, Ind. Indiana's first Smithsonian Institute Affiliate and accredited by the American Alliance of Museums, Conner Prairie is a 501(c)3, non-profit organization that relies on grants and philanthropic donations from corporations and individuals for sustainability and growth. Visit connerprairie.org or call (800) 966-1836 for admission dates, hours, ticket prices and opportunities to donate and volunteer. Conner Prairie is on Facebook, Instagram, Twitter, LinkedIn, Snapchat, Flickr and YouTube.
ABOUT THE INSTITUTE OF MUSEUM AND LIBRARY SCIENCES
The Institute of Museum and Library Services is the primary source of federal support for the nation's approximately 120,000 libraries and 35,000 museums. Its mission is to inspire libraries and museums to advance innovation, lifelong learning and cultural and civic engagement. Its grant making, policy development and research help libraries and museums deliver valuable services that make it possible for communities and individuals to thrive. To learn more, visit www.imls.gov, Facebook and Twitter.
CONTACT
Christine Dejoy
Director of Public Affairs
dejoy@connerprairie.org
310-625-0706