Coming Alive September 2022
Habitats provide homes for all living things, from the tiniest ant to the tallest tree. The exhibition Habitat explores the critical need for varied habitats, how interconnected and fragile they are, and what we can do to protect them. The experience showcases the unique habitats throughout the gardens and landscapes of Conner Prairie. Habitat was developed by Smithsonian Gardens and is made available by the Smithsonian Institution Traveling Exhibition Service.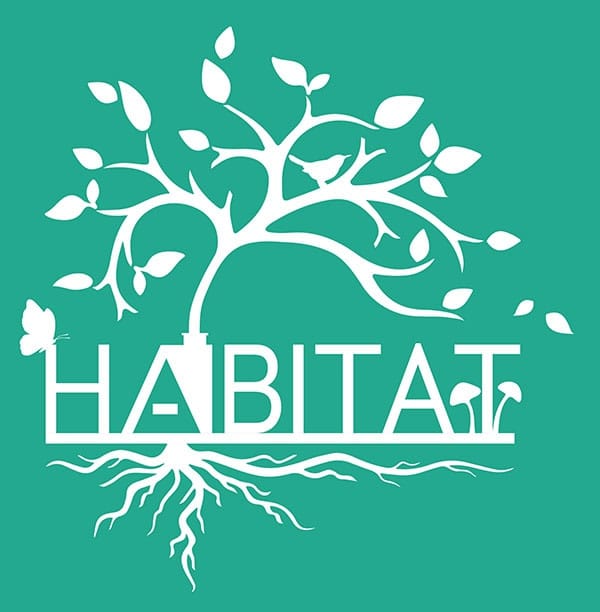 Protecting habitats protects life
Homes encourages homeowners and gardeners to look at their gardens as more than a pretty place.
Embrace a little messiness and a home garden can become a rich habitat for wildlife.
Bug B&B focuses on restoring habitat for beneficial insects including pollinators.
Humans can help build and restore habitats for beneficial wildlife.
Courtesy Smithsonian Gardens
Key to the Forest illustrates how a single species can play a critical role in the health
of an ecosystem. Without the keystone species, the ecosystem would be dramatically different or cease to exist altogether.
Life Underground shines a light on mushrooms and the hidden relationships under our feet
that support healthy habitats.
A successful habitat is a fragile, often invisible, interconnection between species, and needs
human protection.
Plants and animals have adapted to survive in specific Biomes (communities of plants and animals occupying a major habitat like a forest). Their interconnected relationships keep ecosystems in balance.
Nests highlights a variety of nests as diverse as the birds that build them.
Nests reflect the resources available in a habitat and the needs of the home builder.
Photograph by James Gagliardi, Smithsonian Gardens.
Habitat of Flight explores the importance of nature to the science of flight.
Human innovation has been inspired by the environment.
Courtesy Smithsonian Gardens
Dead Wood is a fragile, crucial habitat, home to diverse species, interconnected to sustainable ecosystems which need human protection.
Photograph by B. A. Bowen / CC by 2.0
Sign of the Dragonfly showcases dragonflies as an indicator species which biologists and
conservation managers can use to judge the health of an environment.
Indicator species demonstrate the interconnectivity of species within habitats.
Photograph by Ken Mierzwa.
Meadows & Monarchs presents examples of how native plants can support biodiversity.
Protecting and cultivating local native plants are essential to maintaining habitats.
Photograph by James Gagliardi, Smithsonian Gardens.
Foundations of the Sea focuses on corals as a foundational species that creates habitats for countless marine creatures.
Foundation species are fundamental to the structure and resilience of habitats.


CONNER PRAIRIE IS ANNOUNCING Habitat. LEARN MORE THROUGH OUR PRESS RELEASE
The new exhibit is a part of a collaboration with Smithsonian Gardens and the Smithsonian Institution Traveling Exhibition Service FISHERS, Ind. (July 9, 2022) – Indiana living history museum, Conner…
Read More
Your Generosity
Helps Kids Reach New Heights
When kids can run freely and dig into the dirt, they discover new things about the world. Your generous donation to Conner Prairie helps us make nature more accessible to more people, opening new pathways for inspiration and growth.