Celebrate the Season at Conner Prairie
It's the merriest time of the year to visit and explore our 1,046 acres. Enjoy the return of A Merry Prairie Holiday, brand new programming, our indoor experience areas, weekend winter strolls, and countless other opportunities to step into the story and connect. We're proud to welcome you to our grounds this season.
Friday through Sunday, November 26–December 19, 2021
Tuesday & Wednesday, December 21 & 22, 2021
More lights, more fun, and more storytelling, there's not a twinkle out of place! Step into the story as A Merry Prairie Holiday presents new experiences for heartwarming family traditions.
2021 Dates
December 4, 5, 12, 18 & 19
Seatings at 8:30 a.m. and 11 a.m.
Gather as a family for a special holiday meal and visit with Santa. Changes have been made to our traditional holiday event with your family's health and safety in mind. Each table will seat only the family unit. The buffet will be served by our staff to limit high contact touchpoints.
Santa will regale the room with lively tales of Christmas past before moving to a special stage where he can visit with each family's youth individually. Santa will be socially distanced from all guests and wearing a mask. We hope you'll join us for this annual holiday tradition.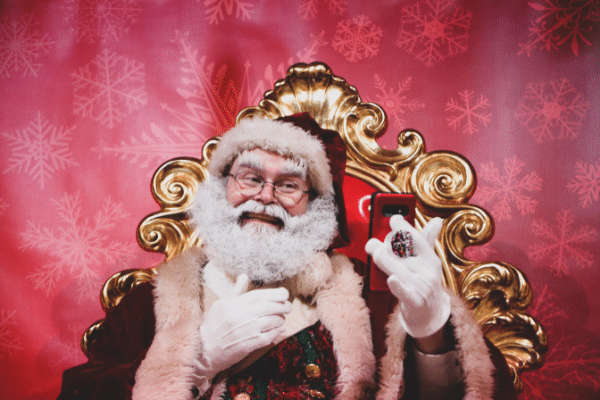 Find the Perfect Gift at Conner Prairie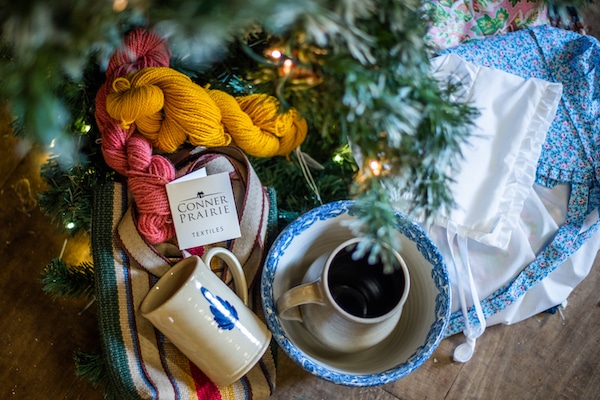 Shop the Conner Prairie Store for one of a kind treasures for all ages, including Indiana-themed gifts, old-timey games, and handmade pottery!
And, if you're looking for the perfect gift that lasts all year long, consider an annual Conner Prairie membership that provides your loved ones access to fully interactive, historically significant worlds throughout the year. Includes unlimited daytime general admission, free access to Headless Horseman, and discounts on select events, shopping, and dining.
Upcoming Programs & Events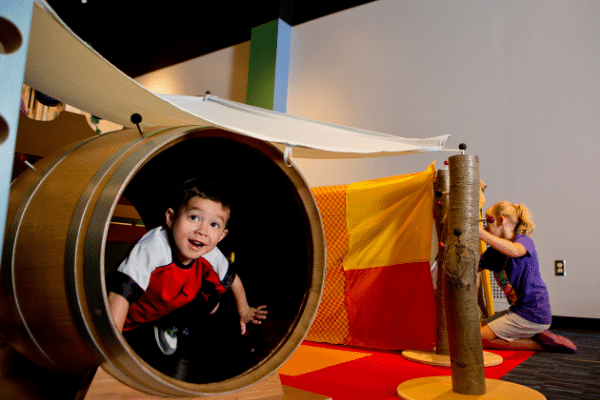 Thursdays through Sundays, starting November 4
The Welcome Center will be open for all to experience! Our indoor areas are a place for the family to explore and create together. With our Discovery Station, Makesmith Workshop, Create.Connect, and the Lilly Theatre, guests will engage in various activities that provide a place for hands-on learning.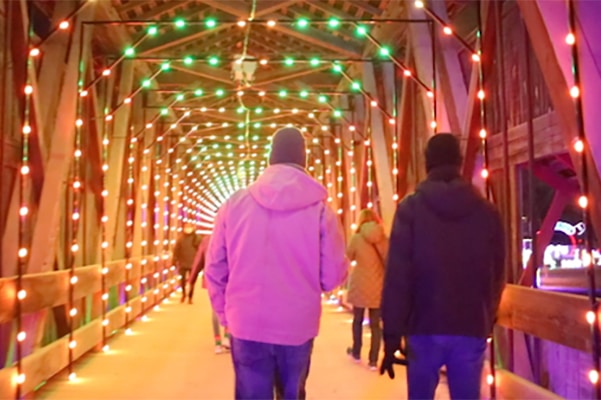 ASL TOURS AT A MERRY PRAIRIE HOLIDAY
December 10 and December 18
6pm, 7pm & 8pm
For guests who are deaf or hard of hearing, we will be offering ASL tours. The tour will be guided by an ASL interpreter who will help provide a historic holiday experience in 1836 Prairietown. Groups will make stops at the Golden Eagle Inn, Rowdy Fire #1, The Campbell House, and the Whitake Store for the Crankie show. Afterwards, guests are free to explore the rest of the grounds at their own pace.
Sponsored by LUNA.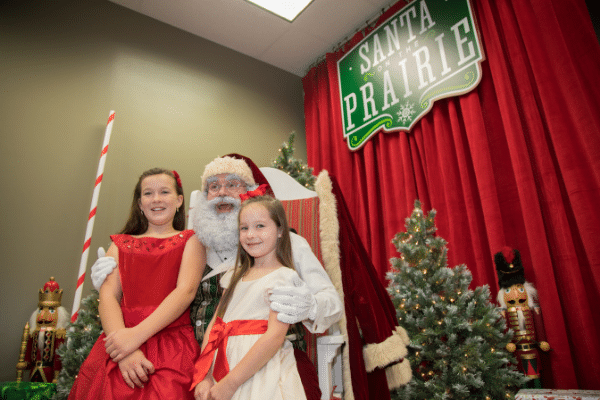 SENSORY FRIENDLY VISIT WITH SANTA
December 11, 2:30 - 4:30 PM
Come and visit Santa in a Sensory Friendly environment. Santa welcomes people to visit with him and tell him their Christmas wishes - but at your own pace and comfort level. We will have fidget toys on the table as well as cookies to decorate and enjoy! You are more than welcome to bring your own snacks to this event if you have dietary restrictions.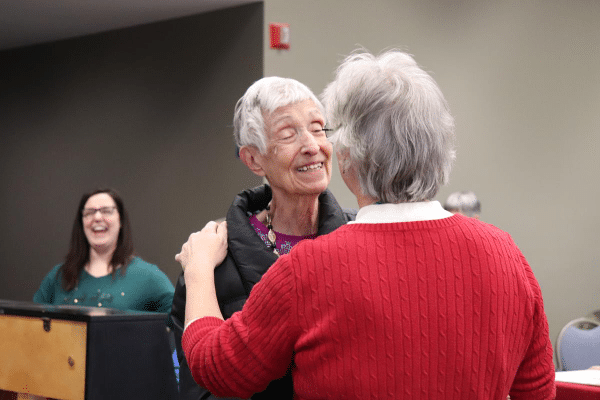 2021 Dates
December 18
2022 Dates
January 22, February 26, and March 26
Looking for a place to spend a lovely afternoon in a welcoming and safe space for individuals with Alzheimer's or any type of Dementia, and their caregivers? Our Memory Café is a great way to provide a meaningful social experience with themed activities for all to enjoy.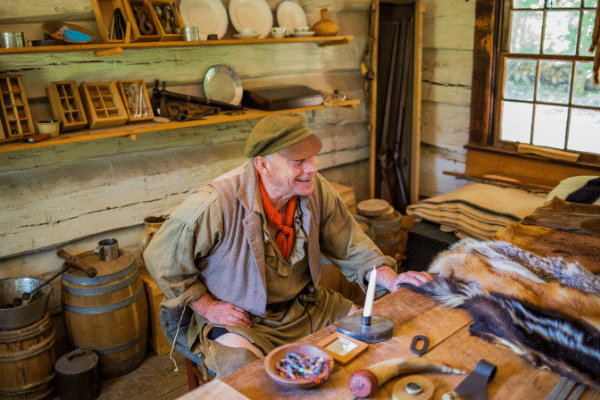 2022 Dates
January 28-29
February 11-12
March 11-12
Plan your visit to Conner Prairie for an evening of captivating storytelling. Step into the story for a journey through early Indiana history. Our premier storytellers, including Kevin Carter and Dwight Gallian, will regale you in an immersive storytelling experience.
No two nights will feature the same stories.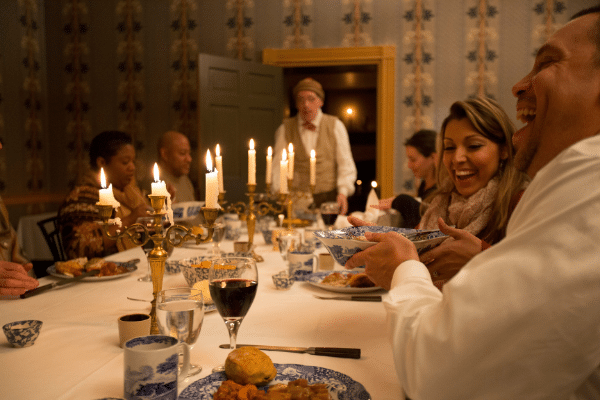 Thursdays through Sundays, January 13-March 13, 2022. 
Each winter, Conner Prairie offers our Hearthside Suppers, a months-long series that celebrates historic foodways, traditional hearth cooking, and the fellowship of the communal table. Presented in candlelight by costumed interpreters, in the beautiful 1823 William Conner House, this program offers guests a unique and interactive one-of-a-kind experience.