Our free Presidents Day event returns Monday, February 20, as we celebrate and explore the history of the Presidency
Talk with past presidents and first ladies, play presidential games, see some shows, and sing some patriotic songs as we celebrate our Nation's presidents. Guests are strongly encouraged to dress up as their favorite president or first lady!
Presidents Day activities will take place indoors in the Welcome Center. The outdoor exhibit spaces will not be open.
Thank you for spending Presidents Day with us to actively learn about history, participate in lively activities and inspire curiosity through engaging conversations.
Tickets are only available at the ticket desk the day of.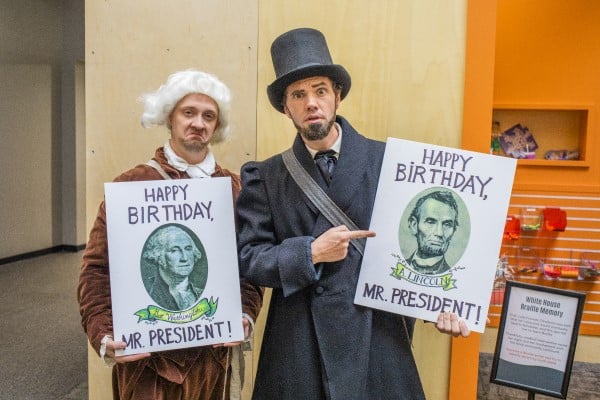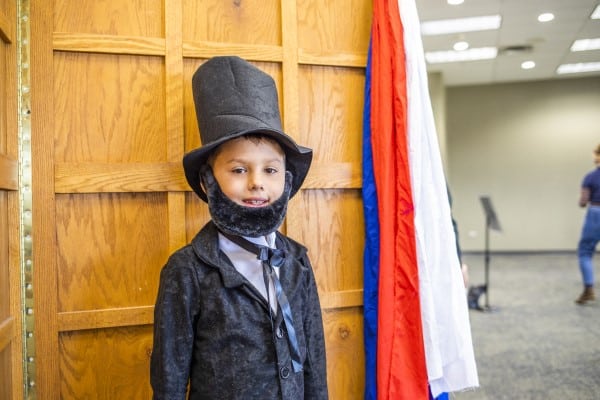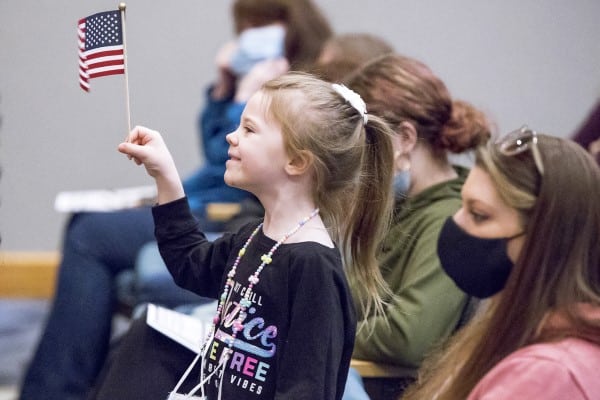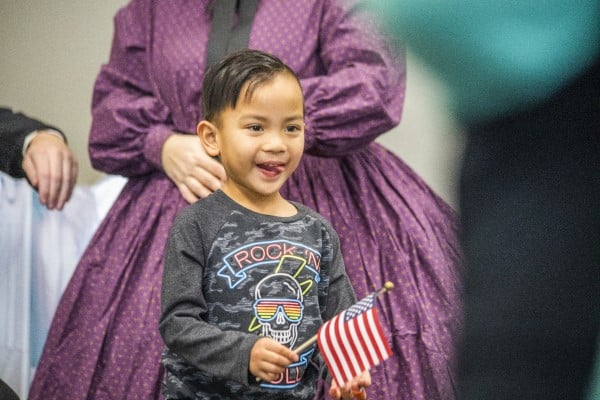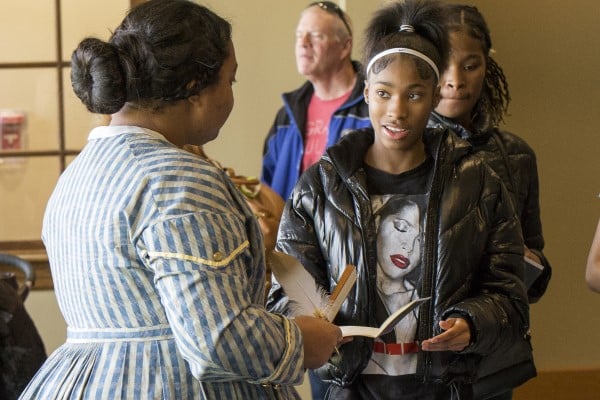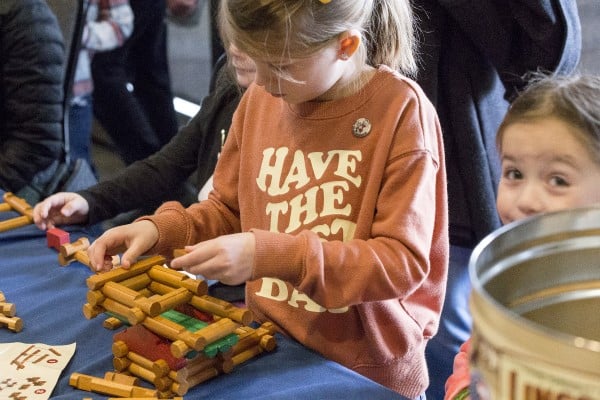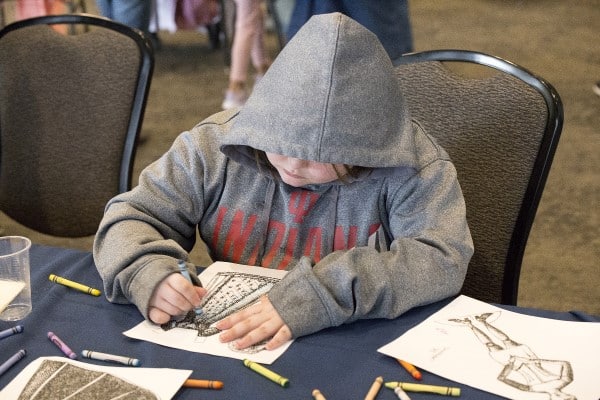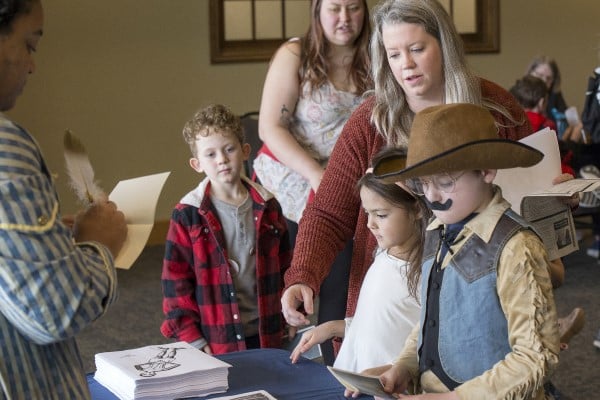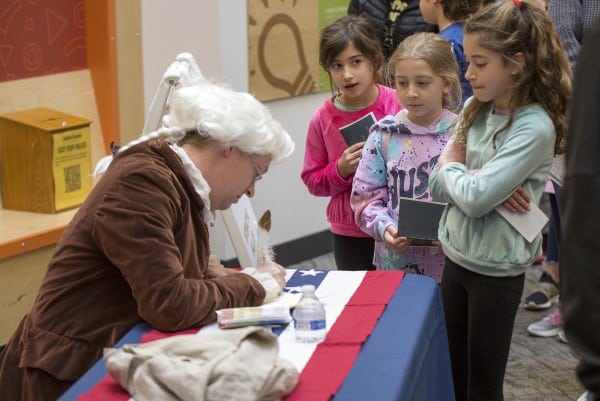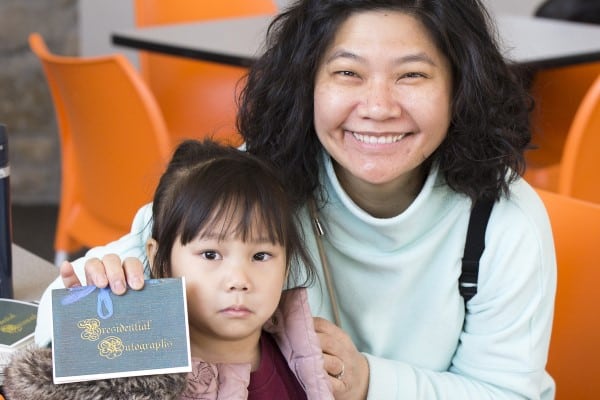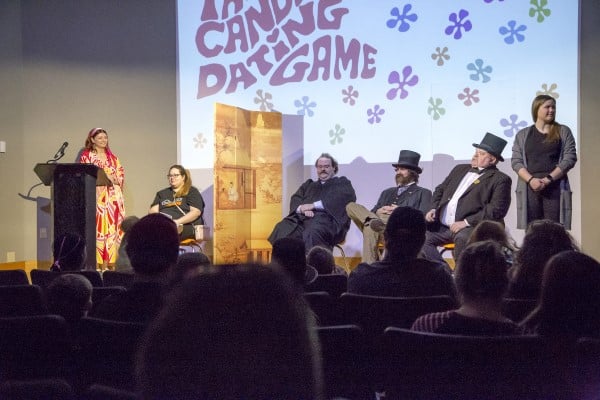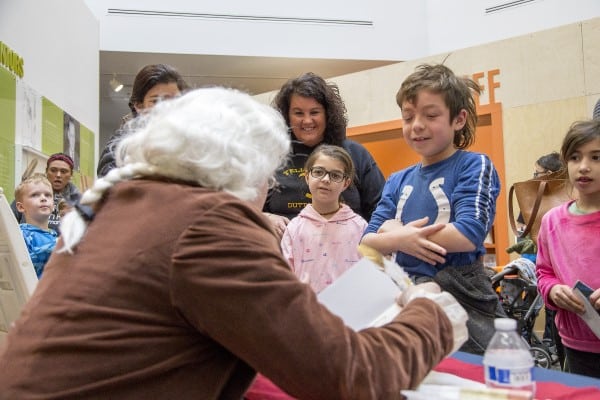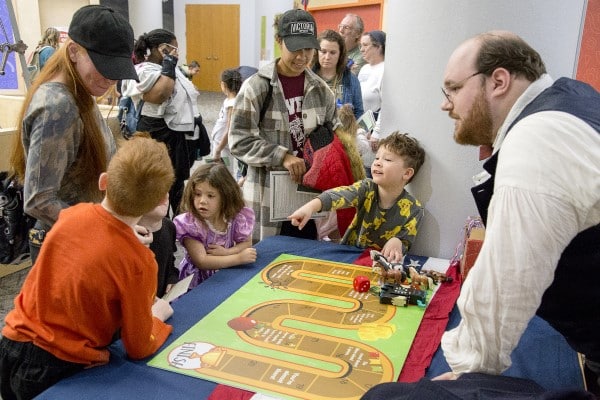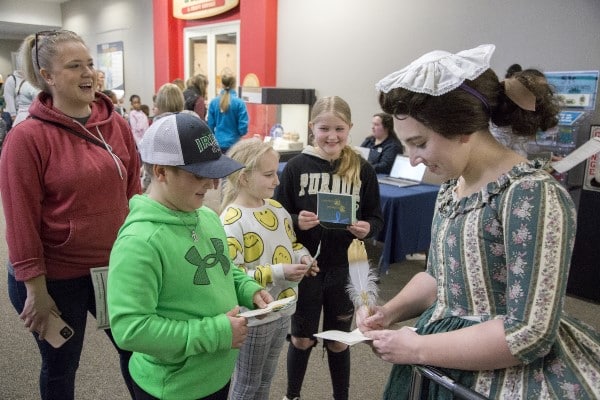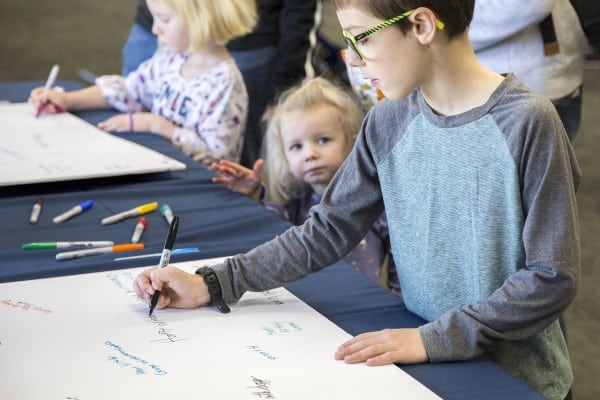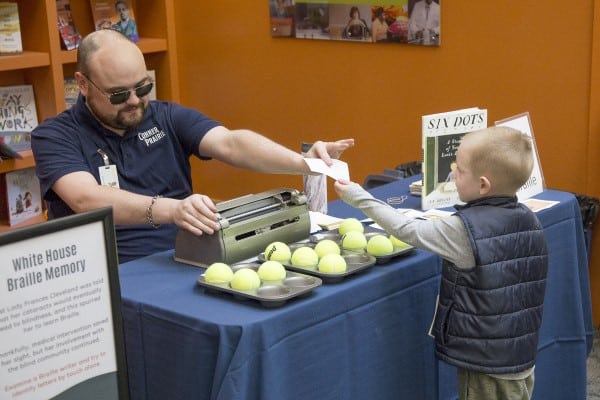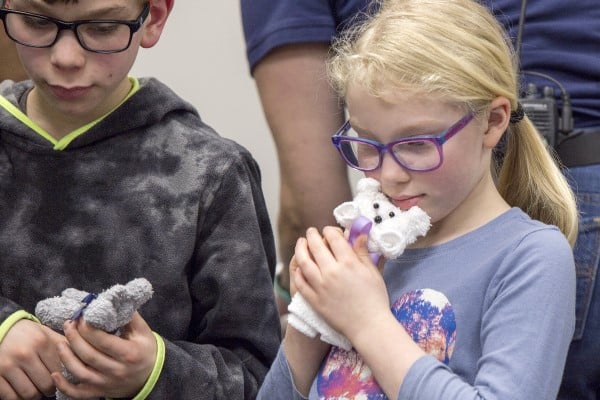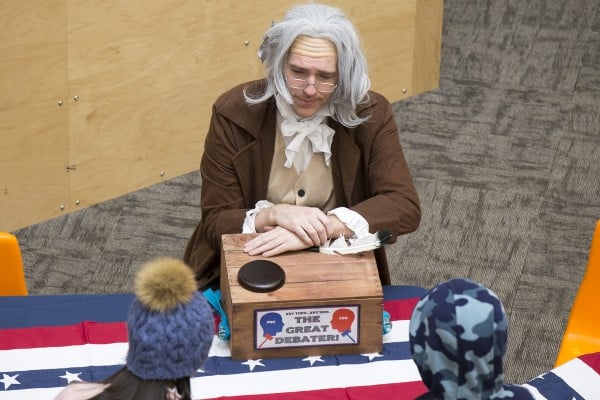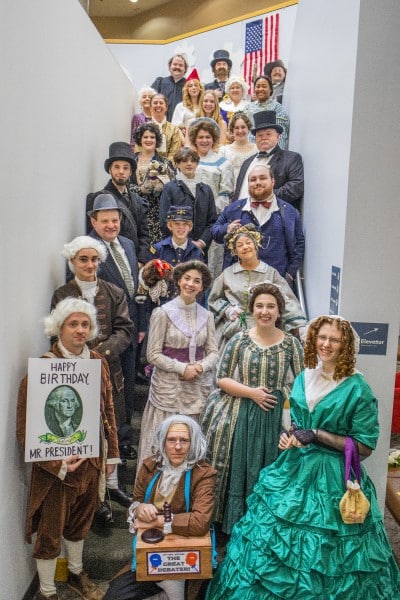 Storytime for Little Ones with Abigail Powers Fillmore | 10:15 a.m., 1:15 p.m., and 3:15 p.m.
First Lady Fillmore helped to create the first official White House library!  Gather 'round and listen to her read stories about Presidential birthday boys, George and Abe.
Raccoon Tea Party with Grace Coolidge | 11 a.m., 1 p.m., and 3 p.m.
Did you know there was a Presidential pet raccoon? Meet First Lady Coolidge and Rebecca the raccoon, make a raccoon mask, and take part in a special raccoon tea party with story time. (space limited to 24 for each tea party – make a reservation for your little one at the door!)
Sing-along with Lady Liberty | 10:30 a.m., 1 p.m.*, and 4 p.m.
Participate in a patriotic sing-along hosted by Lady Liberty! *ASL Interpreter present
My Dearest Friend: The Letters of John and Abigail Adams | 11:15 a.m.*, 1:45 p.m., and 3:15 p.m.
President and First Lady Adams shared their thoughts, hopes, and dreams in volumes of correspondence. Join them to hear their own words, straight from the heart. *ASL Interpreter present
The Candi-dating Game | 12:15 p.m.* and 2:30 p.m.
Watch as a perspective 'voter' volunteer from the audience chooses their candidate blindly, based on the answers to curious questions! Which historical President will be the winning candi-date? *ASL Interpreter present
Make a Terrycloth Teddy ($5 cost) | Learn about how Teddy Roosevelt got a toy bear named after him and make a take-home bear for yourself!
The History of White House China - Exhibit and Make & Take ($5 cost) |
Did you know that presidents and first ladies choose special patterns for a set of China, and there's a special room in the White House that displays the China sets? Learn about the pattern choices made since George Washington, and then step into Anything Can Happen Art to design your own China cup to take home and use. (Quantities limited, SOLD OUT.)
PROGRAMMING AND ACTIVITIES
Presidential Surprise Parties! – 12 p.m. and 2:00 p.m. | This is the main event! Help us celebrate by singing 'Happy Birthday' to two of our most beloved presidents, pose for some photos, participate in a game or two, and raise a cup of presidential Punch in their honor.
Designing Women | Elizabeth Keckley was dressmaker to Mary Todd Lincoln. Come and talk to her and learn her remarkable story, while you color paper dolls of some of the first ladies' most memorable fashions!
White House Braille Memory | Frances Cleveland was told that her cataracts would eventually lead to blindness and this spurred her to learn Braille and begin typing up some books. It turned out that medical intervention saved her sight, but her involvement with the blind community continued. Take a look at a Braille writer and see if you can identify letters by touch alone.
In the Footsteps of Presidents | Step into the shoe(size) of a president and see how you measure up! Find out which president had tiny feet, and which had giant feet.
Interactive Hall of Presidents |Get up-close and personal with a president and ask any burning question your heart desires!
Presidents Lincoln, Roosevelt, Harrison, Taft, Cleveland, Adams, and Washington will rotate (three at a time) to take the hot seat and answer guest questions.
Preparing for the Presidential Parties | Dolley Madison, Mary Todd Lincoln, and Martha Washington need your help! Meet some presidential children, help to decorate, enjoy some activities, and play parlor games with the first ladies and first kids – just make sure George and Abe don't find out about the party plans!
Elec-toss-al Vote! | Try your hand at amassing the most Electoral College votes by landing your three bean bags on the states with the largest number of votes on offer.
A Chicken in Every Pot | Herbert Hoover had a huge impact in changing the way Americans eat – especially during wartime. In this rubber chicken tossing game, see if you can resolve to get a chicken in every pot!
Ronald Reagan's Jellybean Jamboree | You'll have the opportunity to guess how many jelly beans are in the jar for a chance to win a prize!
Presidential Plates | Learn about some of our presidents' favorite foods. Would you eat Peas and Lettuce? How about Corn Pudding? Collect a recipe card for anything that looks appealing and try making some of the dishes at home!
Giddy-Up Grant | Ulysses Grant was a known lover of horses. In this dice-rolling game, race your chosen horse around the track against other riders and try to cross the finish line first!
Who's Your President? | The Constitution lists only three qualifications for the presidency: The President must be at least 35 years of age, be a natural born citizen, and must have lived in the United States for at least 14 years. Things change constantly, so who knows what the qualifications will be in the future! In this fashion-plate-style activity, build your own unique president and create a crayon rubbing of your ultimate candidate.
President Harrison Collection | Conner Prairie holds a number of Benjamin Harrison pieces in our collection. Stop by the display case to see artifacts from this president with Indiana connections.
60-Second Presidents | Have a seat and enjoy learning about all our past presidents in these PBS-produced video shorts.
Keep the Ball Rolling | During the 1888 presidential campaign, supporters of Benjamin Harrison famously rolled a giant tin ball, covered in slogans, through the streets! In this skee-ball-style game, see if you can gather the highest number of votes for the candidate.
Presidential Birthday Cards | Make a birthday card for George and Abe to share with them at their surprise party – and don't forget to sign the giant cards for both of the birthday boys!
Taft Tub Toss | Rumor has it that president Taft once got stuck in his bathtub! Learn the truth from the man himself, then see if you can toss the most rubber ducks into his tiny tub!
The Great Debater | Politics is all about debate! Interact with this wandering debater and argue pro and con on whatever topic you choose. When the gavel drops, will you be victorious?
Enjoy our Presidents Day concessions or grab a seat to enjoy the lunch you brought along in Woodlands South.
Want to eat like a President? Check out the Presidential Plate recipes below.
Apple Pan Dowdy with First Lady Abigail Adams
Famous historic figures are planning a party for our 1st president, George Washington. Listen in on their Zoom call and gain insight into their birthday plans. How many presidential history references can you spot?
Discover some exciting artifacts related to Lincoln, Taft and more in our Cabinet of Curiosities.