2023 Dates:
November 24 through December 17 and December 21 through 22
Below is important and helpful information to know before you arrive.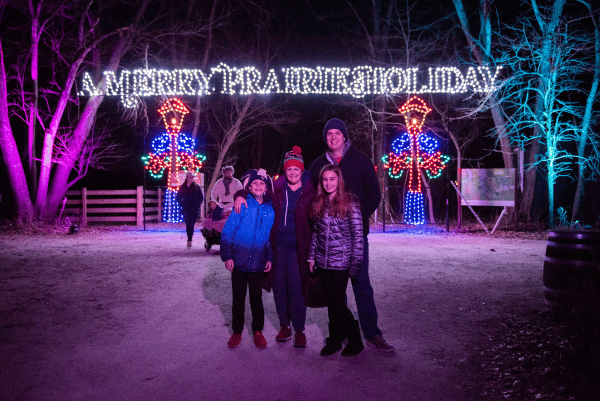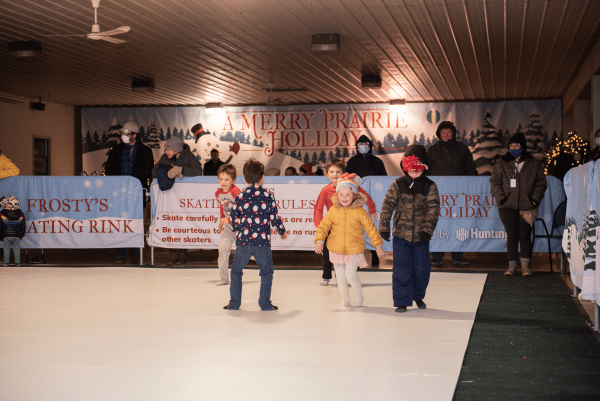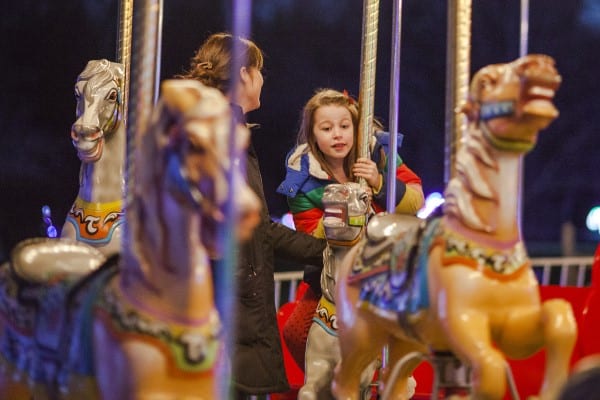 WHERE IS CONNER PRAIRIE LOCATED?
The museum is located at 13400 Allisonville Road in Fishers, Indiana, 46038.
WHAT IS NEW THIS YEAR FOR A MERRY PRAIRIE HOLIDAY?
A Merry Prairie Holiday is one of Central Indiana's most beloved holiday festival! With even more activities, entertainment, and storytelling this year, there is much for all to discover. New for this year:
All new Winter Wonderland stroll! - From Prairietown south through Civil War Journey, a new set of holiday lights will be sure to dazzle and delight!

A new light tunnel to help guide guests to the Tubing Hill and new photo opportunities will help create family memories that will last for years to come.
WHAT FAVORITES ARE RETURNING THIS YEAR?
Highlights of fan favorites returning this year include:
Reynolds Christmas Lights.
North Pole Village You can take a selfie with Santa and find out how Mrs. Claus and the elves are getting ready for the big night. 
Historic Holidays Be a part of Christmas Eve traditions of the 1800s in 1836 Prairietown. Visit with the Zimmerman Family at the Golden Eagle Inn as they share their holiday traditions. Stop and enjoy our popular holidays from around the world crankie show, and enjoy a spirited reading of the final chapter of Charles Dickens's classic,

A Christmas Carol

.

Polar Bear Plunge Grab a tube and zoom down our 150-foot snowless tubing hill.
Frosty's Skating Rink

Leave you skates at home because this skating rink is sock-only. Take a spin at Frosty's Skating Rink where you can slide around like you are skating on real ice. Socks are not provided, but the fun is!
Learn more about all of our festival activities that we have to offer.

WHAT HAPPENS IF THERE IS A WEATHER CANCELLATION?
The festival is planned to take place on all nights. If threatening weather is in the area, or if snow, ice, or heavy rains prevent the festival from opening, Conner Prairie reserves the right to cancel an event due to inclement weather. If Conner Prairie cancels the event due to weather on your selected night, you will have the option to reschedule or apply the value of your tickets toward a future ticketed activity or a membership within one year from the original event date. You may check connerprairie.org and Conner Prairie's Facebook and Instagram to see our weather updates and cancellation postings. Tickets will not be refunded for events that are not canceled by Conner Prairie.
NEW: Text* MERRY to 317-779-3330 to opt-in and receive text notifications. 
WHAT ARE THE DATES AND TIMES OF A MERRY PRAIRIE HOLIDAY?
November 24 through December 17 and December 21 through 22
Admission gates open at 5:30 p.m. and close at 8:30 p.m. Activities continue for attendees inside the gates until 9:30 p.m.
WHAT ARE THE TICKET PRICES FOR A MERRY PRAIRIE HOLIDAY?
Tickets are on sale now through December 22. Reservations are required.
Guest: $22 (ages 2 and older)

Member: $11 (ages 2 and older)

Access Pass

 

Holders: $2
Tickets can be purchased online at connerprairie.org. 
DO CONNER PRAIRIE MEMBERS GET IN FREE?
Members receive tickets at a 50% discounted ticket price and will need to verify a current Conner Prairie membership and photo ID upon check-in.
WHAT IS INCLUDED IN THE ADMISSION PRICE? DO I NEED EXTRA SPENDING MONEY?
The cost of your ticket covers all of the activities and attractions except beverages, food, and $5 Make & Take activities. Conner Prairie does not have an ATM on the property.
CAN OUR FAMILY USE OUR ACCESS PASS FOR REDUCED ADMISSION INTO A MERRY PRAIRIE HOLIDAY FESTIVAL?
Access Pass participants may purchase tickets for $2 per eligible person for events on any of the event nights. Access Pass tickets may be reserved in person at Conner Prairie or online at connerprairie.org for cardholders who have registered their Access Pass with Conner Prairie for an online account. The number of Access Pass tickets available per evening is limited. Advance reservations are recommended. Valid Access Pass card, photo ID, and event tickets are required at the gate for entry. Please note that there are a limited number of tickets available.
ARE THE ATTRACTIONS ADA ACCESSIBLE?
A Merry Prairie Holiday is fully accessible to attendees living with disabilities. However, buildings and walkways are authentic to the 19th century, which may pose certain restrictions. Stone and dirt paths in some areas may be difficult for wheelchair travel especially in December weather. Guests must be able to transfer from their wheelchair into Kringle's Carousel and Polar Bear Plunge Snow Tube Run. For those with sensory sensitivities, flashing lights will occur during this festival.
If you have specific accessibility concerns, call Guest Services at 317-776-6000 for more information. Handicapped parking is available close to the Welcome Center.
HOW EARLY CAN I ARRIVE TO THE FESTIVAL?
You will attend the program on the specific date(s) and time that you select. Dates and times are listed on all ticket orders.
If you're heading to A Merry Prairie Holiday, we want to make sure you're up to date with the latest lane closures at 146th Street and Allisonville Road. You'll want to give yourself extra time or find an alternate route to the festival. Keep updated on the current status of the project.
HOW LONG DOES IT TAKE TO EXPERIENCE THE ENTIRE FESTIVAL?
Activities continue through 9:30 p.m. Attendees usually participate in several activities. Most attendees spend at least 1.5 hours at the festival. The time you spend at A Merry Prairie Holiday may vary depending on crowds, the size of your group, the ages of your children, waiting times, and the weather.
IS ALL OF CONNER PRAIRIE OPEN DURING THE EVENT?
Conner Prairie's daytime experience areas have been modified to fit the program. For everyone's safety, Conner Prairie asks that you refrain from venturing off lighted paths and attempting to explore areas of our grounds that are closed for the night.
A Merry Prairie Holiday is mostly an outdoor event in late November and throughout December. Attendees should plan accordingly. There are some indoor areas, several hearths, patio heaters, and outdoor fire pits to warm up. We also recommend proper footwear in preparation to walk on gravel roads and uneven terrain.
Feel free to bring your camera or smartphone with you. However, photography equipment like tripods, monopods, or selfie sticks are not permitted. We suggest that you leave valuables at home, keep your smartphones secure in your pockets, and be cautious when getting on and off the attractions. Conner Prairie is not responsible for misplaced or lost items.
CAN I RIDE IN THE 1859 BALLOON VOYAGE DURING A MERRY PRAIRIE HOLIDAY?
The 1859 Balloon Voyage will not be offering flights at this program.
Conner Prairie offers many attractions at A Merry Prairie Holiday. Depending on the crowd size, on any given night, there may be lines that form for Kringle's Carousel, the Polar Bear Plunge Tube Ride, and Selfies with Santa. With a variety of activities to experience, you may not be able to see everything in one evening.  Conner Prairie does not guarantee that guests will be able to participate in all activities.
HOW MUCH DOES PARKING COST, AND WHERE DO WE PARK?
Parking is free. Enter Conner Prairie off of the main entrance from Allisonville Road and you will be directed to the nearest parking space. Accessible parking is available with the applicable handicap hang tag or license plate.
WHAT TYPES OF FOOD ARE AVAILABLE?
A Variety of seasonal favorites are available throughout the event. Enjoy specialty hot beverages from Java House near the carousel in Civil War Journey, try comfort foods from Smokey Blue BBQ near Santa's Workshop, and delight in sweet treats from Yays Doughnuts at the Prairie Grill near our sock skating rink! Throughout the event you'll also find hot beverage stations to warm your spirit… with lots of spirits to choose from!
The Apple Store will not be open.
IF I HAVE QUESTIONS, WHO SHOULD I CONTACT?