Events for the Whole Family This Fall at Conner Prairie
Looking for kid-friendly fall activities or ways to enjoy the autumn sunshine? From farm machines and Prairie nights, to corn mazes and spooky traditions – there's something for everyone this fall at Conner Prairie.
Effective September 7, 2021, in accordance with the CDC recommendations, all guests will be required to wear masks while in the Welcome Center and Historic buildings regardless of vaccination status. Guests will be highly encouraged to wear masks while outdoors if a 6-foot social distance is unable to be maintained. Check here for a full list of our safety precautions.
Headless Horseman Festival
October 7th-30th, every Thursday-Sunday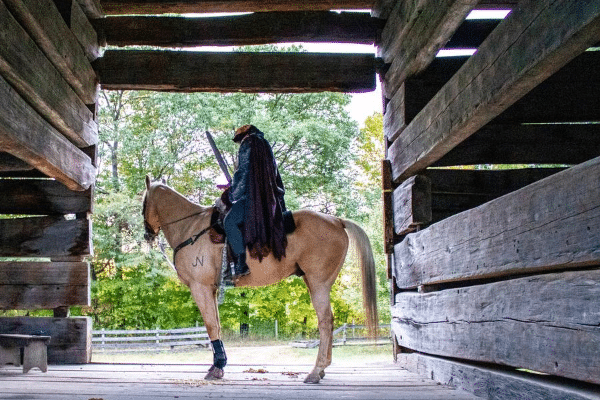 The Headless Horseman rides again at Conner Prairie's annual Halloween festival. Join us for an evening of ghoulish delights that the whole family can enjoy. Activities include the Headless Horseman marionette show, our scary corn maze, spooky storytelling, Halloween games, the haunted hayride, and more!
NEW in 2021! Think you can create an award-winning scarecrow? Enter our scarecrow contest! Whether you like your scarecrows spooky and scary or cute and creative, we want to see the best scarecrow you can make! Click here to learn more and register.
Entry Deadline: Oct. 1, 2021 at 5 pm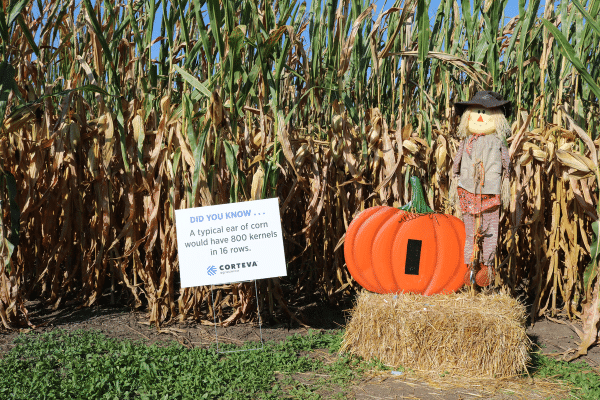 September 25- October 31, 2021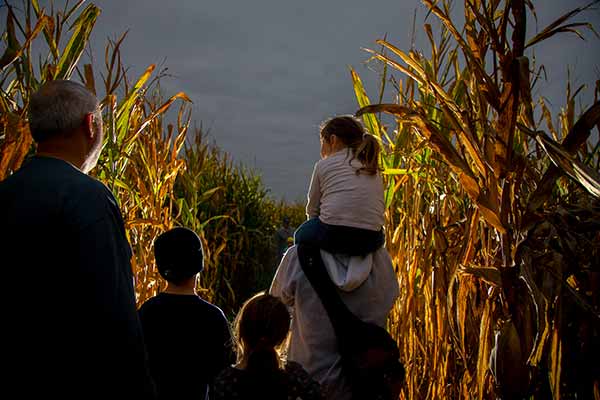 The 22,160-foot maze features three unique adventure paths to appeal to guests of all ages:
Members: $5 Non-members: $4 Youth under 2: Free
Puzzle Maze: Test your wits in our family-friendly puzzle maze. This maze may take up to an hour or more to complete. The Puzzle maze is closed during nighttime Headless Horseman events.
Kids' Maze: Bring the little ones along on our shorter kids' maze. This maze may take up to 30 minutes to complete.
Haunted Maze: Brave the spooky Haunted Maze after dark – inspired by  ghost stories and legends of the region.
Be sure to ride the 1859 Balloon Voyage for a birdseye view.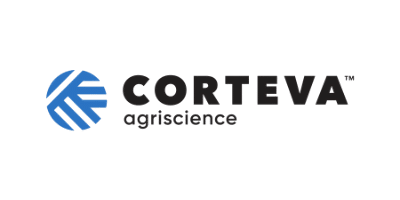 Upcoming Programs & Events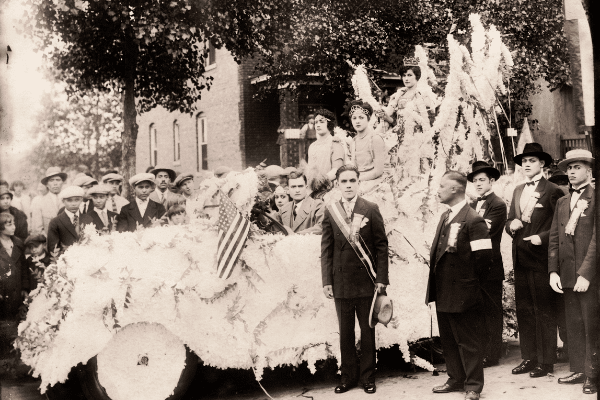 BE HEARD: LATINO EXPERIENCES IN INDIANA
Open Daily Beginning September 1st, 2021 Through September 30th, 2021
10am-5pm
Be Heard: Lation is a traveling exhibit from the Indiana Historical Society that will be housed in Featherston Barn during the month of September. This exhibit explores the history and culture of the Latino/Latina/Latinx communities in Indiana. Collected stories of local families and their migration to the state are woven together with the history of ancestors in this compelling traveling exhibit.
Admission is free with a general admissions ticket. Exhibit will be located in Featherston Barn.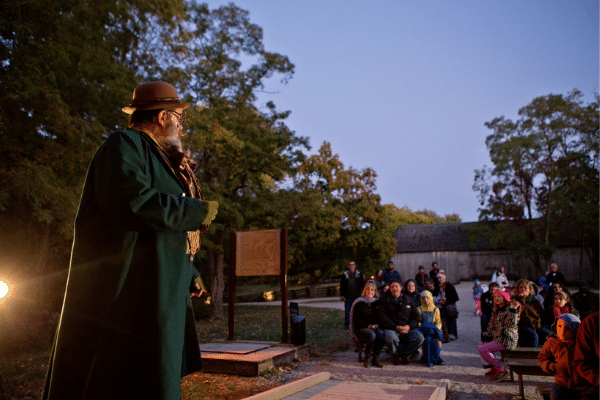 September 16 - October 2, 2021
In Partnership with Indiana School for the Deaf
Come to Conner Prairie for an evening of Storytelling. Join us for a journey through early Indiana history highlighting the importance of Lenape culture. Our premier storytellers, including Mike Pace and Dwight Gallian, will regale you in an immersive storytelling experience.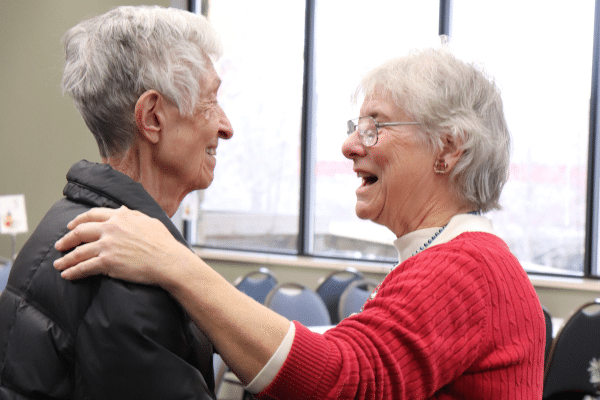 Saturday, September 25, 2021
1pm-2pm
Memory Café - a welcoming, safe, space for individuals with Alzheimer's or any type of Dementia, and their caregivers. Memory Café themes vary each month and center around music from days past, taking a short walk to one of our historic buildings* to do some 19th-century hearth cooking, visiting our many farm animals, or dipping beeswax candles.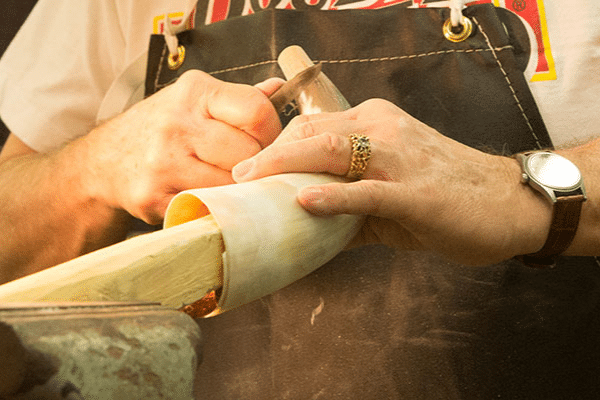 TRADITIONAL ARTS & ARMS MAKING WORKSHOPS
Daily, September 25 , 2021 - October 2, 2021
Conner Prairie's hands-on classes provide a rare opportunity to work closely with some of the nation's best craftsmen. Small class sizes in well-equipped facilities allow you to develop skills from a basic level to advanced. Register today as classes fill quickly. All materials are included in the class price. Tools are provided unless otherwise noted.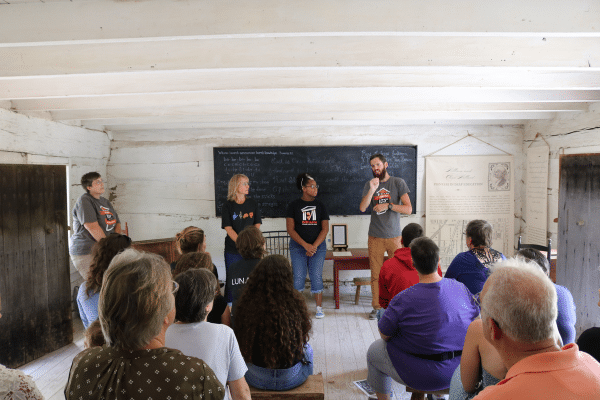 Sunday, September 26, 2021
10am-5pm
Celebrate Deaf Heritage Day at Conner Prairie. Visit an exhibit about the Indiana School for the Deaf in Prairietown School. LUNA Language Services will provide ASL interpreters to translate for our guests as they explore our grounds.
Admission is $10. This event is in partnership with LUNA Language Services.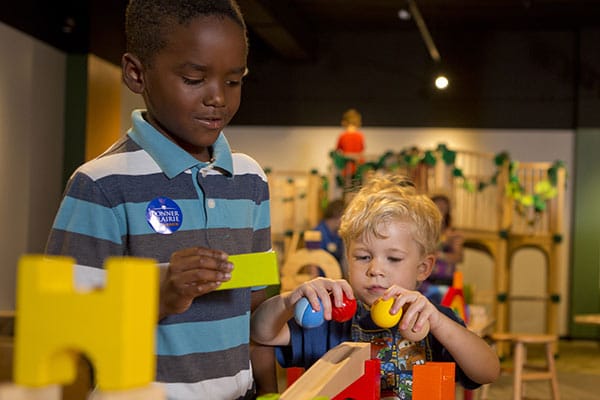 Sunday, October 17, 2021
10am-12pm
Admission is free with general admission, and all of the grounds will be open. Components and interactives that make loud noises will be dimmed or turned off (i.e. the Raid presentation and Dry Goods Store in Civil War Journey) and access to Quiet Spaces and Quiet Space boxes will be easily available.
At 12 pm - we will proceed with our standard pricing and operations, and guests who were here for Sensory Friendly Hours can stay as long as they wish.
Sign up for our newsletter!