This year, safety matters more than ever, and Conner Prairie has taken significant steps to make it safe for families to participate in their favorite fall festivals. Our expansive grounds, large support staff, and long tradition of hosting outdoor festivals uniquely qualifies us to create a safe environment to carry on our most beloved traditions. We will be abiding by all CDC recommendations, including the wearing of masks by staff and guests. Check here for a full list of our safety precautions.
Last year USA Today named Conner Prairie's corn maze one of the top 10 best in the country, so we're excited for the challenge to outdo ourselves with this year's tribute to the 200th anniversary of The Legend of Sleepy Hollow. As the inspiration for our annual Headless Horseman festival (which celebrates it's 37th anniversary this year), we'll be commemorating the classic tale with a one-of-a-kind custom maze design depicting the Headless Horseman rearing up on his steed out of an open book.
The 22,160-foot maze features three unique adventure paths to appeal to guests of all ages:
Puzzle Maze: Test your wits in our family-friendly puzzle maze
Kids' Maze: Bring the little ones along on our shorter kids' maze
Haunted Maze: Brave the spooky Haunted Maze after dark – inspired by real ghost stories of the region
Be sure to ride the 1859 Balloon Voyage for a birdseye view and keep your eyes peeled for the Headless Horseman roaming the haunted grounds.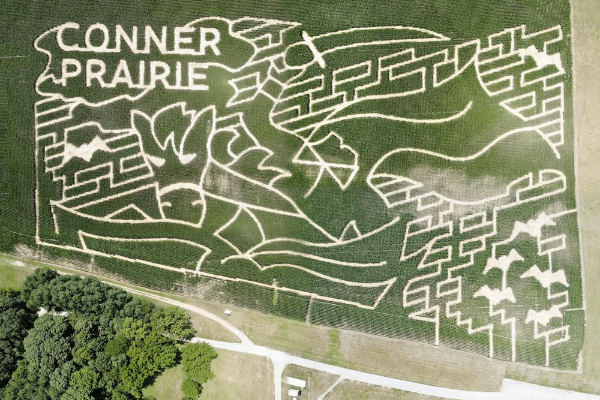 Corn Maze Hours & Admissions
Due to weather, the corn maze will be closed on 10/29.
Please note, ticket sales for the mazes will conclude 1 hour prior to the museum closing to allow adequate time to complete the maze.
Puzzle Maze and Kids' Maze: open starting September 26th during daytime operation hours. Admission during these hours is $5 per person, $4 for members. The final admission to these mazes will be one hour prior to museum closing or earlier depending on weather and lighting.
Puzzle and Kids' Mazes will be open during daylight hours of the Headless Horseman. Admission to these mazes will stop prior to sundown to allow adequate time to complete the maze safely.
Haunted Maze: open Thursday - Sunday all October long, sunset until 10pm (during the evening Headless Horseman event hours). This maze is meant to be frightfully fun and is recommended for children 10 and up.