Effective September 7, 2021, in accordance with the CDC recommendations, all guests will be required to wear masks while in the Welcome Center and Historic buildings regardless of vaccination status. Guests will be highly encouraged to wear masks while outdoors if a 6-foot social distance is unable to be maintained. Check here for a full list of our safety precautions.
The 22,160-foot maze features three unique adventure paths to appeal to guests of all ages:
Puzzle Maze: Test your wits in our family-friendly puzzle maze. This maze may take up to an hour or more to complete. The Puzzle maze is closed during nighttime Headless Horseman events.
Kids' Maze: Bring the little ones along on our shorter kids' maze. This maze may take up to 30 minutes to complete.
Haunted Maze: Brave the spooky Haunted Maze after dark – inspired by ghost stories and legends of the region.
Be sure to ride the 1859 Balloon Voyage for a birdseye view.
Corn Maze Hours & Admissions
Opening September 25, 2021.
Please note, ticket sales for the mazes will conclude 1 hour prior to closing to allow adequate time to complete the maze.
Puzzle Maze and Kids' Maze: open starting September 25th during daytime operation hours. Admission during these hours is $5 per person, $4 for members. The final admission to these mazes will be one hour prior to museum closing or earlier depending on weather and lighting.
Puzzle Maze will be open during daylight hours of the Headless Horseman festival. Admission to these mazes will stop prior to sundown to allow adequate time to complete the maze safely.
Haunted Maze: open Thursday - Sunday, October 7-30, sunset until 10 pm (during the evening Headless Horseman event hours). This maze is meant to be frightfully fun and is recommended for children 10 and up. The Haunted Maze queue line may be cut off prior to the end of the evening to ensure all in line can complete the maze before the end of each night's festivities.
Learn about our 2021 Corn Maze design
This year's maze is 20,227 feet of 5 foot wide maze paths including the cut out areas.
There are 35,036 square feet inside the large cutouts of the pumpkins and letters.
The sword is 286.32 feet from tip to handle.
The pumpkin head more than 160' tall!
The horse is more than 551' from nose to tail.
The "P" is 96.62 feet tall. That is equal to stacking 125 basketballs on top of each other!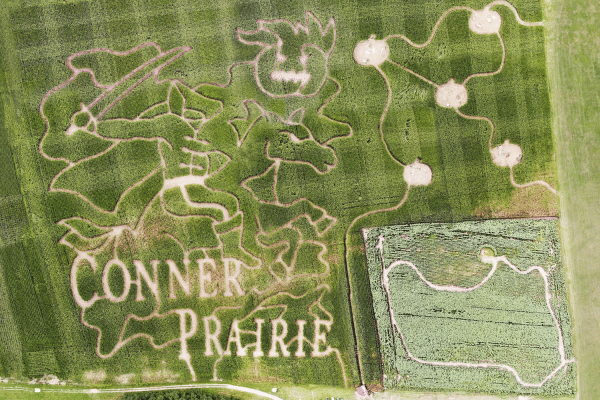 Discover the story of Spectre Search
In the late summer of 2021, local paranormal investigative group "Spectre Search" completed their research on the decades-old folklore and many stories connected to Amsel Farm. Learn more about Spectre Search and follow their search for the truth with Conner Prairie's haunted corn maze this fall during Headless Horseman.