Want to learn about food and cooking in the 19th century, and maybe find some recipes you can try yourself? You're in the right place! Read on for ways to take a little bit of Conner Prairie home to your kitchen.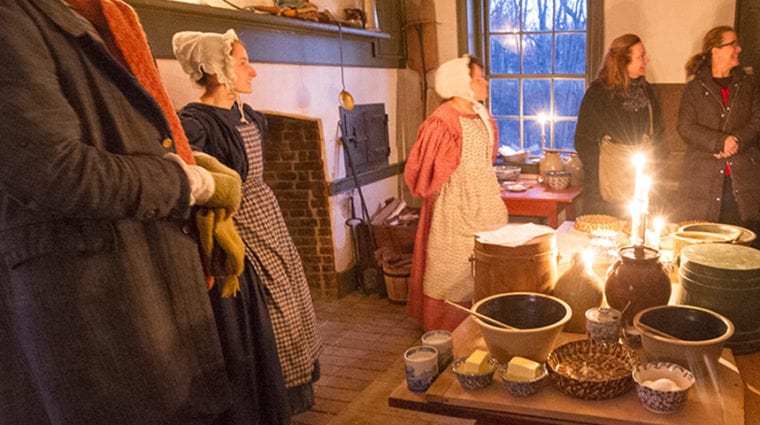 Hearthside Supper Recipes
Every winter, we create multi-course meals based on authentic 19th-century recipes for our guests in the popular Hearthside Suppers program.
A full set of recipe cards is available in the Conner Prairie Store for purchase. 
Cut a pound of good mellow cheese into thin bits; add to it two and, if the cheese is dry, three ounces of fresh butter; put these ingredients into a mortar till it is quite smooth. The piquance of this is sometimes increased by pounding it with curry powder, ground spices, black pepper, cayenne and a little made mustard; and some moisten it with a little sherry. If pressed down hard in a jar, and covered with clarified butter, it will keep for several days.
Cook's Own Book (This recipe can be made with a food processor.)
Shoat - a young pig; able to feed alone.
Score the skin across in narrow stripes, about half an inch apart, rub it over with salt, pepper, and sifted sage, brush it with lard, or sweet oil, and put it in a pan on some sweet, or white potatoes, having scraped and rinsed clean; add a pint and a half of water, and bake it with moderate heat. During the time it is baking raise the lid several times, and baste the meat with butter, lard, or sweet oil. When it is well done, and of a light brown color; thicken the gravy with butter, flour, cream and parsley.
Kentucky Housewife
Take 6 eggs, 1 lb. of sugar, 1 pint of molasses, a full tea-cup of ginger, a tea-spoonful of pearlash dissolved, a little mace, nutmeg, 1 lb. of fresh butter creamed; after these ingredients are well mixed, beat in 2 lbs. of flour. Fruit is an improvement. 
(This will make three large loaf pans.)
(Mackenzie's Five Thousand Reciepts: An American Physician)