On July 13, 1863, Confederate General John Hunt Morgan and his forces crossed the Ohio River into Indiana. In 1863 Civil War Journey, you'll cross a covered bridge and step into the southern Indiana town of Dupont shortly after this raid. Along the way, you'll meet local residents, experience immersive presentations, gather supplies for the Soldier's Aid Society, and even participate in military drills. Younger visitors will love the splash and play water area that includes safe, fun water cannons.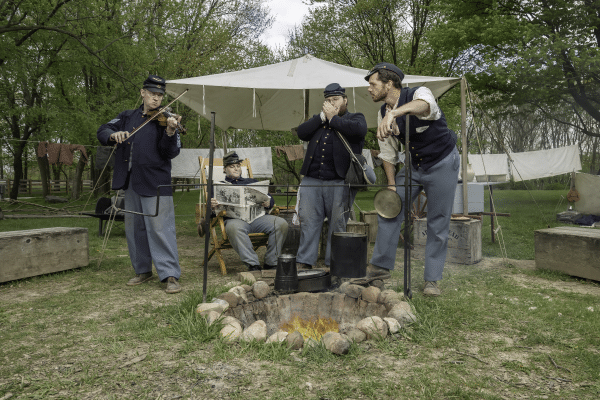 Learn about Life During the Civil War
Visit the Dry Goods Store and Porter Family home to learn about Morgan's Raid firsthand from Attia Porter and the members of her community.
Fall in line and stand at attention as you participate in military drills just like your fellow soldiers. Don't forget to salute!
River Crossing Play Area
Open Memorial Day to Labor Day
Make a splash at our revitalized River Crossing play area. We have re-imagined our popular water playscape to take families on a river journey.
Dress in Civil War garb and take charge of small toys that help you create your own battle plan. Who will fire the cannons? You decide!
Step into a one-of-a-kind theatrical experience where you can meet General Morgan and many of the townspeople who came face-to-face with him.
We're Enlisting You to Contribute to the Cause!
Civil War Journey allows our visitors to cross a bridge into the past and immerse themselves in a one-of-a-kind experience. At Conner Prairie, we subsidize 60% of each guest visit, which means that we rely upon the generosity of donors like you to help feed the horses, dress the soldiers, and keep the General Store up and running. Every dollar you give helps provide access to all that Conner Prairie has to offer.
Learn More About Civil War Journey
Morgan's Raid was an invasion into Union territory by a group of Confederate cavalry in the summer of 1863. The raiders were led by General John Hunt Morgan.
Explore the infantry units that participated in bloody battles of the Civil War, as well as the technology that helped the Union win the war.
Learn more about how those who stayed behind played a vital role in running farms and households, maintaining the economy, and supporting their loved ones who fought for the Union.