Join us in celebrating innovation with the renewal of Conner Prairie's 1859 Balloon Voyage! In 1859 a crowd of 20,000 gathered in Lafayette, Indiana to watch the launch of the "Jupiter." The balloon was designed and piloted by John Wise and marked the first successful airmail delivery in the U.S.
Interesting facts about the balloon:
The balloon delivers on Conner Prairie's explorer spirit, having lifted over 190,000 passengers 377 feet up in the air, which is higher than the Statue of Liberty!
The balloon is 105 feet tall, higher than an eight-story building, and 73 feet wide, the length of Conner Prairie's covered bridge.
The balloon was originally lifted with coal gas, but now floats with enough helium inside it to lift 211,880 party balloons.
The balloon is one of only four tethered helium balloons in the whole country and is the only one in the world to put balloon flight into a historical context.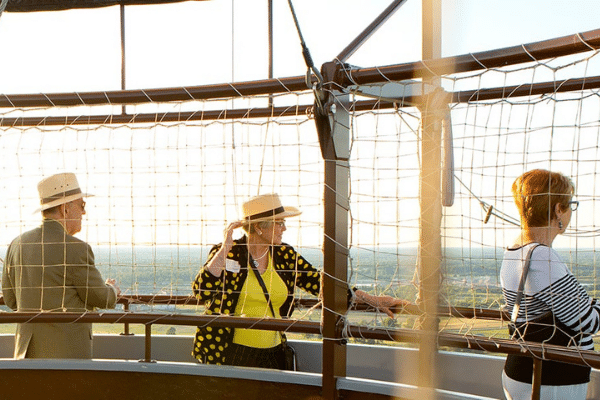 Thank you to our sponsors!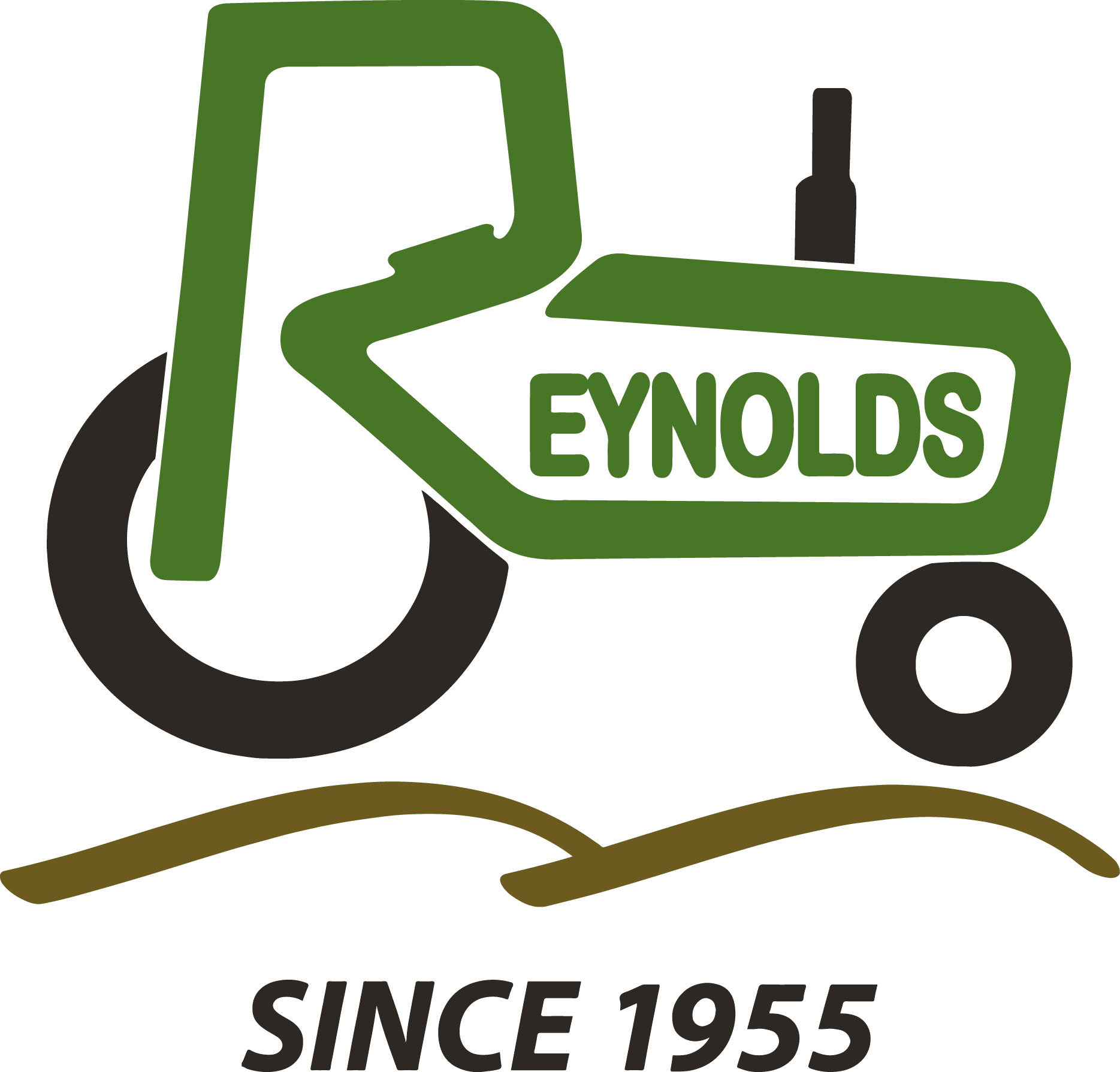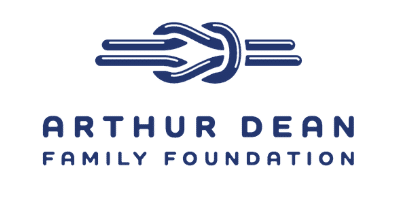 1859
The Jupiter takes flight, piloted by John Wise, and completes the first successful airmail delivery in United States history.
2009
Conner Prairie begins a new era of innovation and growth, debuting the 1859 Balloon Voyage exhibit, supported through a co-op partnership between Ricker Oil and BP.  
2015
Conner Prairie welcomes its new corporate partner, Reynolds Farm Equipment, with a brand-new balloon.
Early Summer 2021
A new balloon launches, representing the growth of the relationship with Reynolds Farm Equipment, and an enhanced 1859 Balloon Voyage exhibit opens.
Late Summer 2021
Conner Prairie will celebrate its 200,000th flyer: will it be you?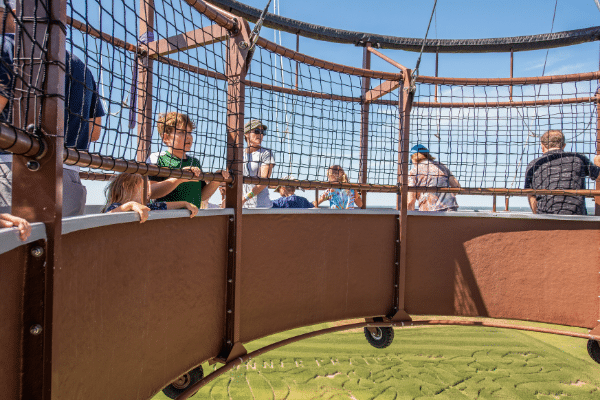 Exhibit features:
What Does it Look Like up There?
(four-season view from above video)
Future of ballooning interactive station
touching on multiple subjects in
modern lighter-than-air technologies
Lighter-than-air history from 19th century to today
Air Quality Measurement System. This tool will be used to measure the amount of pollution in our atmosphere.
Check out Conner Prairie's brand-new festival, Jupiter Flights, and the can't miss Balloon Glow on the evening of July 15th!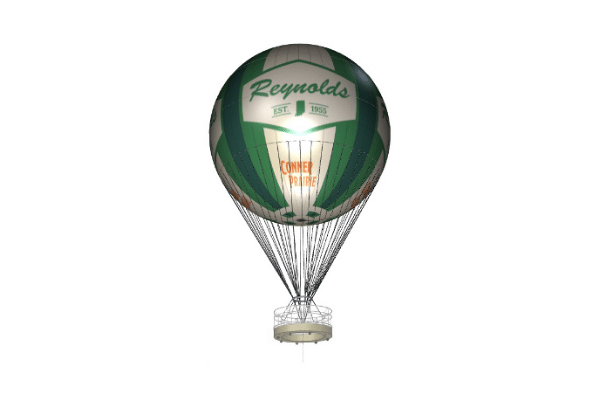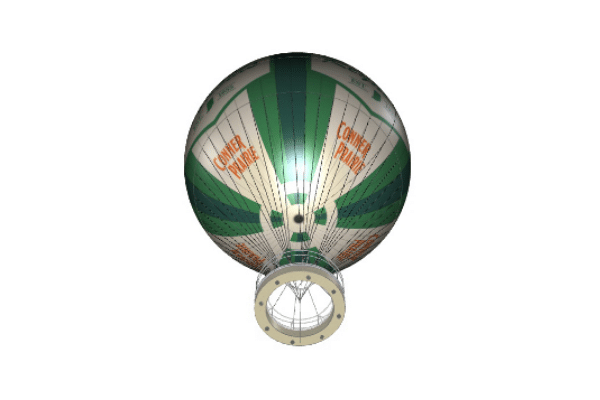 Renderings of the new, 2021 balloon!
Read more about 10 years of balloon flights in a blog post written by Chris Greiling, Conner Prairie's Balloon Manager and Chief Pilot!
Inflation & Deflation videos
Share your 1859 Balloon Voyage Memories
1859 Balloon Voyage Rides
The purchase of general admission is required to access the 1859 Balloon Voyage during regular daytime museum hours. Additional ticket needed to ride the balloon.
No reservations required.
Adult 13+
Members: $13
Non-Members: $17
Youth 2-12
Tuesday-Thursday
Members: $9
Non-Members: $10
Youth 2-12
Friday-Sunday
Members: $13
Non-Members: $17
Donor-Level Members
Donor Member: $8
To pre-register for a group balloon voyage of 15 or more passengers, or a private balloon flight, call Guest Services at 317-776-6000.
Frequently Asked Questions
If you don't find what you're looking for here, ask the pilot next time you visit our 1859 Balloon Voyage!
Yes! It is filled with helium, a nonflammable gas also used in party balloons. A net and an aluminum guardrail surround the passenger gondola, and the balloon is operated by trained pilots and ground crew.
At 105 feet, it's as tall as an eight story building.
Up to 20 people, depending on the wind conditions.
No. The temperature in the air will be roughly the same as the temperature on the ground.
The average ride length is 10-15 minutes, which includes ascending, viewing and descending. 
No wind and overcast skies with temps under 80°F are ideal. Thunderstorms within 30 miles, clouds below 1,000 ft., winds over 24 mph and temps 90°F or above keep the balloon on the ground.
The balloon was inflated very carefully over the course of one day. Before inflation, it took one full day just to prepare the site, move equipment into position and pre-assemble components for the envelope. Inflation day two required a large crew of 25 to unbundle the envelope and net and move it into position. Inflation with helium began early afternoon and progressed slowly until balloon was ready to fly seven hours after. Test flying and adjustments began on day three with the balloon ready for service by mid-day.
Yes, you can! You can either call 317.776.6000 ext. 266 for more information or you can host an event there!
A wheelchair no wider than 25.5" will fit on to the gondola via a ramp, for easy access. If your wheelchair is too wide, we have one you can use.
The gondola of the balloon is crafted of composite materials and aluminum, and the upper portion of the gondola is surrounded by netting. The balloon is filled with helium, an inert, nonflammable gas. The balloon ascends in good weather conditions only and will not fly in unsafe conditions, including storms or high winds.
On clear days, the downtown Indianapolis skyline will be visible. The Pyramids at 86th Street and Michigan Road are quite clear. The beautiful bend in the White River and Conner Prairie's "prairie," a floodplain in actuality, are quite visible. To the east, the water towers of various communities are visible.
Aerophile s.a, the French company that manufactured and installed our tethered balloon, has been in business since 1994. They have sold over 50 balloons in more than 20 countries in cities including Paris, Berlin, Singapore, Hong Kong and Dubai. In 1783, the Montgolfier brothers launched the first successful manned balloon in Paris. Aerophile carries on the French ballooning tradition.
A Guest Services Representative at the Ticket Desk or at the Balloon Kiosk will gladly refund the amount you paid for your balloon ticket or issue a rain check if the balloon is grounded due to weather. If the balloon is flying and you decide not to ride after purchasing a ticket, your money will not be refunded.
You can check the daily weather notice on the home page of connerprairie.org to check if the balloon is currently flying. However, since weather conditions can change with little notice, you can also check at the Ticket Desk and at the Balloon Kiosk once you are on-site and ready to ride the balloon.