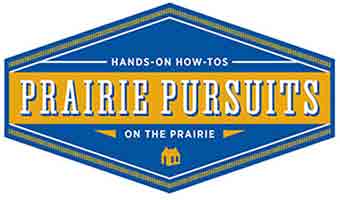 Register Now for 2020 Classes!
Prairie Pursuits offers how-to classes and workshops geared to adults and teens in a variety of topics from historic trades, to culinary skills, to the arts. View the series schedule for details of subject matter, dates, times, and prices. See something you want to learn more about? Get registered!
Ages 10+ (varies per class)
Basic Blacksmithing
Class meets six Thursday evenings,
starting January 16.
Sold Out!

Beginning Lathe Turning
February 8, 9 a.m.-5 p.m.
Blacksmithing -
Hand Forged Knife
Class meets five Monday evenings,
starting February 24.

Basic Pottery
Class meets six Tuesday evenings,
starting March 3.
Hurry, only 2 seats left!

Blacksmithing -
Dog Face Hook
March 14 or November 11, 9 a.m.-4 p.m.
Blacksmithing -
Bottle Opener
March 19, June 17, September 10,
or October 14, 6-8 p.m.
Blacksmithing -
Fun at the Forge
April 11, 9:30 a.m.-4 p.m.
Woodworking -
Hand Cut Dovetails
April 18 & 19, 9a.m.-5 p.m.
Blacksmithing -
Axe Forging
Class meets three Wednesday evenings,
starting May 6.

Blacksmithing -
Iron and Copper Bracelets
Class meets one evening
for two consecutive weeks starting May 18.

Basic Pottery -
The Next Level
Class meets Tuesday & Wednesday evenings,
for three consecutive weeks starting August 11.