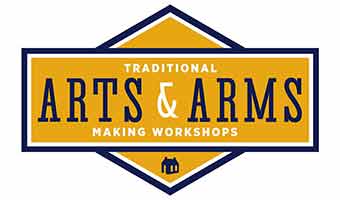 Conner Prairie's hands-on classes in the Arts and Arms Making Workshops series, provide a rare opportunity to work closely with some of the nation's best craftsmen. Small class sizes in well-equipped facilities allow you to develop skills from a basic level to a more advanced level. All materials are included in class price. Tools are provided, unless otherwise noted. Find a class that interests you below, then click the date of the class to see more details and register.
Ages 16+
Cooking, Crafting, and Carving
Hearth Cooking - Canceled
Enjoy the smell of wood smoke as hearth cooking expert Sarah Withrow shares her knowledge.
Basic Hornwork
and Decorative Techniques - Canceled
Master Hornsmith Art DeCamp will teach scrimshaw design, layout, and execution skills.
Advanced Hornwork -
Screw Tip Powder Horn
Work alongside master hornsmith Art DeCamp to make a screw tip horn.
Basic Leatherworking - Canceled
Join Ken Scott as he teaches you his unique style of making hunting bags and pouches, using leatherworking techniques like pattern development, cutting, stitching, and finishing.
Leather Accoutrements - Canceled
Learn a variety leatherworking skills with noted leatherworker Ken Scott, with projects for use with black powder firearms like a leather loading block, shot snake, ball bag, or flint wallet.
Advanced Leatherworking - Canceled
Take your pouch making to the next level as Ken Scott teaches you advanced techniques  in making hunting bags and pouches.
Basic Blacksmithing - Canceled
Join Conner Prairie's Nathan Allen to learn the basics of blacksmithing including drawing, punching, hardening, tempering steel, and forge welding, to make projects like chain links, s-hooks, a fireplace poker, pliers, and a fork.
Axe Forging
Explore traditional forging techniques with blacksmith Nathan Allen. Examine stylistic differences and construction techniques used on historic axes, and then forge and finish a traditional tomahawk and "Fort Meigs" style hatchet.
Forging Damascus Steel - Canceled
Let the sparks fly as you learn to make Damascus steel. Blacksmith Nathan Allen will teach the fundamentals of making pattern welded steel from proper steel selection to basic pattern development.
Knifesmithing
Under the guidance of Dwight Gallian, you'll learn about the history and creation of a traditional hand-forged knife. Topics include proper steel selection, use of a coal forge and anvil, filing, and finishing a handle.
Folding Knife
A hand made folding knife is a joy to use and something you can carry with pride.