To register, find the week you want and click on the age your child will be during your selected week of camp. Members must have a current membership during the week of camp to register with member prices. If the age group or date you select is sold out, please call Guest Services at 317-776-6000 to check for availability.
Pricing
The camp fee is $260 per week. Additional children in the same family enjoy a $5 discount. A limited number of camperships are available per session. Call 317-776-6000 for details.
Member Discount
Members pay $225 per week.
Not a member? Become a member or renew your membership today.
Discounted Weeks
The week of May 28-31 has a prorated price of $208 ($180 for members), as it is four days instead of five. It also has a prorated price for early arrival of $20 ($16 for members) and late departure, $31 ($25 for members).
The week of July 1-5 has a discounted price of $235 ($200 for members).
Payment
Full payment (cash, check or credit card) is required at the time of registration. Registration by fax, phone or online requires a credit card payment.
Early Arrival and/or Late Departure
Early arrival and/or late departure options are available during your registration process. Once you have registered for a camp session, return to this page to add-on Early Arrival and/or Late Departure.
Questions?
Call Guest Services at 317-776-6000 or e-mail camp@connerprairie.org.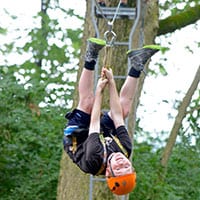 Step 1
Choose the appropriate age group for the youth that you wish to register.