Explore the Arts intends to spark a desire to pursue one's own curiosity and infuse that intuition into experience, harvesting the promise of play. We do so by creating an environment where delight and magic can blossom and the unknown can become known.  Explore the Arts series strives to provide a diverse and equitable, accessible, and inclusive series of art performance programming.
Upcoming 2022 Programs & Events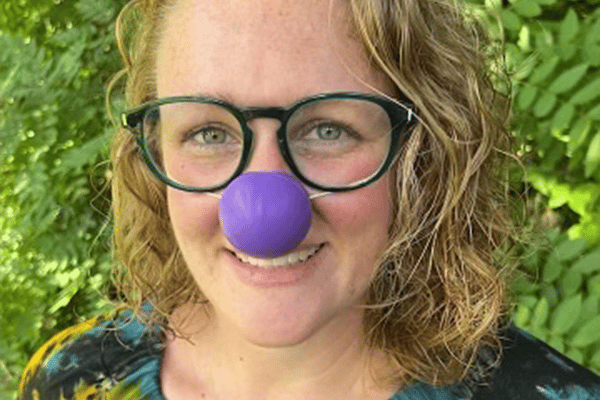 EXPLORE THE ARTS: Laughs Allowed Laughter Yoga
Saturday, November 19:
11:00 a.m., 12:30 p.m. & 2:00 p.m.
The Overlook Room
WHAT IS LAUGHTER YOGA?
Laughter Yoga is the practice of combining deep breathing with unconditional laughter. Sessions include stretching, clapping, breathing exercises, and laughter activities. Laughter activities utilize games and movement to build a connection among the group allowing for playfulness that creates prolonged laughter.
Join certified Laughter Yoga instructor Tonya Wilkison and find your breath through laughter. Laughter Yoga produces joy and excitement, be prepared for increased noise levels.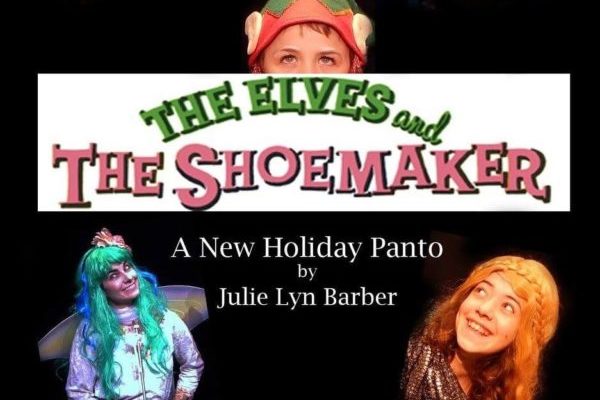 EXPLORE THE ARTS: The Elves and the Shoemaker
Saturday, December 17:
11:00 p.m. & 2:00 p.m.
Lilly Theater
The beloved story is told in the slap-stick comedic style of the traditional British pantomime, complete with the Shoemaker and his wife, and a villainous Landlord who tries to secure the wife for himself by destroying her husband. The Good Fairy ensures that the Shoemaker has help from her friends, the Elves, as well as some audience participation to save the day and set things right. With a small cast playing all the characters (with a little help from some puppets), the happy Christmas morning ending is sure to send everyone out smiling.
Check out some of our previous performances!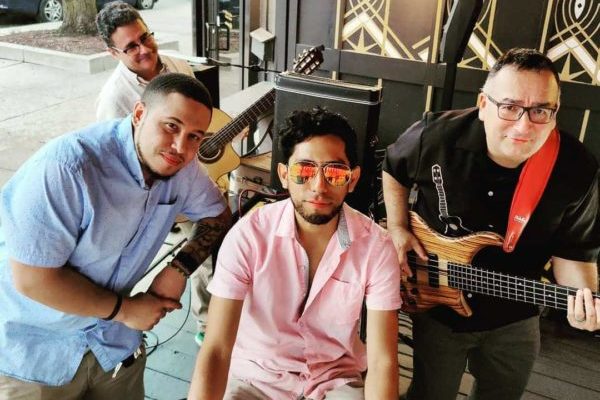 EXPLORE THE ARTS:
Herencia Musical: A Music Journey Through America Latina
Conner Prairie and and Nopal Cultural present: Herencia Musical: A Music Journey Through America Latina. This exploration of Hispanic heritage showcases musicians and performers born in Colombia, Mexico, Peru, Puerto Rico and Venezuela.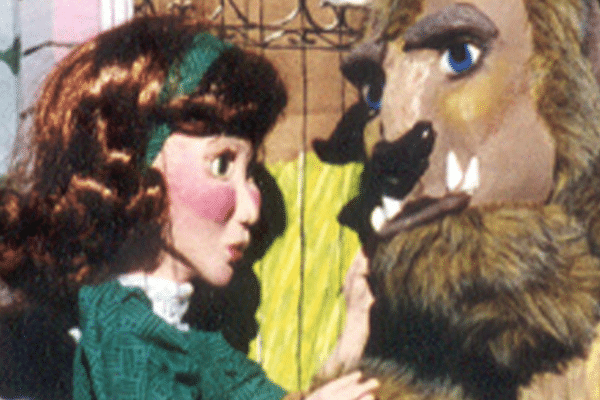 EXPLORE THE ARTS:
Stevens Puppets: Beauty and the beast
Join Beauty on her journey from her good natured acceptance of her family's changing fortunes to her adventurous stay in the Beast's castle as she teaches him to love himself and share that love with others. Vibrantly colorful hand-painted scenery showcases hand-carved wooden marionettes who appear and disappear mystically through the magic mirror.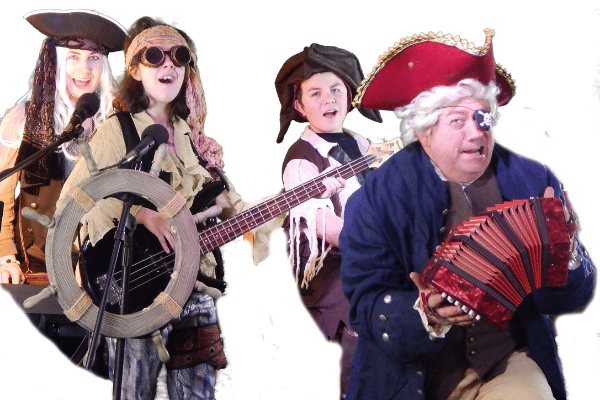 EXPLORE THE ARTS:
EARL EYE & THE SPACE PIRATES BAND
Songs and Stories to inspire audiences to explore the past and find adventure in their own lives featuring several instruments associated with sailing including: concertina, ukelele, flute, whistles, drums, wabash washboard, washtub bass and more!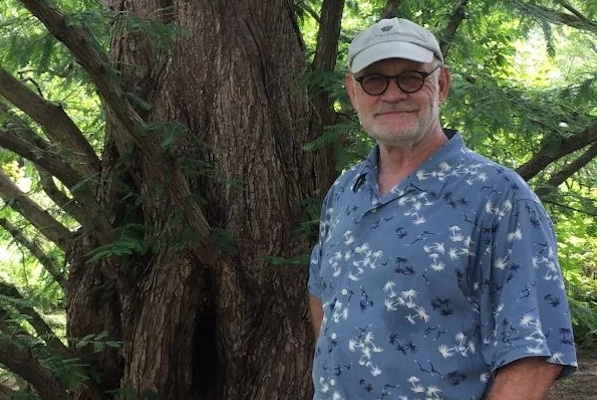 EXPLORE THE ARTS:
THE MAD BOTANIST
Explore the Arts welcomes The Mad Botanist, Bill N. McKnight, has two enlightening presentations: COMPOSTING and CLIMATE CHANGE. The Mad Botanist will explain the advantages of composting, show us how, then provide basic background information that will help guests understand climate change.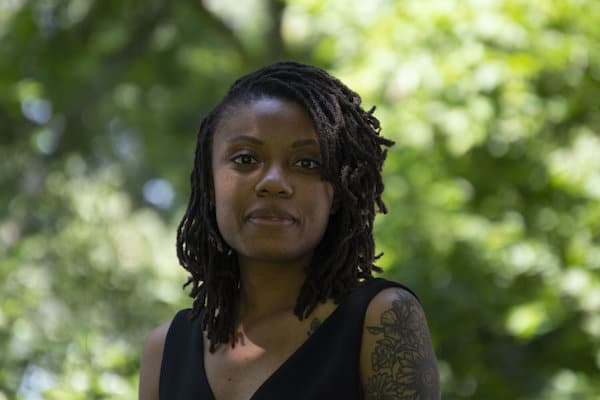 EXPLORE THE ARTS:
POETRY IS PROCESS
Join us as Explore the Arts celebrates National Poetry Month! Immerse yourself in POETRY IS PROCESS with poet Kelsey Johnson and visit our Two-Minute Poets as they produce a poem based on your suggestion in two-minutes or less.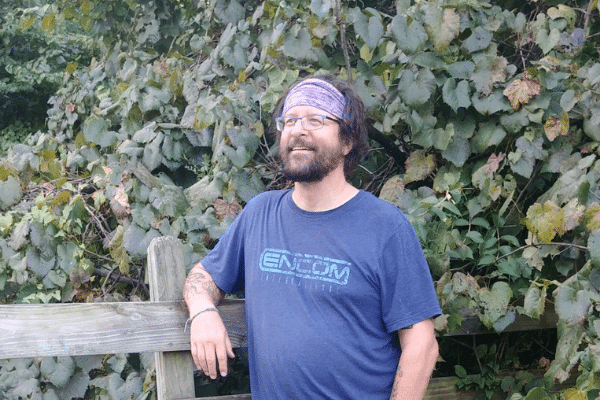 EXPLORE THE ARTS:
WHAT'S IN A GAME?
Using Neva Boyd's Handbook of Recreational Games, this program offers participants the opportunity to play games selected from more than 300 children's games. Like the games themselves, the dynamic character of this program promises to never be the same twice regardless of how many times participants attend. This program is geared for children ages 6–12, and adults who want to reconnect with the magic of play.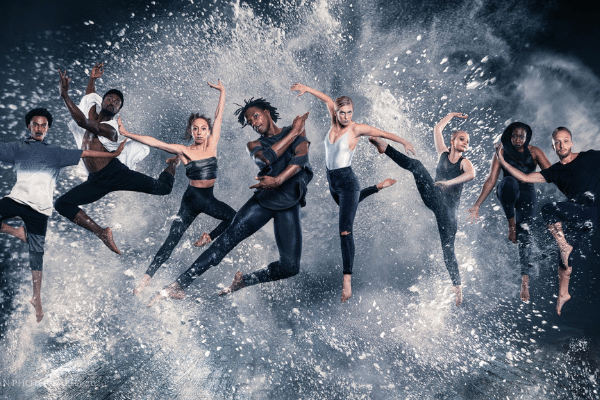 EXPLORE THE ARTS:
ANYONE CAN DANCE
Based on the insightful children's book "Giraffes Don't Dance," by Giles Andreae, this lively and interactive performance teaches students the value of self-love, pride, and confidence. Professional dancers demonstrate through beautiful choreography the bravery of being true to yourself. Anyone Can Dance emphasizes that kindness, empathy, and acceptance can help transform others and that our unique qualities are not flaws. When we find that special song, dance, or style of music, the world just fades away and we become who we are truly meant to be!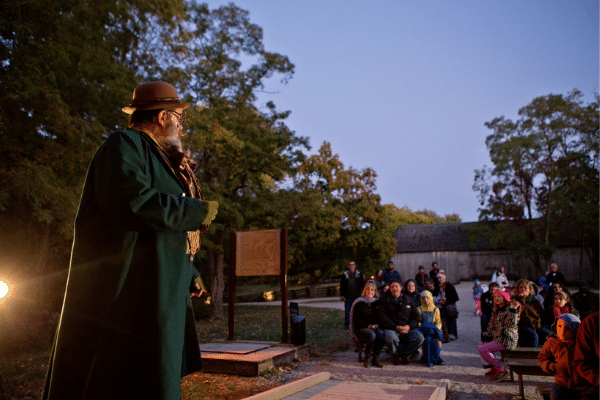 Learn how stories travel through time, through oral tradition, music - even puppets! Hear a radio play and try your hand at Foley soundmaking, get a personalized poem from our 2-Minute Poet, make a take-home scroll for a shoebox cranky, play games, sing songs, and tell a story or two yourself!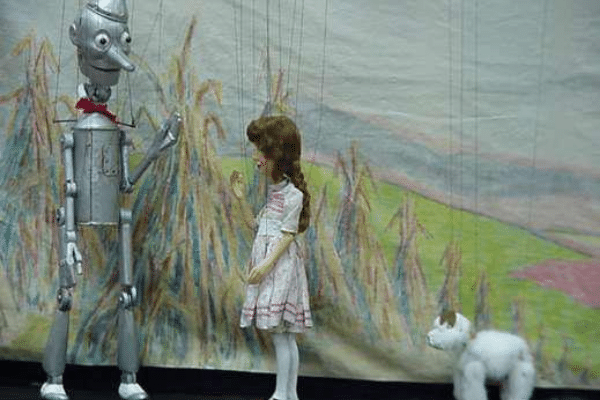 EXPLORE THE ARTS:
STEVENS PUPPETS: THE WIZARD OF OZ
Lions and Tigers and Puppets, oh my! In this classic heart-warming tale, beautifully adapted for marionettes by Martin Stevens and Dan Raynor, children of all ages will watch with bated breath as a Kansas cyclone whisks Dorothy off to Oz where she befriends the Scarecrow, who wants brains, the Tin Woodman, who wants a heart, and the Cowardly Lion, who wants courage.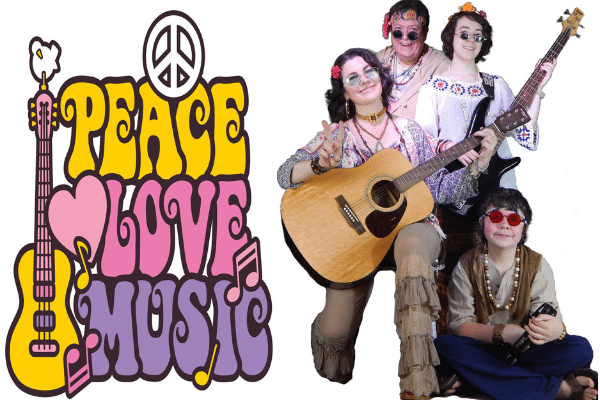 EXPLORE THE ARTS:
PEACE, LOVE, ROCK 'N' ROLL
Main Street Artists will celebrate the music of the 60's and 70's in an all ages rock 'n' roll show. Led by award-winning vocalist Julie Lyn Barber and keyboardist Darrin Murrell and features chart-topping feel-good classic rock favorites from:
The Beatles, Bob Dylan, Joni Mitchell, Cat Stevens, Simon & Garfunkel, Lovin' Spoonful, The Cowsills, Carole King & More!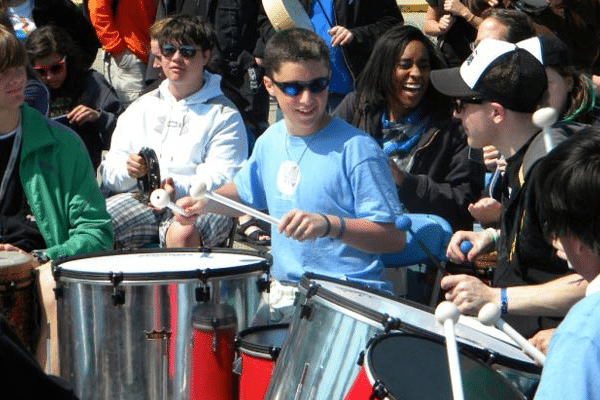 EXPLORE THE ARTS:
BONGO BOY MUSIC SCHOOL
Bongo Boy Music School will facilitate 6 drum circles for guests of all ages. No experience necessary! Come share your groove!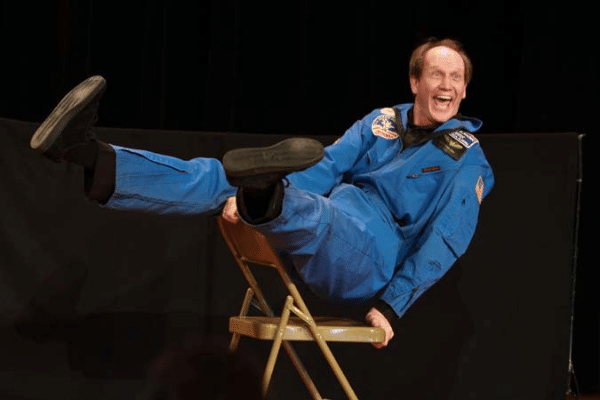 EXPLORE THE ARTS:
INDIANA MIME: RAIDERS OF THE LOST ART
Through mime, sign language, music and audience participation, guests will learn how Indiana has played a big role in shaping American history through famous astronauts, comedians, jazz, sports and more.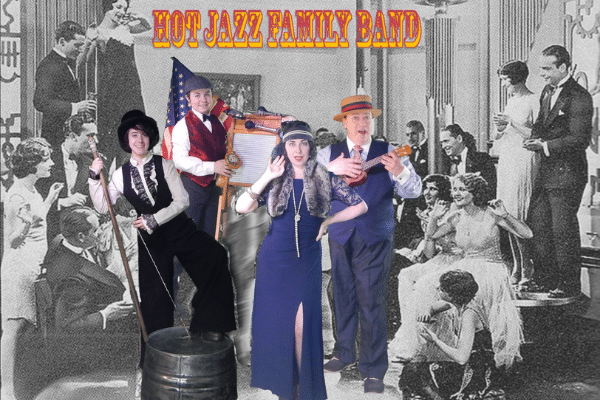 EXPLORE THE ARTS:
HOT JAZZ FAMILY BAND
The Hot Jazz Family Band will present a clap along, sing along style jam featuring selections that highlight Indiana history through music.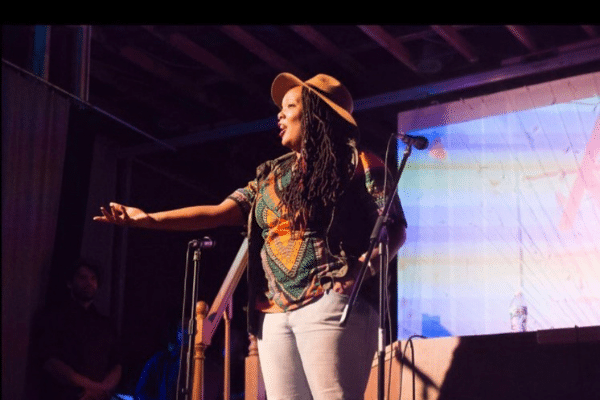 EXPLORE THE ARTS:
POETRY & MINDFULNESS WITH MANON VOICE
This performance/workshop will link poetry as an art form and mindfulness as a healing modality. Guests will engage with and respond to poetry and nature to explore both their inner and outer world.
EXPLORE THE ARTS:
MEET RICK CROSSLIN AND TALK SCIENCE
Meet award-winning educator Rick Crosslin and talk SCIENCE. In this exciting and unique presentation, Rick Crosslin will show that science can be fun. "This is science. Try it yourself!"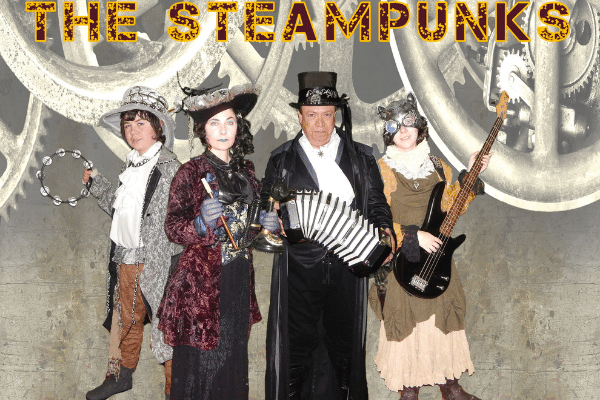 EXPLORE THE ARTS:
THE STEAMPUNKS: MUSIC AND MACHINES
THE STEAMPUNKS crank up the gears of music and fun in a show featuring music inspired by the machines that fueled the Age of Industry. The four-piece family band, clad in "steampunk" style costumes, incorporates a variety of instruments and musical styles as they present machine-related songs.