Excitement Builds Across Carmel as Community Embraces Cultural and Economic Benefits of Conner Prairie's Westside 'Conservation Campus'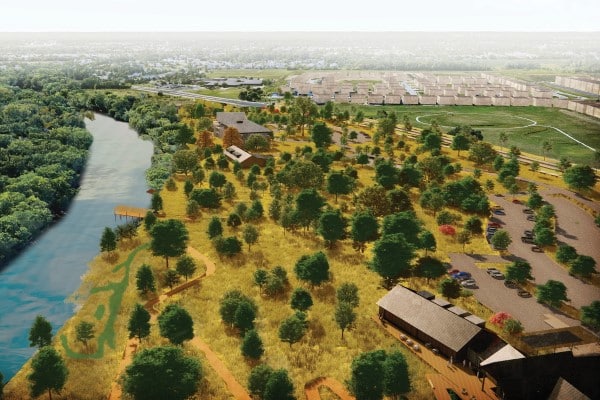 –Innovative project along White River will grow property values, jobs and education opportunity–
CARMEL, August 16, 2023 – Excitement is building across the city following the Plan Commission's unanimous recommendation to approve the rezoning request needed to make Conner Prairie's world-class conservation campus a reality. The full City Council will now consider the request which includes a proposed $110 million investment that will protect 220 acres of land, create educational and cultural experiences, increase area property values, generate new jobs and more.
"Conner Prairie is proud to call Hamilton County home and we are excited by the prospect of bringing this unique conservation campus to Carmel," said Chris Cooke, Chairman of Conner Prairie Foundation. "National studies have found property values can increase by 20% or more for residents living near the kind of amenities we are planning, and we expect this very special project to generate up to 30 new jobs over the first five years."
Plans for the conservation campus call for a farm-to-table restaurant, the beautification of River Road, and the revitalization of 3.3 miles of the White River flowing through the living history museum's property. Two distinct districts will provide guests opportunities to immerse themselves in nature, history, ecology and agriculture, and the campus will also provide opportunities for Conner Prairie, Carmel Clay Public Schools, and other school corporations to partner on educational nature-based programs.
"Throughout our planning process, we have collaborated with numerous community partners and made more than a dozen changes to the original plan," said Cooke. "We are pleased with where we have all landed together, and we thank the Carmel Plan Commission for their unanimous recommendation."
First introduced in 2018, planning for the westside campus has also been in partnership with the White River Vision Plan to provide more opportunities for residents and visitors to learn about the history of the river and gain access for recreational and educational purposes.
"Seldom does a project of this magnitude evolve into an opportunity for a public-private partnership among municipalities, non-profit organizations, and the private sector," said Hamilton County Commission Christine Altman. "We are soon to have a national model for how to positively affect community growth while protecting natural landscapes."
Conner Prairie – Indiana's first Smithsonian Institute affiliate – already has strong ties to Carmel and Hamilton County including:
More than 20,000 of 37,000 Museum members are from Hamilton County alone.
More than 225 Hamilton County residents are employees or volunteers.
Conner Prairie has a $25 million economic impact on Hamilton County.
The full Carmel City Council will review Conner Prairie's rezoning request for the conservation campus on Aug. 21.
About Conner Prairie
Spanning more than 1,000 wooded acres in Central Indiana, Conner Prairie welcomes more than 400,000 visitors of all ages annually. As Indiana's first Smithsonian Institute affiliate, Conner Prairie offers various outdoor, historically themed encounters and indoor experiential learning spaces that combine history and art with science, technology, engineering and math to offer an authentic look into history that shapes society today. Conner Prairie is a 501(c)3, nonprofit organization – accredited by the American Alliance of Museums – that relies on grants and philanthropic donations from individuals, corporations, and foundations for sustainability and growth. For more information visit ConnerPrairie.org.
CONTACT
Holly Pasquinelli
pasquinelli@connerprairie.org
317.776.6000 EXT. 267