The residents of Prairietown will meet with guests to discuss the events and "history" found in James Fenimore Cooper's "Last of the Mohicans."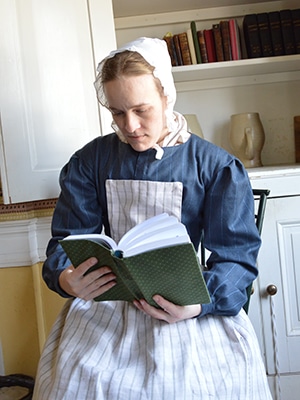 Opinionated Prairietown residents will gather at the home of Mr. Curtis to discuss James Fenimore Cooper's "Last of the Mohicans." Prairietown guests will include a few men who have knowledge of the Native Americans, the French and Indian War, and who served in the War of 1812. They will share their stories with the guests. Guests will be invited to join the discussion and enjoy a coriander cookie as supplies last.
With the aid of social media, we'll ask guests to read the work before arriving (either through online link provided or another medium) or view the movie, and will also provide synopses for guests unaware previously, but willing to participate.
Through discussion of a period literary work, guests will be given a view of how literature can promote an understanding of history, social expectations and mores, the extent of education, and the sensibilities of those folks on the farthest reaches of the Western frontier.
Schedule:
May 11 @ 1:45-5 p.m.
May 12 @ 1:45-5 p.m.