March 19 @ 10:00 am - 5:00 pm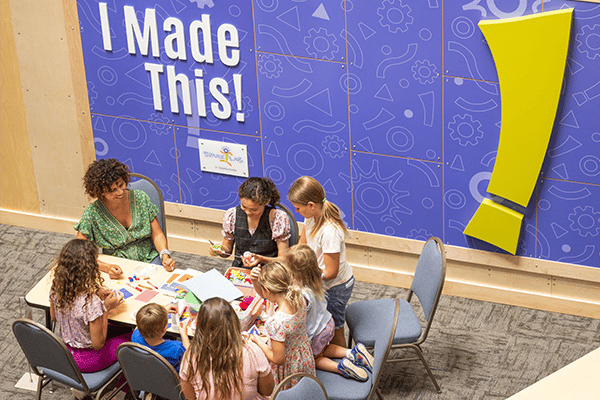 The Welcome Center will be open for all to experience! Our indoor areas are a place for the family to explore and create together. With Discovery Station and Spark!Lab guests will engage in various activities that provide a place for hands-on learning.
Thursday through Sunday 10 a.m. – 5 p.m.
Our outdoor grounds will be closed until March 28, 2023
---
Discovery Station and Anything Can Happen Art
This indoor area is the perfect place for guests through the age of nine to create, climb, explore, play and pretend!
"Anything Can Happen" art, where creativity is the main focus. Instead of our past practice of pre-made crafts, we give children and their families complete access to all of our constructive materials. From a variety of craft items, the possibilities of exploration are endless.
Learn More
Spark!lab
In Spark!Lab, we believe everyone is inventive.
Every day we provide opportunities for children and families to explore their inventive creativity—to create, innovate, collaborate, and problem-solve—because these experiences empower kids to develop the skills and confidence they need to succeed today and in the future.
Learn More