Enhancing the Vision of the White River With New Partnership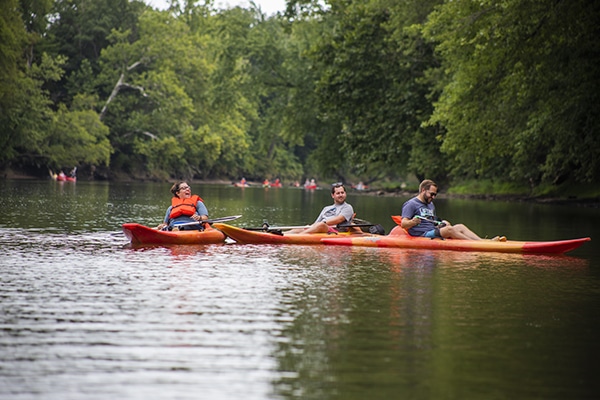 Volunteers kayaking on the White River during the White River Clean-up Day August 13, 2021
Conner Prairie and The White River Alliance team up to study water quality, build public awareness, create recreational opportunities, and strengthen community advocacy
Fishers, IN– Imagine if you could kayak in crystal clear water from downtown Noblesville to the southern tip of Indianapolis. Bike along a trail system that spans from Riverside Park to Strawtown Koteewi. Learn about the effects of shoreline stabilization from an education and ecology center on the banks of the White River. Thanks to the White River Vision Plan and a new partnership between Conner Prairie and The White River Alliance, all of these dreams could soon become a reality in Central Indiana.
This major milestone will help bring to life a 58-mile, multi-organizational approach to strengthen Central Indiana's most valuable natural resource through innovation, equity, and activation. The pairing of these two organizations will provide year-round access for the White River Alliance to sample and study the water as well as the integration of river and water-focused programming at Conner Prairie. Cooperatively, the alignment will lead clean-up efforts and educational initiatives that will drive conservation and sustainability.
"The White River connects 10,000 acres of parks and attractions through Marion and Hamilton County," said Conner Prairie President and CEO Norman Burns. "We have a commitment to take care of and protect this resource as if our lives depend on it, because they do."
"I'm proud of the steps that we have taken, along with more than a dozen other community organizations, to improve the way people experience White River," commented Jill Hoffmann, Executive Director of the White River Alliance. "Our partnership with Conner Prairie will accelerate our ability to make a difference."
This new partnership is developing fun, hands-on ways for the public to learn more about the river and participate in its improvement. A River Assessment Field Team (RAFT) event, in which trained volunteers help conduct serious citizen science, is scheduled at Conner Prairie for July 31st. Conner Prairie provides a stable, strategic hub to support water monitoring events on many of the northern tributaries that impact the White River's water quality. Data gathered from these events are being integrated into cooperative learning programs offered by both organizations and shared with state and local agencies. The pair is also hosting a river clean-up on August 27th to remove trash and debris pollution from the water. Conner Prairie's lengthy shoreline and family-friendly atmosphere creates the perfect location for hosting such a large-scale clean-up on this well-used and important stretch of the river.
As these opportunities continue to draw people to the river's banks, visitors are also met by thoughtful educational initiatives scattered around the grounds, including one of the 15 White River Art Canoes. The Art Canoes project is tied to a larger effort to raise awareness about the value of water, particularly the White River. This effort includes a new podcast series (The Collective Tap) that explores, from a non-water-expert perspective, some of the many complexities that are woven into our daily use of this critical resource. Conner Prairie is the perfect canvas for the White River Alliance to share these connections and inspire thousands of visitors toward action.
This North River District area of the White River Vision Plan, which includes Strawtown Koteewi, downtown Noblesville, and Conner Prairie, is taking shape with this new partnership at the helm. Activities and investments, including Conner Prairie's future White River Education and Ecology Center, will continue to focus on enhancing water and land use connections, inspiring conservation innovation, demonstrating best management practices, and providing training to help protect and improve the region's water supply. More collaborate river activation and learning opportunities are on the way!
Learn more about Conner Prairie's commitment to the White River, the White River Education and Ecology Center, and its other sustainability efforts here. Learn more about the White River Alliance here.
###
About Conner Prairie
Spanning more than 1,000 wooded acres in Central Indiana, Conner Prairie welcomes more than 400,000 visitors of all ages annually. As Indiana's first Smithsonian Institute affiliate, Conner Prairie offers various outdoor, historically-themed encounters and indoor experiential learning spaces that combine history and art with science, technology, engineering and math to offer an authentic look into history that shapes society today. Conner Prairie is a 501(c)3, nonprofit organization – accredited by the American Alliance of Museums – that relies on grants and philanthropic donations from individuals, corporations, and foundations for sustainability and growth. For more information visit ConnerPrairie.org.