Conner Prairie's Historic Livestock Program is Hero of Heritage Breeds Week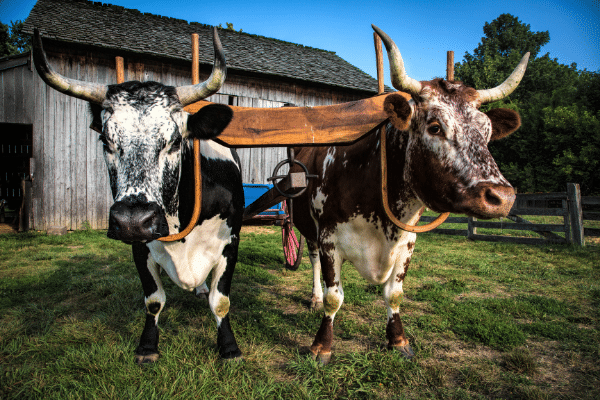 This effort to preserve endangered livestock is part of the museum's sustainability efforts
May 14, 2021

INDIANAPOLIS — This week, Conner Prairie is celebrating International Heritage Breeds Week, an event that encourages the preservation of endangered livestock breeds that were raised by farmers before modern, higher producing breeds replaced them.
Conner Prairie maintains four heritage breeds of livestock: Arapawa goats, English Longhorn cattle, Ossabaw Island hogs, and Tunis sheep. The museum maintains these herds because of their resemblance to livestock present in 19th-century Indiana.
Arapawa goats are similar to the extinct Olde English milch goat, which came to America with English settlers in the late 1700s. Although they eventually went extinct in the U.S., the breed thrived on Arapawa Island, New Zealand and were imported to the U.S. again in 1993. Today, Conner Prairie is committed to helping increase its bloodlines — an important mission, because the Arapawa goat is critically close to extinction. It is estimated that there are fewer than 600 worldwide.
Conner Prairie also has a herd of English Longhorn cattle. There are fewer than 100 of these cattle left in the country, and Conner Prairie keeps the second-largest herd in the U.S. Ossabaw Island hogs, a breed indigenous to Ossabaw Island off the coast of Georgia, also call Conner Prairie home. These hogs are descendants of pigs Spanish sailors brought to the New World more than 400 years ago. Finally, Conner Prairie breeds Tunis sheep, one of the oldest breeds indigenous to the U.S.

Conner Prairie's effort to preserve heritage breeds is just one of a series of monumental sustainability initiatives at Conner Prairie designed to help the living history museum "Survive, Provide, and Thrive."

"Worldwide, about one domesticated livestock breed every month is lost to extinction," said Norman Burns, president and CEO of Conner Prairie and member of the Board of Directors at the Livestock Conservancy. "Our heritage breeds preservation initiative is making sure that these animals are not lost to history. But on a higher level, this effort is an extension of our commitment to being a good steward of our land and river, and all the other natural resources that are part of Conner Prairie."
When visiting Conner Prairie the week of May 16 – 22, guests will be able to see first-hand how these breeds make a difference in today's world. Engage in daily meet and greets with our Agriculture staff and select heritage breeds, view presentations on modern vs. historic animals, participate in daily special events such as sheep shearing, science and preservation talks and enjoy story time at the Conner Barn where our historic breeds are the subject of many child-friendly tales.
Throughout 2021, the museum will continue to spotlight other environmental stewardship efforts to safeguard its connection to the river and land, and its commitment to preserving these natural gifts for the more than 400,000 visitors it hosts each year.
Learn more about International Heritage Breeds Week at www.livestockconservancy.org
Learn more about Conner Prairie's Agriculture program at www.connerprairie.org/agriculture-at-conner-prairie/
###
About Conner Prairie
Conner Prairie is the destination for living history, inviting guests to step into the story and actively experience the connection between today and yesterday. With over 1,000 acres of prairie lands and woods on the White River, Conner Prairie offers education and adventure to more than 400,000 visitors of all ages each year. As Indiana's first Smithsonian Institute affiliate museum, Conner Prairie provides both outdoor interpretive encounters and indoor experiential learning spaces, melding history and art with science, technology, engineering and math. A 501(c)3, nonprofit organization, Conner Prairie is accredited by the American Alliance of Museums, and relies on grants and philanthropic donations from individuals, corporations, and foundations to fuel its sustainability and growth. For more information, visit ConnerPrairie.org.