A Wallet's Journey from a dark cellar to Conner Prairie's Collection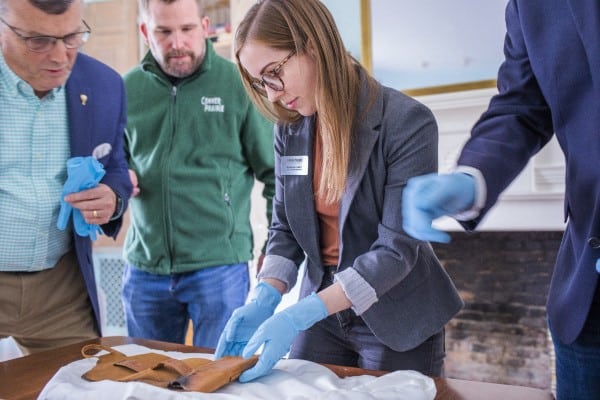 The Wallet's Journey
Every donation starts with a phone call or an email. Or, when someone walks through the front door of the museum with a box of old stuff. As an institution with an already expansive collection, we do not often accept new donations. However, when I received a call from a donor in 2022 about a leather wallet chock-full of handwritten IOUs addressed to "Conner and Stephenson," I knew immediately that this donation would be a perfect fit for Conner Prairie's Collection.
Technically, this donation started with an article in The Hamilton County Reporter. Steve and Lori Schwartz were interested in finding a home for the wallet and its accompanying financial records, so they asked The Reporter to find out where Hamilton County residents thought the wallet should end up. An overwhelming 67.5% suggested Conner Prairie. That's when I got the call.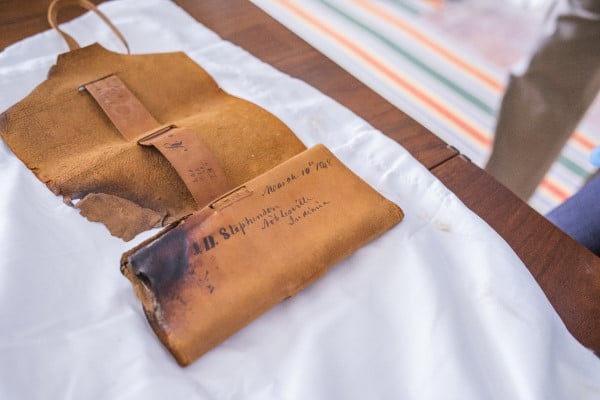 What makes this donation extra special? J.D. Stephenson – the owner of the wallet – and William Conner were business partners in the nineteenth century, and we suspect that many of these IOUs were written right here at the William Conner House. Some of the documents date back to 1834, and the wallet itself has a handwritten inscription: "March 10th 1848, J.D. Stephenson, Noblesville IN." The wallet was discovered inside the cellar of a house in downtown Indianapolis back in 1998, so it and its contents sustained quite a bit of water damage prior to their discovery. How did it end up in a dark, wet cellar 16 miles away? Nobody knows.
Within a month of the initial contact, the donation occurred. Of course, donations don't usually happen this quickly, but we were all eager to see the financial records and the wallet in person, and the donors were excited to get them to their new home.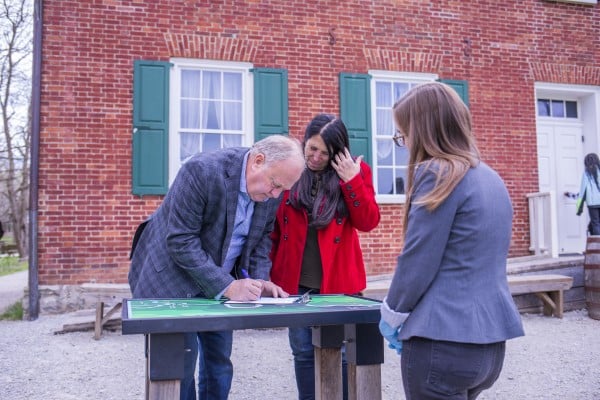 Preparing the objects
Usually, cataloging is the first step when you receive a new donation. However, due to the condition the papers were in, my first step was to find a conservator who could clean, stabilize, mend, and re-house the documents found in the wallet. They underwent more than 17 hours of treatment. Every ink and pencil mark was tested for stability to make sure the ink was stable enough to handle being washed. As needed, the documents were surface cleaned with make-up sponges, mended with Japanese fiber paper, and re-housed in Mylar folders. Depending on a conservator's workload and the scope of the project, it can take years for conservation work to be completed — our papers returned to Conner Prairie in less than a year.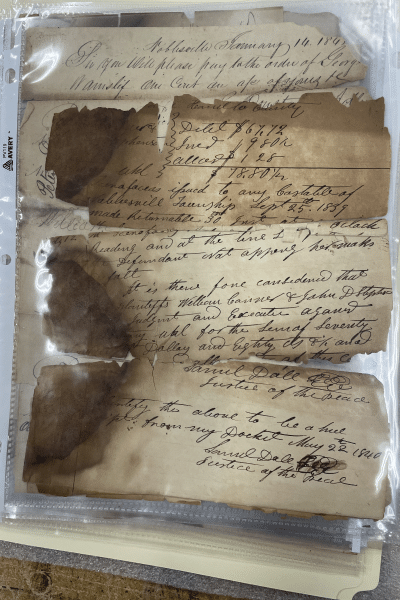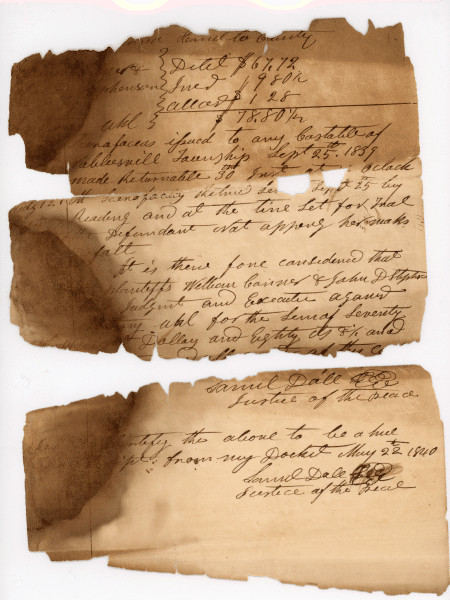 The documents might not look that different at first glance, but when you look closer, you'll see that two of the three pieces were re-connected and the stains were lightened – revealing additional text that wasn't visible before. The back side of the pages is even more compelling: you can see more than a dozen areas where the Japanese tissue paper was applied to repair rips and losses in the paper.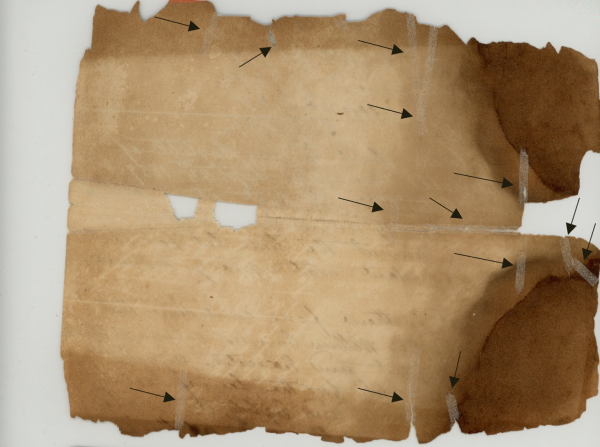 After the documents returned from conservation, the next step was to catalog each piece, scan them for research purposes, and then label the wallet and its financial records with an individual Object ID. There are a total of 104 individual pieces, so cataloguing and labeling the wallet's contents was the longest step of the donation process.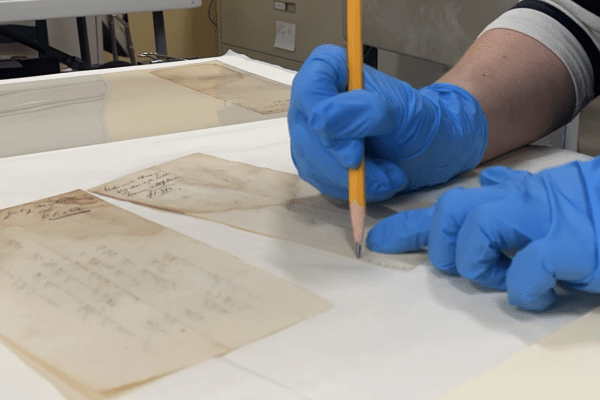 Protecting objects for future generations
Getting an object appraised is an important step, too. We needed a professional who could analyze the wallet and its contents to assess its historical and replacement value. Museums require an estimation of an object's value so that our insurance company can provide sufficient support in the event of damage. This could be from a fire, flooding, an accident while the object is in transit or while on loan, or during restoration. Interestingly, most Fine Arts policies specifically exclude damage incurred by nuclear reaction, civil war, birds, or insurrection.
This is, by far, my favorite step. Designing object housing requires a lot of contemplation about the safest way for the objects to be stored – flat, rolled, folded, padded, in a box, separated, together – and about the right materials to be used. Everything must be made of stable, acid-free materials so that the objects are protected for future generations.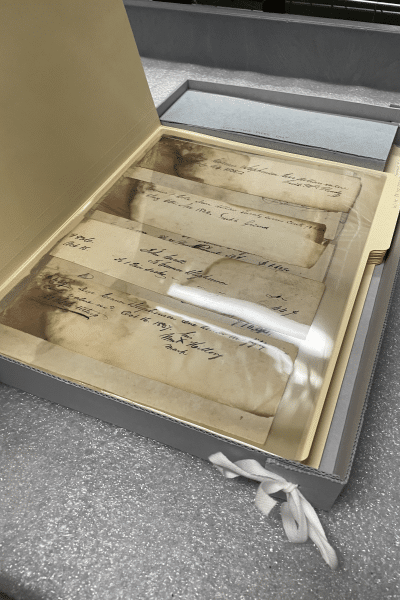 We are celebrating the 200th anniversary of the Conner House this year, and what better way to do so than with documents that were possibly created in the house? Now that the wallet is out of that Indianapolis cellar and into our Collections storage, hopefully we can keep them around for another 200 years.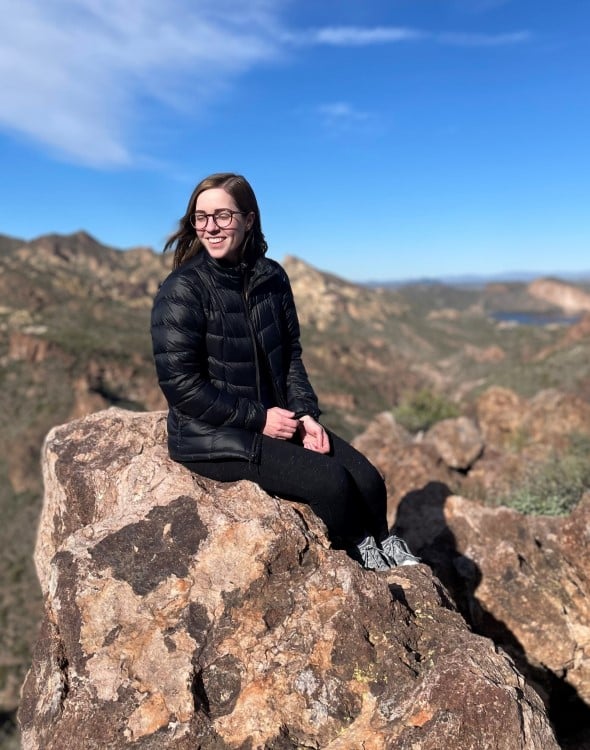 About the Author
Rebekah Furey is the manager of Conner Prairie's 3D, library and archival collections, which currently hold more than 27,000 objects. She has been at Conner Prairie for the past five years, focusing primarily on policy development, preventive conservation and object housing, as well as spearheading an ongoing effort to increase access to both the Collection and the Archives. Rebekah has a BA in Spanish & History and an MA in Museum Studies from IUPUI. When not at work, she can often be found hiking in National Parks or riding her bike around town.