Conner Prairie Reimagines the Future During 2021 Annual Meeting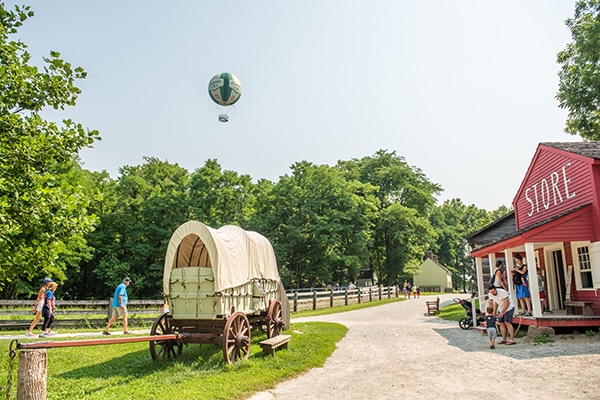 How the pandemic has reshaped how the world views and uses museums
FISHERS, Ind. — (April 5, 2022) – The past two years have highlighted Conner Prairie's adaptability to meet audiences where they are, provide new opportunities for meaningful conversations, and build a legacy based on the natural resources that make up the museum's 1,046 acres. These foundational goals were celebrated last week when the museum hosted its 2021 Annual Meeting featuring a keynote discussion with the President and CEO of the American Alliance of Museums, Laura Lott.
The virtual event covered a variety of topics including how the organization is redefining how the world views and uses museums. By reimagining current experiences and launching new ones, Conner Prairie is showcasing its commitment to reach new and broader audiences. Conner Prairie also put a heavy focus on integrating diversity, equity, accessibility, and inclusion (DEAI) to tell more stories that are inclusive of all history.
"Museums and exhibits are the eyes to our past and future," said Richard Copper, Vice President and Chief Programs Officer at Conner Prairie. "In 2021, we found new opportunities during a time of change, and worked to reimagine our future through our experiences, events, and programs."
As a part of its DEAI commitment, Conner Prairie submitted and was ultimately selected as one of nine organizations in the U.S. to participate in the Fostering Critical Conversations with Our Communities program, a pilot that will be activated this year as part of a yearlong Smithsonian Institution community engagement initiative in collaboration with the International Coalition of Sites of Conscience.
"We are committed to our community and fundamentally changing Conner Prairie to include a more diverse audience," said Andrew Bradford, Chief Advancement Officer at Conner Prairie. "Our end goal is to continue to inspire curiosity and foster learning in a more inclusive way."
As part of the Fostering Critical Conversations cohort, Conner Prairie will work with the other organizations to help develop a community engagement plan for the museum's new experience, Promised Land as Proving Ground, set to open this year.
"It is our entrepreneurial spirit as an organization and the values we exhibit that contribute to change," said Norman Burns, CEO of Conner Prairie. "2021 truly made us rethink our business and reposition ourselves. We need to be seen as a community asset, and one way we are doing so is through our diversity, equity, accessibility and inclusion commitment, to be a place where the doors are always open to a diversity of voices and experiences. We are committed to telling stories, inclusive of all history, as we grow and expand our story and mission in 2022."
In 2022, Conner Prairie will continue to activate its future through the Prairie Pathways Campaign and engagement with its community based on its strengths in historical education, hands-on learning, and outdoor experiences. Conner Prairie will create new guest experiences including the opening of Promised Land as Proving Ground, Spark!Lab, Smithsonian Habitat, and a transformational outdoor nature experience.
Key 2021 successes highlighted during the annual meeting included:
Invited 282,227 people to Step into the Story through daytime admission
Planted more than 111,000 sunflowers seeds, 114 Norway Spruce and 17 Hardwood Trees to further enhance stewardship of the land
Launched the Jupiter Flights Festival– a colorful new event celebrating the innovation of flight
12,000 hours were volunteered by our adults and youth
Selected to participate in the Fostering Critical Conversations with Our Communities program with the Smithsonian Institution
Heard over 16,000 voices from school children who visited in 2021
Offered American Sign Language Tours at A Merry Prairie Holiday for the first time
Raised more than more than $1.9 Million for the Mission Impact Fund
To learn more, view the 2021 Conner Prairie Annual Meeting, and download the 2021 Impact Report here: https://www.connerprairie.org/about/annual-reports/.
About Conner Prairie
Spanning more than 1,000 wooded acres in Central Indiana, Conner Prairie welcomes more than 400,000 visitors of all ages annually. As Indiana's first Smithsonian Institute affiliate, Conner Prairie offers various outdoor, historically-themed encounters and indoor experiential learning spaces that combine history and art with science, technology, engineering and math to offer an authentic look into history that shapes society today. Conner Prairie is a 501(c)3, nonprofit organization – accredited by the American Alliance of Museums – that relies on grants and philanthropic donations from individuals, corporations, and foundations for sustainability and growth. For more information visit ConnerPrairie.org.
CONTACT
Katie Warthan
Director of Marketing and Brand Strategy
317.776.6000 EXT. 240