Conner Prairie Looks Back at 2020 During Virtual Annual Meeting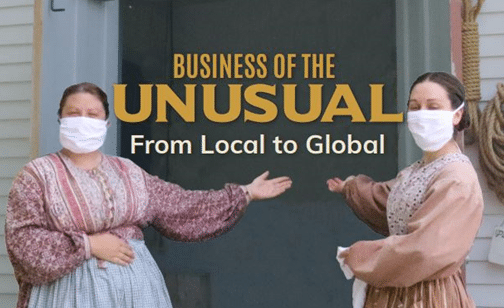 Year of "Business of the Unusual" Unpacked in Live Q&A
FISHERS, Ind. — (Friday, April 9, 2021) – Today Conner Prairie hosted their annual meeting where they celebrated the successes and challenges overcome during 2020. The event — held virtually for the second year in a row due to COVID-19 — brought Indiana community leaders and partners together to share stories about the museum's impact and to highlight the exceptionally innovative ways it adapted so it could continue to serve the entire country through the pandemic.
"We thought outside the box. In many ways, we kicked the box all the way down the street," said Richard Cooper, Vice President, and Chief Programs Officer at Conner Prairie. "Right as we were getting ready to shut down…our teams came together — from the leadership team to our frontline staff — to look at how we could take what was a very hands-on, engaging museum and immediately the next day, take it online."
The meeting allowed Conner Prairie's leadership team to reflect on how the organization overcame unimaginable challenges and continued to serve the country, highlighting new programs like Conner Prairie at Home, and Conner Prairie in the Classroom, which gave all teachers access to learning modules, exploring topics like "Navigation, Currency, Transportation" and "Native American Life."
"We wanted to continue to inspire curiosity. We wanted to continue to foster learning," said Andrew Bradford, Chief Advancement Officer at Conner Prairie. "And it took real courage in a year like 2020."
The museum was able to "survive and thrive" in spite of the unknowns because of the hard work and imagination of its team, Conner Prairie President and CEO Norman Burns explained.
"Conner Prairie, like so many others, faced a world of unknowns nearly every day. I was in awe of the swift work of my colleagues and the community who came together to ensure our virtual doors were open to a diversity of voices and limitless experiences. During a time of social unrest and a global pandemic, we adapted as a museum to deliver on many of our 2020 goals in new ways that focused on EVERYONE."
The annual meeting also featured an exclusive discussion with Dr. Richard Kurin, Smithsonian Distinguished Scholar and Ambassador at Large, and Interim Director of the Center for Folklife and Cultural Heritage of the Smithsonian Institution, as well as a live Q&A with leaders from Conner Prairie.
"This year, the community has needed us more than ever before, so we wanted to create a way for our stakeholders to directly engage with our leadership, to ask questions, share their personal stories, and participate in the meeting," explained Burns.
Key successes highlighted during the annual meeting included:
● The creation and distribution of more than 2,000 Conner Prairie Home Kits to children who did not have access to online learning
● The development of more than 50 educational videos on topics from cooking and baking to animals and agriculture
● The opening of Ag Adventures at Estridge Family Park — Indiana's first fully inclusive playground
● Hosting 1,645 Adventure Camp participants — with no known Covid-19 cases
● Welcoming more than 29,000 guests to the annual Headless Horseman festival
● Providing socially distanced winter fun to more than 19,000 guests of all ages during the second-annual A Merry Prairie Holiday festival
● Raising more than $9,000,000 in a historically challenging year
To learn more, view the 2020 Conner Prairie Annual Meeting, and download the 2020 Impact Report here: https://www.connerprairie.org/about/annual-reports
###
About Conner Prairie

Spanning more than 1,000 wooded acres in Central Indiana, Conner Prairie welcomes more than 400,000 visitors of all ages annually. As Indiana's first Smithsonian Institute affiliate, Conner Prairie offers various outdoor, historically-themed encounters and indoor experiential learning spaces that combine history and art with science, technology, engineering and math to offer an authentic look into history that shapes society today. Conner Prairie is a 501(c)3, nonprofit organization – accredited by the American Alliance of Museums – that relies on grants and philanthropic donations from individuals, corporations, and foundations for sustainability and growth. For more information visit ConnerPrairie.org.
CONTACT
Christine DeJoy
Director of Public Affairs
dejoy@connerprairie.org
310-625-0706