Conner Prairie Helps to Revive Rare Breed of Sheep – Once popular breed almost extinct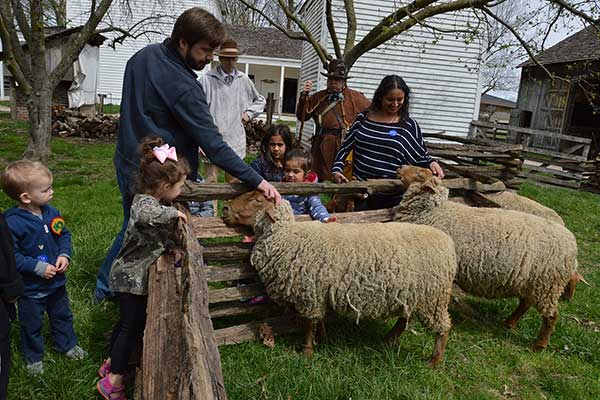 Conner Prairie is helping preserve this rare breed of sheep as one of the museum's valuable heritage breeds of livestock.
FISHERS, Ind. (August 2, 2019/Conner Prairie) – With a growing herd of approximately 25 Tunis sheep, Conner Prairie is helping preserve this rare breed of sheep as one of the museum's valuable heritage breeds of livestock. Over the years, through tireless efforts of farmers and places like Conner Prairie, the breed has made a comeback and is growing and beginning to thrive again.
Tunis sheep are one of the oldest breeds of sheep developed in the United States. In the late 1700's, a few Tunis sheep were sent to George Washington as a gift, and then bred with European sheep already in the country leading to the development of the Tunis breed. The breed became popular among many influential people of the time, such as Thomas Jefferson, and spread throughout the country particularly in the mid-Atlantic and southern states. The breed nearly went extinct during the Civil War, however one flock was saved and hidden in South Carolina.
Conner Prairie's Tunis sheep—along with the Arapawa goats—serve as ambassadors in Conner Prairie's Animal Encounters barn, allowing guests to pet and interact with them, and help raise awareness of the breed. "We also sell breeding stock to help provide diversified genetics in established herds and to help new farmers get started raising the breed," Conner Prairie Senior Livestock Staff Interpreter Stephanie Buchanan said.
As most breeds of livestock in the early 19th century were, Tunis are dual-purpose animals and have been traditionally used for both meat and wool. "We shear our sheep annually during the "Shear Fun" program. Much of the wool is used throughout Conner Prairie grounds from the textiles department to the youth spinning teams using it to practice with as well," Buchanan said.
You can find Tunis sheep like those at Conner Prairie at the Indiana State Fair this summer as well as throughout various pastures on the museum's grounds and in the Animal Encounters barn April-October!
###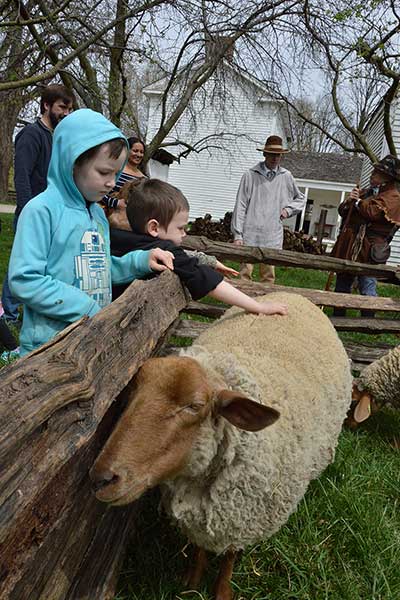 ABOUT CONNER PRAIRIE
Spanning more than 1,000 wooded acres in Central Indiana, Conner Prairie welcomes more than 400,000 visitors of all ages annually. As Indiana's first Smithsonian Institute affiliate, Conner Prairie offers various outdoor, historically-themed encounters and indoor experiential learning spaces that combine history and art with science, technology, engineering and math to offer an authentic look into history that shapes society today. Conner Prairie is a 501(c)3, nonprofit organization – accredited by the American Alliance of Museums – that relies on grants and philanthropic donations from individuals, corporations, and foundations for sustainability and growth. Visit connerprairie.org or call (800) 966-1836 for admission dates, hours, ticket prices, and opportunities to donate and volunteer.