Conner Prairie Expands and Enhances Visitor Experiences with Announcement of $24 Million in New Capital Projects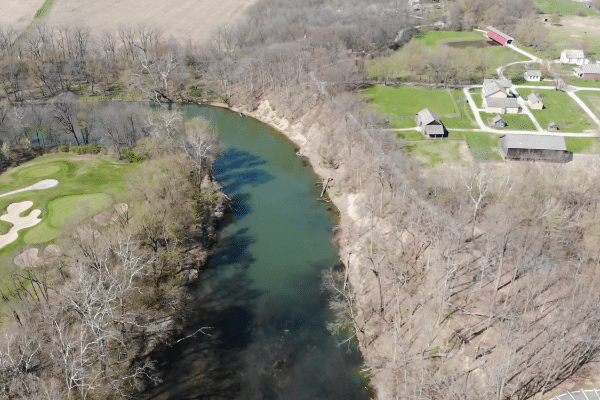 Development of unique exhibits and guest experiences will transform the way visitors engage with the museum
FISHERS, IN (August 12, 2022) – Indiana's premier living history museum and one of the most visited outdoor museums in the United States, Conner Prairie, announced today $24 million in new capital projects that will provide broader, deeper, bolder experiences to better serve its visitors and members. These experiences include:
Enhanced Museum Experience Center, with more access to space to host a variety of hands-on exhibits, Smithsonian Institution speakers and learning opportunities, a diversified collection, a dedicated youth leadership institute space, and local and global artist exhibits.
Outdoor Nature Experience, activating Conner Prairie's largest educational asset – 3.3 miles of the White River and more than 260 acres of prairie and woodland. Two trails, one that is fully accessible, will feature up to four education hubs with evolving content that includes the past, present and future role of the river, environmental science education opportunities, and visual art displays.
Promised Land as Proving Ground (PLPG), a comprehensive, new permanent exhibit set to open in Summer 2023, will tell a more inclusive story of Indiana's history, focused on the faith and lifeways, religious traditions, foodways, agriculture, music, dance and art of the African Diaspora and the African American culture and traditions. It will cover centuries of history from pre-colonial to present day.
Additionally, Conner Prairie will renovate its theater and create spaces that provide access to historic artifacts, either from its own collection or from traveling exhibits, while improving how visitors enter the Museum and access Prairietown, furthering Conner Prairie's commitment to accessibility for all guests. Whether in the new Museum Experience Center or on the trail in the education hubs, these new venues will give Conner Prairie the ability to provide content rooted in history while also being responsive to the evolving needs of the community and state.
"Conner Prairie has a unique opportunity to leverage our strengths in historical education, hands-on learning and play to offer new, immersive guest experiences that respond to community needs while also changing the way the world views and engages with museums," said Norman Burns, CEO of Conner Prairie. "Conner Prairie is taking proactive steps towards telling a more complete and more inclusive story, both in person and virtually. These projects ensure that we'll be a place where the doors are always open to a diversity of voices and limitless experiences for generations to come."
Private philanthropic giving to the Prairie Pathways Campaign of $15 million or more will support the new capital projects. The museum anticipates the remaining funds will be provided by partnerships currently in development.
Conner Prairie is pleased to announce the lead gift to the Prairie Pathways Campaign of $3.5 million from Jay and Nancy Ricker, part of their overall $5 million commitment to Conner Prairie. In addition, commitments of $1 million or more have been received from the Allen Whitehill Clowes Charitable Foundation, Steve and Sandy Hageman, the Nina Mason Pulliam Charitable Trust, and an anonymous donor.
"Our passion for meeting the needs of our visitors, patrons, and community has propelled us to imagine the broader, deeper, bolder pathways that will be made possible by these capital projects," said Andrew Bradford, Vice President and Chief Advancement Officer, Conner Prairie. "We are not just adding experiences, we are building the ability to create continually evolving experiences, now and into the future."
Conner Prairie's plans for continued growth are centered around strong partnerships locally, regionally, and nationally, such as the Smithsonian national affiliate program and the White River Alliance educational and conservation initiative, which provides hands-on ways for the public to learn more about the river and participate in its improvement.
To learn more about Conner Prairie's Site Master Plan and the new capital projects, please visit https://www.connerprairie.org/ppc. To learn more about Conner Prairie exhibits coming in 2022 and 2023, visit https://www.connerprairie.org/explore/experiences/.
###
About Conner Prairie
Spanning more than 1,000 wooded acres in Central Indiana, Conner Prairie welcomes more than 400,000 visitors of all ages annually. As Indiana's first Smithsonian affiliate, Conner Prairie offers various outdoor, historically themed encounters and indoor experiential learning spaces that combine history and art with science, technology, engineering and math to offer an authentic look into history that shapes society today. Conner Prairie is a 501(c)3, nonprofit organization – accredited by the American Alliance of Museums – that relies on grants and philanthropic donations from individuals, corporations, and foundations for sustainability and growth. For more information visit ConnerPrairie.org.
CONTACT
Katie Warthan
Director of Marketing and Brand Strategy
317.776.6000 EXT. 240