Conner Prairie Enacts Stabilization Project to Help Improve Drinking Water for Half a Million Hamilton County Residents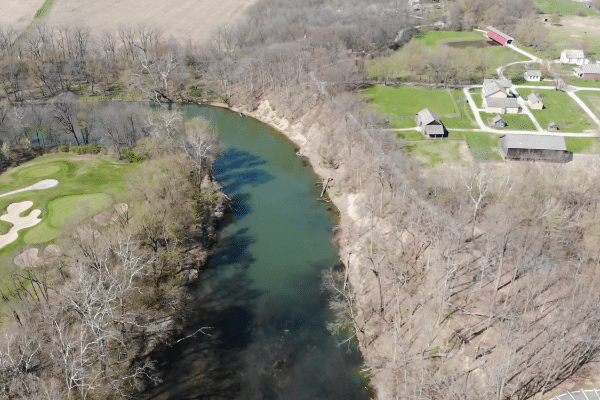 The planting, part of the Duke Energy Foundation-funded Shoreline Stabilization Project, will improve drinking water for nearly 540,000 Hamilton County residents
April 22, 2021
INDIANAPOLIS — This week, Conner Prairie will celebrate Earth Day and the museum's commitment to river and land stewardship by dedicating the planting of trees on its grounds along the banks of the White River.
This effort is part of the Shoreline Stabilization Project — a local initiative with global impact funded through the generous support of the Duke Energy Foundation.. The completed project will improve drinking water for nearly 540,000 Hamilton County residents serviced by the 116th street water intake valve located downstream from Conner Prairie by stabilizing just 144 square feet of shoreline along the White River.
"This stabilization project is critical to the water quality of the river, the natural habitats along the shoreline, and the safety of the more than 3,000 visitors who experience the river via kayak or canoe each year from Conner Prairie's property," explained Norman Burns, president and CEO of Conner Prairie. "Planting trees is just a small piece of this project, which will have a big impact not only on Conner Prairie, but our community as a whole."
As part of the Shoreline Stabilization Project, Conner Prairie will also act on recommendations from Hamilton County Soil and Water Conservation District to improve the water quality of its 1.3 acre pond and 28 acre watershed. Through pond edge enhancements, the museum will help balance the ecosystem, reducing erosion, improving water quality through the absorption of runoff, reducing algae growth, and adding wildlife habitats and aesthetic value.
"We understand that what we're doing today at the museum is part of something much bigger. An accessible and stabilized shoreline has global implications," Burns added.
Data shows that for every foot of stabilization completed, there is a correlating decrease in sediment, nitrogen and phosphorus. Just 1 lb. of phosphorus can result in 500 lbs. of algae; algae blooms can be a public health risk and are ecological risks. Further, sediment is the top pollutant by volume in Indiana and has been on the rise over the 10 years due to increased development and stormwater runoff.
The Shoreline Stabilization Project is just the most recent of a series of monumental sustainability initiatives at Conner Prairie designed to help the living history museum "Survive, Provide, and Thrive."

Throughout 2021, the museum will continue to spotlight other environmental stewardship efforts to safeguard its connection to the river and land, and its commitment to preserving these natural gifts for the more than 400,000 visitors it hosts each year.

Learn more at www.connerprairie.org.


About Conner Prairie
Spanning more than 1,000 wooded acres in Central Indiana, Conner Prairie welcomes more than 400,000 visitors of all ages annually. As Indiana's first Smithsonian Institute affiliate, Conner Prairie offers various outdoor, historically-themed encounters and indoor experiential learning spaces that combine history and art with science, technology, engineering and math to offer an authentic look into history that shapes society today. Conner Prairie is a 501(c)3, nonprofit organization – accredited by the American Alliance of Museums – that relies on grants and philanthropic donations from individuals, corporations, and foundations for sustainability and growth. For more information visit ConnerPrairie.org.
###