Conner Prairie Celebrates Record-Breaking
Headless Horseman Festival Season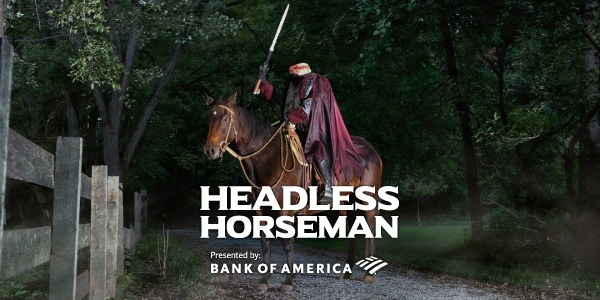 Festival revenue helps create greater access and year-round opportunities for underserved
families to experience Conner Prairie and its festivals
FISHERS, IN (November 1, 2022) – Conner Prairie is celebrating a record-breaking Headless Horseman Festival presented by Bank of America season with 56,564 tickets sold. Revenue generated from festivals like Headless Horseman and other private philanthropic support helps support Conner Prairie's mission to create access and year-round opportunity for underserved families through the museum's Access Pass Program while inspiring curiosity, fostering learning, and providing engaging experiences.
"Expanding access and creating more opportunities for everyone at Conner Prairie is at the heart of our mission as we plan for the future," President and CEO Norman Burns said. "A record-breaking festival means we'll have more opportunities to strengthen our relationship with communities in Central Indiana and across the country as we work to include all voices."
In 2022, 2,554 families enrolled in the Access Pass Program purchased discounted tickets to Headless Horseman. The Access Pass program breaks down barriers to experiences at the museum and provides a welcoming experience for everyone by offering $2 admission to Indiana families who receive state assistance through Hoosier Healthwise insurance, SNAP, TANF, CSFP and the Healthy Indiana plan.
Conner Prairie's longest-running festival allowed guests to experience the iconic haunted hayride through the grounds, encountering the horseman himself. This year's festival also featured a community-driven scarecrow contest, barrel train ride and an all-new magic show.
"The tremendous success of this year's Headless Horseman Festival season was only made possible by the community's outpouring of support," Vice President and Chief Programs Officer Rich Cooper said. "We are thrilled that thousands of families chose to celebrate the fun of the season at Conner Prairie with us."
The festivities continue at Conner Prairie with A Merry Prairie Holiday, Central Indiana's most beloved holiday festival, kicking off November 25. Learn more HERE.
Indoor attractions at Conner Prairie including Discovery Station and Spark!Lab are open 10 a.m. – 5 p.m. Thursday – Sunday. The museum grounds are closed for the season.
###
About Conner Prairie
Spanning more than 1,000 wooded acres in Central Indiana, Conner Prairie welcomes more than 400,000 visitors of all ages annually. As Indiana's first Smithsonian affiliate, Conner Prairie offers various outdoor, historically themed encounters and indoor experiential learning spaces that combine history and art with science, technology, engineering and math to offer an authentic look into history that shapes society today. Conner Prairie is a 501(c)3, nonprofit organization – accredited by the American Alliance of Museums – that relies on grants and philanthropic donations from individuals, corporations, and foundations for sustainability and growth. For more information visit ConnerPrairie.org.
CONTACT
Holly Pasquinelli
Senior Manager of PR and Communications
pasquinelli@connerprairie.org
317.776.6000 EXT. 267