How a birthday party became a national holiday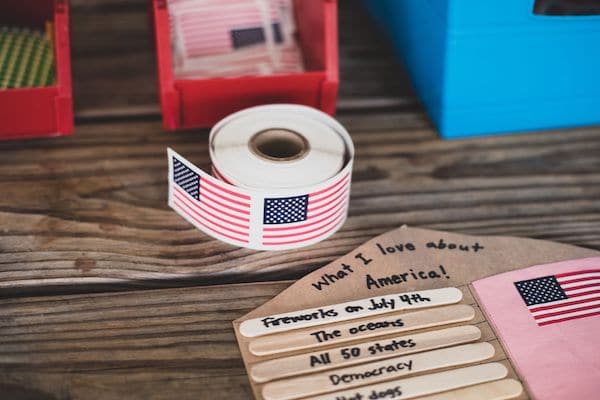 People love nothing more than a reason to party, and there are plenty of holidays that people use for that purpose. But not all holidays are seen as celebratory. One of those is fast approaching — Presidents' Day. To most people, Presidents' Day doesn't bring to mind massive celebrations; instead, it conjures up images of cheesy ads with Washington and Lincoln hocking discounted furniture. Although it is not considered a major holiday, it used to be one of the largest celebrations in America, on par with the Fourth of July.
From Washington's Birthday to Presidents' Day
The day we celebrate as Presidents' Day is legally known as "George Washington's Birthday," and that is how the holiday originated. Nobody looms quite as large in American history as the figure of George Washington, and that has been true from the beginning of the Presidency. While he was alive, people gathered to celebrate his birthday and celebrated the first president. The first public celebration of his birthday came in 1778 when a band of fife and drums serenaded the General at his headquarters in Valley Forge. Residents of Virginia began hosting "Birthnight Balls" to honor Washington the following year, which originated as a British tradition to honor the king's birthday. Since America had no king, folks settled on the next best thing. . . George Washington.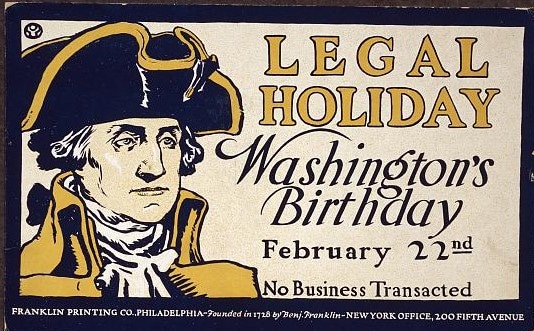 How Hoosiers celebrated the holiday
Celebrations continued throughout the 19th century, with towns and cities organizing annual events that featured parades, massive dinners, and guest speakers. In 1837, the Indianapolis celebration began at 11a.m. and featured a parade made up of representatives from all sorts of professions in the city. Farmers, merchants, lawyers, professional men, and laborers all marched together down Washington Street, first to the statehouse, and then to the courthouse. At the courthouse, spectators heard prayers, Washington's Farewell Address, and general speeches. Following the conclusion of that, the parade made its way to the Mansion House, a local hotel ran by Basil Brown who had prepared a dinner for the revelers. The day of festivities ended with a ball held that evening. [ "Twenty-Second of February," Indiana Journal (Indianapolis, IN), February 25, 1837.]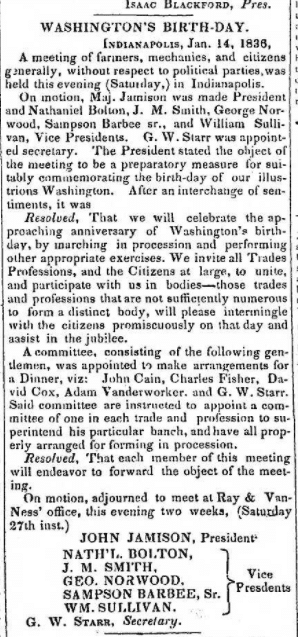 These unofficial celebrations continued, varying from place to place, until 1885 when the federal government made Washington's birthday an official federal holiday. Therefore, every year on February 22, the nation celebrated his birthday regardless of what day of the week it fell on.
After realizing in 1968, when Congress decided that in the interest of business and cost savings, three federal holidays should be moved permanently to Mondays. Congress passed The Uniform Monday Holiday Act which moved Washington's Birthday, Memorial Day, and Labor Day all to Mondays. The idea was that it would provide more three-day weekends for federal employees and simplify the calendar. It would also avoid business disruptions to public and private businesses. [ Lyndon B. Johnson, February 14, 2022, "Statement by the President Upon Signing the Uniform Holiday Bill," The American Presidency Project.]
This act took effect in 1971, and Washington's birthday was set to be celebrated the third Monday of February. Ironically, February 22 can never occur on the third Monday meaning we will never celebrate President's Day on Washington's actual birthday. President's Day has grown from a day to celebrate just Washington to a day where we think about all of the men who have been elected President. Yet, Presidential history is about more than just the men we elect. There is a rich history of First Ladies and others that have left lasting marks on American history.
Here at Conner Prairie, we try to include all of those diverse voices that have shaped our history of life from within the White House. Starting at 10 a.m., there will be Presidents, First Ladies, and others walking around, various games and activities, and a series of programs in Lilly Theater. Come hear Benjamin Harrison talk about his anti-grave robbing devices, William Howard Taft spilling the tea about outlandish presidential tales, and find your perfect presidential match with our "Candi-dating game."
Help prepare for George Washington and Abraham Lincoln's surprise birthday party, learn about braille and its ties to the White House, and talk to Elizabeth Keckley to learn about Washington fashion through the ages and more. There will be plenty to do for the whole family, so make sure you don't miss this opportunity to celebrate history Conner Prairie style!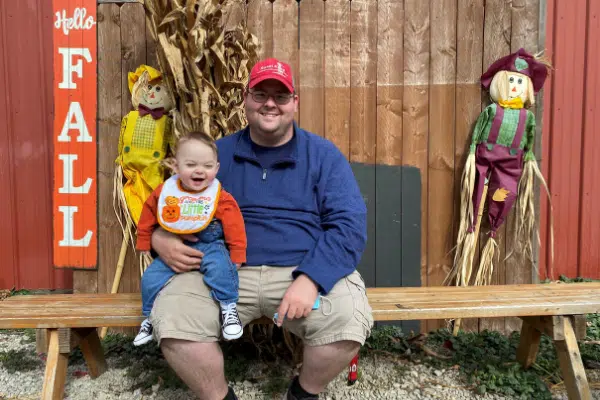 About the Author
Dylan Rawles is a Senior Interpreter at Conner Prairie working out in Prairietown and Civil War Journey. Dylan also focuses on the research portion of interpretation.