Conner Prairie Announces Opening of Smithsonian Spark!Lab Invention Space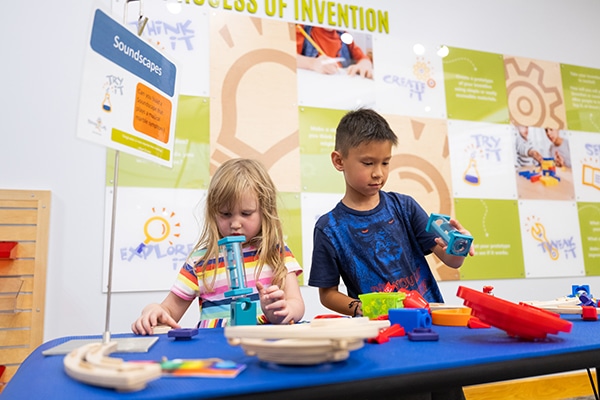 Spark!Lab is Developed by the Smithsonian to Bring Hands-On Invention Learning to Cultural Organizations Nationwide
FISHERS, Ind. (June 8, 2022) – Indiana living history museum, Conner Prairie, announces today the opening of Spark!Lab, a new experience that will celebrate innovation and give children and families the opportunity to explore their inventive creativity through hands-on discovery and learning.
Spark!Lab, developed by the Smithsonian's Lemelson Center for the Study of Invention and Innovation, aims to communicate that invention is a process, rather than a single "Aha!" moment. Visitors are provided with opportunities to explore the invention process and their own creativity and to demonstrate the central role that invention plays in American history—and today. Items from Conner Prairie's collection will be featured along with stories of young inventors from the past.
"Our mission at Conner Prairie is to offer a unique historic place that inspires curiosity and fosters learning by providing engaging and individualized experiences for everyone, said Jesse Kramer, Director of Exhibits at Conner Prairie. "Spark!Lab is an extension of this mission, providing learning opportunities for children and families to become inventors through their own creativity, innovation, collaboration and problem-solving skills."
Visitors to Conner Prairie's Spark!Lab can except a wide array of invention activities, from making a marble-powered musical soundscape to cleaning plastic pollution from the oceans. Spark!Lab will feature different invention challenges regularly (e.g., things that roll, things that help us see) so no two visits are alike.
Children and families will have the opportunity to:
Get inventive with open-ended, hands-on activities and challenges, for example: build a vehicle, create a musical soundscape, dream up ways to clean up the ocean, or play around with a vertical wind tunnel.
Explore new themes and activities during each visit.
See historic objects from Conner Prairie's collection in a new way.
Dig into stories of innovation from the past to inspire your inner inventor.
Interact and collaborate with Conner Prairie's fabulous staff.
To learn more, about the Conner Prairie Spark!Lab, visit https://www.connerprairie.org/sparklab-2/. To learn more about other Conner Prairie exhibits coming in 2022, visit https://www.connerprairie.org/explore/experiences/.
About Conner Prairie
Spanning more than 1,000 wooded acres in Central Indiana, Conner Prairie welcomes more than 400,00 visitors of all ages annually. As Indiana's first Smithsonian Affiliate, Conner Prairie offers various outdoor, historically-themed encounters and indoor experiential learning spaces that combine history and art with science, technology, engineering and math to offer an authentic look into history that shapes society today. Conner Prairie is a 501(c)3, nonprofit organization — accredited by the American Alliance of Museums — that relies on grants and philanthropic donations from individuals, corporations, and foundations for sustainability and growth. For more information visit ConnerPrairie.org.
Contact
Katie Warthan
Director of Marketing and Brand Strategy
warthan@connerprairie.org
317.776.6000 EXT. 240