Conner Prairie Announces New Outdoor Exhibit Habitat to Encourage Exploration and Discovery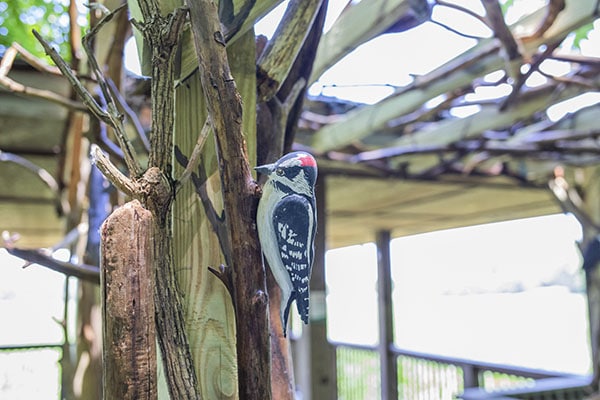 The new exhibit is a part of a collaboration with Smithsonian Gardens and the Smithsonian Institution Traveling Exhibition Service
FISHERS, Ind. (July 9, 2022) – Indiana living history museum, Conner Prairie, announces today the opening of Habitat, a new exploratory exhibit, featuring eleven themed exhibit sections where visitors can discover various nature-related content areas such as bird nests, biomes, keystone species and coral reefs.
Habitat was developed by Smithsonian Gardens and focuses on the importance of habitats to our culture and our lives. Itexplores the critical need for varied habitats, how interconnected and fragile they are, and what we can do to protect them. Habitats provide homes for all living things, from the tiniest ant to the tallest tree. The exhibition is made available by the Smithsonian Institution Traveling Exhibition Service.
Conner Prairie's Exhibits fabrication department will be working with local Indiana artists to create several sculptural and interactive elements and installing the interpretive labels to tell stories about the local habitats. Located in currently accessible guest areas, Habitat willhighlight Conner Prairie's outdoor initiatives to preserve, protect, and expand the use of our natural resources, captivating outdoor enthusiasts of all ages.
"With over a thousand acres and three miles of river on Conner Prairie's grounds, we have an obligation to protect and care for the natural resources we call home," said Jesse Kramer, Director of Exhibits at Conner Prairie. "Habitat will highlight that mission and invite guests to think about our space in a new way."
Conner Prairie is passionate about conservation and engaging in long-term partnerships with the community to give everyone access to learn more about and support the ecosystem and engage with natural resources.
The new exhibit will be open to the public, September 2. To learn more, about Habitat visit, https://www.connerprairie.org/habitat/. To learn more about other Conner Prairie exhibits coming in 2022, visit https://www.connerprairie.org/explore/experiences/.
###
About Conner Prairie
Spanning more than 1,000 wooded acres in Central Indiana, Conner Prairie welcomes more than 400,000 visitors of all ages annually. As Indiana's first Smithsonian Affiliate, Conner Prairie offers various outdoor, historically-themed encounters and indoor experiential learning spaces that combine history and art with science, technology, engineering and math to offer an authentic look into history that shapes society today. Conner Prairie is a 501(c)3, nonprofit organization – accredited by the American Alliance of Museums – that relies on grants and philanthropic donations from individuals, corporations, and foundations for sustainability and growth. For more information visit ConnerPrairie.org.
CONTACT
Katie Warthan
Director of Marketing and Brand Strategy
317.776.6000 EXT. 240