Conner Prairie Announces $33 Million Museum Experience Center Transformation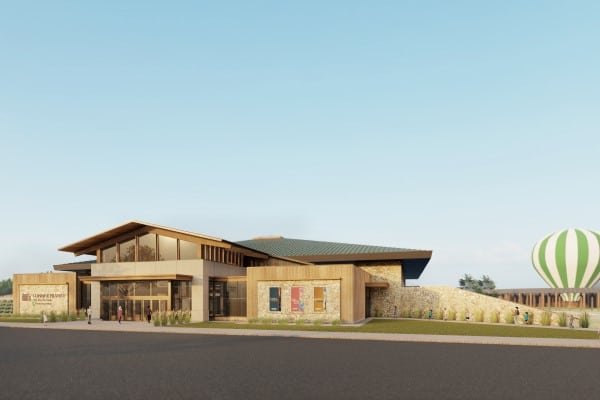 The newly imagined Museum Experience Center will offer visitors more immersive exhibit spaces, hands-on learning and play, and access to collection items.
FISHERS, Ind. (Sept. 21, 2023) – Indiana living history museum, Conner Prairie, announces plans to begin a $33 million transformation of its Museum Experience Center, reimagining how guests will experience the indoor exhibits at Indiana's first Smithsonian affiliate.
Funded through the Prairie Pathways Campaign, the new Museum Experience Center will provide six experience areas through expanded exhibit space and the ability to host travelling exhibits. The building will also house expanded programming opportunities, inclusive storytelling, evolving HiSTEAMic (History, Science, Technology, Engineering, Arts and Agriculture, and Mathematics) content, an immersive play space, a brand-new entry onto the grounds, and the opportunity to display even more historical pieces from the Museum's collection of more than 27,000 artifacts.
"The newly imagined Museum Experience Center will not only enrich lives through its incredible immersive experiences, but will also serve as a beacon of opportunity, fostering community and bridging the past to the present. "Conner Prairie President and CEO Norman Burns said. "We are incredibly grateful to everyone who has supported the record-breaking Prairie Pathways Campaign that will provide broader, deeper, and bolder experiences for guests and help change the way the world views and uses museums."
More than $40 million in philanthropic support to the Prairie Pathways Campaign since 2018 has helped not only fund the transformation of the Museum Experience Center, but other capital projects including the museum's newest exhibit, Promised Land as Proving Ground, and the Trails at Conner Prairie, both set to open Spring of 2024.
"Conner Prairie's commitment to providing an experience unlike any other will truly be realized with the reimagining of the Museum Experience Center. " Indiana Destination Development Corporation Secretary and CEO Elaine Bedel said. "We are thrilled to support the museum's initiative to be a leader in innovative and engaging experiences highlighting a diversity of voices reflective of all guests, making the Museum one of the best Indiana has to offer."
Experiences inside the Museum Experience Center will be closed beginning November 27, 2023, as the building is prepared for construction. The Museum Experience Center will continue to be used for special events, ticketing and membership sales, and as an entrance for A Merry Prairie Holiday through the end of 2023. The entire building will close beginning February 5, 2024, and is expected to reopen to the public in 2025.
Conner Prairie's outdoor experiences will open to the public on January 18, 2024, with new winter hours. During this time guests can participate in activities throughout the grounds including Prairietown and the William Conner House.
Conner Prairie members will enjoy the same year-round benefits and perks, including free
Headless Horseman festival tickets and discounts to all other festivals like A Merry Prairie Holiday, discounts to Adventure Camp, unlimited daytime admission, and much more.
To learn more, about the Prairie Pathways Campaign and the transformation of the Museum Experience Center, click HERE. Renderings of the Museum Experience Center can be downloaded HERE.
About Conner Prairie
Spanning more than 1,000 wooded acres in Central Indiana, Conner Prairie welcomes more than 400,000 visitors of all ages annually. As Indiana's first Smithsonian Affiliate, Conner Prairie offers various outdoor, historically-themed encounters and indoor experiential learning spaces that combine history and art with science, technology, engineering and math to offer an authentic look into history that shapes society today. Conner Prairie is a 501(c)3, nonprofit organization – accredited by the American Alliance of Museums – that relies on grants and philanthropic donations from individuals, corporations, and foundations for sustainability and growth. For more information visit ConnerPrairie.org.
CONTACT
Holly Pasquinelli
Senior Manager of PR & Communications
317.776.6000 EXT. 267