Conner Prairie and Sun King Brewery Announce Winner of Specialty Headless Horseman Brew Growler Art Contest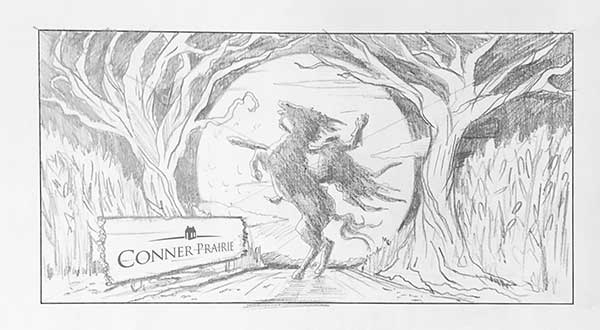 Brewery and Museum partner again to bring "Ichabrewed Crane" to Headless Horseman Festival
FISHERS, Ind. (Aug. 22, 2019)— After tallying over 1,100 votes, Conner Prairie and Sun King Brewery are excited to announce the Headless Horseman himself as the official growler design of "Ichabrewed Crane," the official Headless Horseman Festival 2019 beer! Voters were given a chance to place their votes on two potential designs this year. Design 1 reflected a patchwork quilt pattern, and design 2 was a nod to our festival namesake, the Headless Horseman.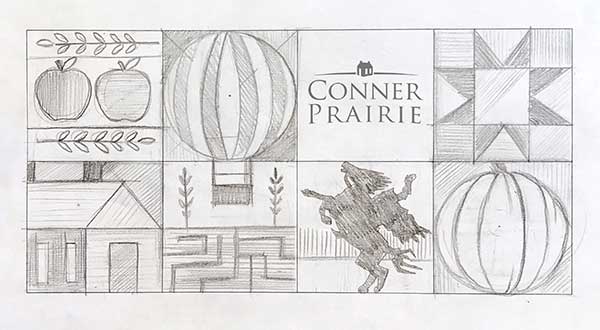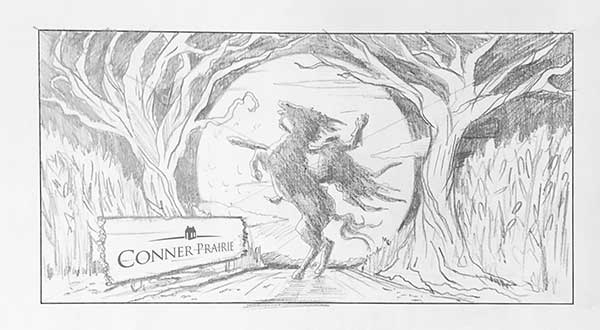 Sun King will award the winning voter, chosen at random, a $25 Sun King gift card, four tickets to this year's Headless Horseman Festival and a commemorative growler with this brew's specialty artwork!
The seasonal copper ale will be available from 5-8 p.m. on Oct. 9 at a tapping party at Sun King's Small-Batch Brewery and Taproom in Fishers. All ages are invited to attend this free event to help celebrate this launch and join in family-friendly activities, including pumpkin decorating.
Fans of Conner Prairie and Sun King will be able to purchase, for a limited time, commemorative growlers showcasing the winning art for "Ichabrewed Crane." Growlers will be sold inside The Conner Prairie Store and at Sun King's 96th Street Fishers taproom location for $20.
"Craft beer fans fell in love with Sun King's Ichabrewed Crane brew last year and we're thrilled to continue the tradition of releasing this specialty brew in time for our Headless Horseman festival," said Norman Burns, president, and CEO at Conner Prairie. "Whether you're a burgeoning hops enthusiast or consider yourself a beer sommelier, thanks to Sun King, this unique beer will continue to remind you of a great community tradition, every time you take a sip."
"Headless Horseman continues to be one of our favorite fall traditions," said Samantha Lilly, community partnership manager with Sun King. "We are excited to unveil this year's growler design to the community as part of our storied partnership with Conner Prairie."
Headless Horseman, the annual Halloween festival, will take place this year on October 10-13, 17-20 and 24-27. This year the acclaimed festival will feature an all-new 11-acre corn maze along with returning festival favorites and of course, the Headless Horseman himself.
U.S. News & World Report included Conner Prairie as one of the top 30 destinations to view fall foliage and USA Today has named the Conner Prairie Corn maze as one of the top 20 corn mazes in the country. Visitors can view the fall foliage and an aerial view of the corn maze via the 1859 Balloon Voyage which is open during regular hours and Headless Horseman for an additional fee. (Balloon voyages are weather dependent.) Visit connerprairie.org/headless-horseman for more information.
###
ABOUT CONNER PRAIRIE
Spanning more than 1,000 wooded acres in Central Indiana, Conner Prairie welcomes more than 400,000 visitors of all ages annually. As Indiana's first Smithsonian Institute affiliate, Conner Prairie offers various outdoor, historically-themed encounters and indoor experiential learning spaces that combine history and art with science, technology, engineering and math to offer an authentic look into history that shapes society today. Conner Prairie is a 501(c)3, nonprofit organization – accredited by the American Alliance of Museums – that relies on grants and philanthropic donations from individuals, corporations and foundations for sustainability and growth. Visit connerprairie.org or call (800) 966-1836 for admission dates, hours, ticket prices and opportunities to donate and volunteer.
ABOUT SUN KING BREWERY
Sun King Brewing Company is the brainchild of Dave Colt and Clay Robinson. With the help of family and friends – Omar Robinson, Andy Fagg and Steve Koers – the first keg of Sun King beer rolled out the door for delivery in July 2009. Available on tap and in cans throughout Indiana, Illinois, Florida, Cincinnati & Dayton, OH, and Louisville, KY, Sun King has grown into a leader in the independent craft brewing movement. Sun King's brewers hand craft flagship, seasonal and specialty beers that have been rewarded with multiple medals at the Indiana Brewers Cup, the Great American Beer Festival and World Beer Cup competitions, and the brewery donates to hundreds of community organizations throughout Indiana. Sun King also owns Sun King Spirits and Tap Room in Carmel, Ind., where guests can sample spirits made collaboratively with local distilleries, handcrafted cocktails, Sun King beers, food from local restaurants and soon, a variety of Sun King's own small-batch spirits. Visit sunkingbrewing.com for more information. Sun King Brewery is also on Facebook, Twitter and Instagram.
CONTACT
Christine Dejoy
Director of Public Affairs
dejoy@connerprairie.org
310-625-0706
Beth Belange
Promotions Director
elizabeth@sunkingbrewing.com
317-602-3702