Conner Prairie and Ritz Charles Partner to Reopen Historic Chinese House as Stunning Event Venue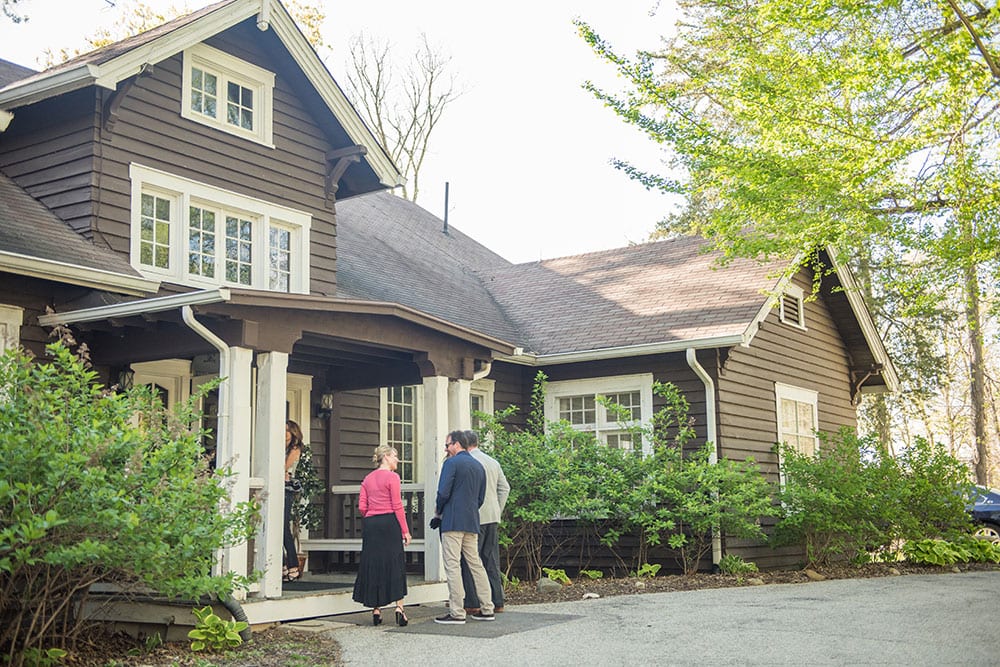 Partners announce plans to invest more than $3 million to renovate and expand Eli Lilly's former retreat.
FISHERS, Ind. (Wednesday, May 2, 2018) – Conner Prairie today announced a partnership with Ritz Charles to invest more than $3 million to renovate and expand Eli Lilly's historic Chinese House located on the grounds of Conner Prairie near 131st Street and Allisonville Road. When renovations are completed in early 2019, the restored Chinese House and a new pavilion – The Bluffs at Conner Prairie – will open as a stunning event venue perched on the bluffs of the White River with 250-person occupancy available for wedding ceremonies and receptions, social galas, corporate events and holiday parties.
Ritz Charles will have exclusive operating rights to provide food and beverage services at the Chinese House and The Bluffs with the majority of their funding supporting capital improvements and construction of The Bluffs – which will be enclosed with glass on three sides allowing for amazing views of the White River and old growth wooded grounds. Work is expected to be substantially completed by Jan. 31, 2019.
"The renovated Chinese House will provide guests a great connection to Conner Prairie's past and a gateway to our future," said Conner Prairie President and CEO Norman Burns. "Visitors will get to experience Eli Lilly's former retreat and his love for Chinese culture while having access to nature, views of the White River and a beautifully renovated space for their events. Revenue generated from this partnership and new space will allow Conner Prairie to continue providing unique and innovative experiences for our members and guests for years to come."
The original house was built around 1907 by the Atkins family of Indianapolis on land originally owned by William Conner. Indianapolis businessman Eugene Haslet Darrach purchased the house and property in 1915.
Eli Lilly, then president of Eli Lilly and Company, purchased the home in the late 1940s to use as a family retreat. Mr. Lilly decorated the house in the Chinese style. The ceilings were painted "with gorgeous Chinese symbols," as Mr. Lilly wrote in archived diaries. "On the dining room ceilings bloomed the twelve flowers of the months of the year." He then added other Asian furniture and architectural elements.
According to a 2017 report by Shirley M. Mueller, a collector and scholar of Chinese export porcelain, two Lilly doctors originally from China – Ko Kuei and Amy Ling Chen, proposed a Chinese name to Mr. Lilly for the house – "Shen Ho Shi", meaning House of Sylvan Harmonies. In Chinese culture, families give their homes lyrical names and Mr. Lilly adopted this practice for his Chinese House too.
"We feel incredibly fortunate to partner with Conner Prairie on the renovation of Eli Lilly's historic Chinese House," said Ritz Charles President and Co-Owner Bill Nicholls. "When you combine the natural beauty of the land, the compelling history of the house and the new renovations we have in store, the new Chinese House will be a truly unique event space for weddings, receptions, corporate meetings and other special events."
"With more than 115 combined years of providing positive customer experiences between Ritz Charles and Conner Prairie, this team looks forward to offering a new venue for Hoosiers and people from around the country alike to book special events," said Ritz Charles Vice President and Co-Owner Mark Safranek.
In addition to Ritz Charles' commitment, support for the project includes a significant pledge from Jay and Nancy Ricker, the founders of Ricker Oil Company, Inc., a generous grant from the Lilly Endowment Inc. and several other private donations.
For more information on reserving the Chinese House, please visit connerprairie.org.
###
ABOUT CONNER PRAIRIE
Spanning more than 1,000 wooded acres in Central Indiana, Conner Prairie welcomes more than 400,000 visitors of all ages annually. As Indiana's first Smithsonian Institute affiliate, Conner Prairie offers various outdoor, historically-themed encounters and indoor experiential learning spaces that combine history and art with science, technology, engineering and math to offer an authentic look into history that shapes society today. Conner Prairie is a 501(c)3, nonprofit organization – accredited by the American Alliance of Museums – that relies on grants and philanthropic donations from individuals, corporations and foundations for sustainability and growth. Visit connerprairie.org or call (800) 966-1836 for admission dates, hours, ticket prices and opportunities to donate and volunteer.
ABOUT RITZ CHARLES
Ritz Charles was established over 30 years ago with a vision of a high-quality venue focusing on social gatherings, fundraisers, corporate meetings and weddings. The 15,000-square foot facility on Meridian Street was the catalyst to additional venues and offsite catering. Over the years, Ritz Charles has acquired a renowned culinary staff, professional servers, dedicated managers and talented event specialists. Visit ritzcharles.com or call (317) 846-9158 for available venues and services.
CONTACT
Christine Dejoy
Director of Public Affairs
dejoy@connerprairie.org
310-625-0706