Celebrating the life of Pat G. Rooney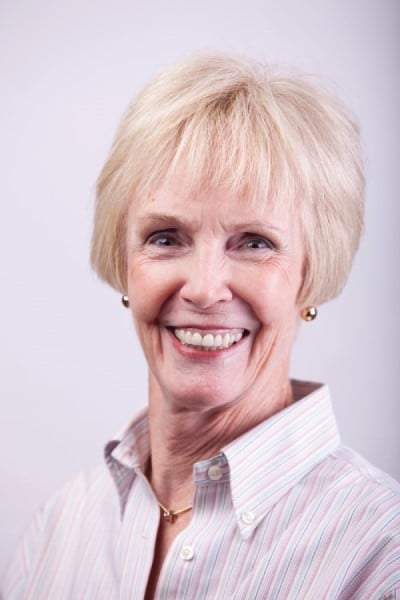 "I have a long-standing appreciation and love of this place, its glorious landscape, the history which visitors of all ages experience, and the grateful realization that our ancestors survived so much… Conner Prairie holds a special place in my heart."

— Pat Garret Rooney
Pat G. Rooney, a dear Conner Prairie volunteer, board member, and donor passed away in February, leaving a legacy of love for our museum behind. Pat was a strong advocate for the organizations that she cared for, and Conner Prairie was fortunate to be so close to her heart.
Pat was involved with Conner Prairie for more than 50 years as a volunteer, interpretive staff member, executive director, board member and donor. But it all started in the 1970s when she officially joined the Conner Prairie "family" as a volunteer at the old traders cabin.
Eventually, Pat's volunteerism led to a part-time, paid interpretive staff position. In the early days she played roles as one of the original farmstead wives, a blacksmith's wife, and Mrs. Curtis.
"For as long as I can remember, mom loved her involvement with Conner Prairie," says Megan Wiles, Conner Prairie Museum Board Member and Pat's daughter, "She first began as an interpreter in the role of the blacksmith's wife. Her early career included roles as a teacher on television, so she really enjoyed engaging with the guests and teaching them about life in 1836 in Prairietown."
In 1997, after two decades of connection to Conner Prairie and ongoing commitment to several central Indiana community organizations, Pat was selected as interim executive director of Conner Prairie. She then shared, "I was thrilled and delighted to be asked. I consider this just a service to an organization I've known for a long time and value a great deal."
Throughout her years, Pat witnessed the evolution of Conner Prairie as an organization. She witnessed Conner Prairie grow to an expansive, independent museum dedicated to inspiring curiosity among our guests. She served on our the Conner Prairie board from 2005 to 2012, playing a critical role in Conner Prairie becoming independent of Earlham College in 2006. For her long, dedicated service to Conner Prairie, Pat was recognized as a Director Emeriti.
"Mom has been referred to as a 'cheerleader' for the organizations she was involved with, and I believe Conner Prairie was one of her favorites. Through mom's involvement, our family developed a love of Conner Prairie that includes memberships in the Conner Prairie Alliance and both granddaughters serving as youth interpreters and paid staff. Our family has enjoyed many special events at Conner Prairie during mom's lifetime and we look forward to creating more memories in the years to come."
Pat's legacy of support for Conner Prairie lives on in Wiles, who joined the Conner Prairie Museum Board of Directors in January 2023, and her granddaughter Grace, who shares Pat's affinity for this museum.