Adventure Camp's mission is to provide everyone a safe and fun summer experience that builds lasting community and encourages personal growth under the skilled leadership of excellent role models. If you're interested in being a part of a team that delivers an unforgettable camp experience, consider joining us.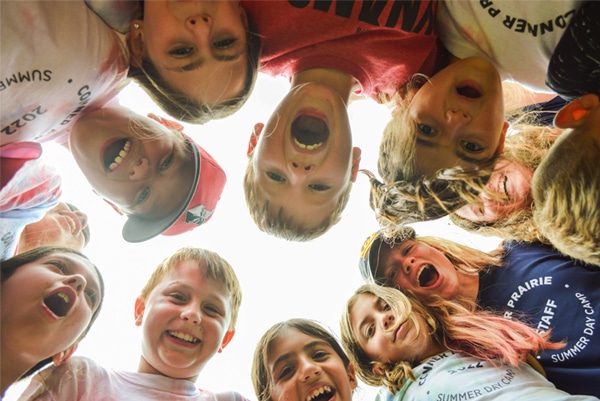 Camp might be right for you if
You enjoy working with young people between the ages of 5 and 15
You want to have fun, earn a paycheck, and make a difference all at the same time
You do your best work in fresh air and sunshine
You prefer paddling a canoe or riding a mountain bike to running a register or stocking shelves
You're majoring in education, communication, psychology, nursing, kinesiology/exercise science, social work, management, or any other field where working with people is important
A sense of pride and accomplishment that comes from spending your summer changing the world for the better

A consistent schedule of 40 hours each week without any nights or weekends and a predictable paycheck, starting at $13/hr

Free Conner Prairie plus-level membership and other perks like concert tickets

Value experience working with young people, with some options for college credit (internships and practicums)
Qualifications for all roles
Age 18+ or a high school graduate by the first day of camp

Experience in childcare is required. Experience working with youth at a camp or school is preferred.

See individual job descriptions for position-specific qualifications
Lifeguard (training provided)
This isn't your normal "sit in a guard chair and scan the pool" lifeguard job. Campers swim, fish, and canoe on our 1.5 acre pond, all while wearing a lifejacket. Campers age 8+ canoe on the White River, accompanied by their counselors and a lifeguard. You'll be surveilling the pond, helping campers catch their first fish, loading and trailering canoes, and getting paid to paddle! On-site lifeguard certification and CPR Pro Rescuer training courses are provided for applicants without a current credential.
Counselors are the lifeblood of the camp experience. At Adventure Camp, you're paired with a co-counselor and assigned to a group of 14 young people for the entire week. Get to know these campers while you lead them through activities like swimming, canoeing, fishing, zipline, mountain biking, arts and crafts, and more. Don't worry about planning your own activities or crafts- that part is done for you so you can focus on delivering an excellent program.
As campers and staff experience adventures like swimming, canoeing, and mountain biking, you're always close by to capture the action with your camera. A photo of each camper and camp group is edited and uploaded to an online platform for viewing and purchasing by parents and guardians. You'll act with a high degree of autonomy to make sure you get photos of each camper having a GREAT time at camp, and should be comfortable driving a golf cart to travel between activities quickly. Basic experience with photo editing software is required.
One of the highlights of camp is our 265 foot long zipline that takes off from a platform 15 feet up in the air. You'll receive specific training before camp starts to ensure that every camper has a safe and enjoyable experience. You're the expert on harnesses, helmets, trolleys, slings, and more! You'll complete daily pre-use inspections of the zipline and low ropes course to ensure safety. You're in a unique position to meet every camper that comes to camp, and will live out our "Challenge by Choice" philosophy to help campers overcome hesitations and fears.
With a fleet of Trek mountain bikes, you've got an eye for safety first, and also a need for speed! You'll adjust bikes and helmets to fit campers, perform basic preventive maintenance and repairs, and ensure the mountain bike course is in tip-top shape. For our younger campers, you'll supervise their use of pedal go karts on a paved track. While basic repair skills are preferred, a high degree of expertise is not required.
From cuts and scrapes to bumps and bruises, you're the first call for camper and staff injuries. At an outdoor adventure camp, risk is mitigated but minor injuries still occur. You'll render basic first aid in line with your skill set and our standing orders,, properly control and dispense medication, and escalate an issue to an EMT or other medical professional when necessary. You lend a listening ear to campers experiencing homesickness or uneasiness being at camp. In this role, calm professional communication with parents and guardians is a must, as is detailed record keeping. First Aid/CPR certification and experience is required.
SKILLS YOU'LL BUILD WORKING AT CAMP
(adapted from the American Camp Association)
Oral Communication Skills

You will be required to communicate effectively with people at every level of the organization – campers, fellow staff, and parents/guardians

Critical Thinking and Problem Solving

You will be challenged to think on your feet to resolve a myriad of issues around behavior choices, social dynamics, health and safety, and more

Interpersonal and Leadership Skills

You will model professionalism and compassion by managing a group of campers, while contributing to the growth and development of each camper and colleague

Collaborative Skills

You will receive on-the-ground, practical, real life training in how to work with a team and help build the culture of our camp community

Creativity

You will develop innovative and fun ways to engage an audience of two to 200 and implement alternate plans when faced with unexpected changes to the daily routine
2023 Camp Staff Schedule and pay scale
Staff training week begins on May 22nd and ends on May 26th
Camp is in session from May 30th through August 4th
Staff are expected to attend training week and at least 8 of the 10 weeks of camp
Camp staff work Monday-Friday, 8am-4pm daily, typically working 40 hours/week in these full time, seasonal positions. Benefits are not provided. Overtime, when available, is optional.
| Role | Pay |
| --- | --- |
| First-year Counselors and Lifeguards | $13.00/hr |
| Returning Counselors and Lifeguards | $13.50/hr |
| First Aid Specialist, Camp Photographer, Mountain Bike Leader, and Zipline Leader | $14.00/hr |
Over the course of a paid week of staff training, you will:
Learn the "hard skills" of camp, like how to facilitate each camp activity, where things are located across our expansive grounds, First Aid and CPR, and our youth protection barriers

Learn the "soft skills" of camp, like positive behavior supports, working with campers with special needs, conflict resolution, and effective communication

Begin building relationships with the other camp staff members that you'll collaborate with to deliver an excellent camp experience
8:00 am: Arrive at Conner Prairie, grab your clipboard and radio. Review the day's schedule with your co-counselor
8:30 am: Campers arrive! Greet them with a smile, get them checked in, and answer any parent/guardian questions
9:00 am: Head on over to the archery range! Give a safety briefing, then help your campers dial in their aim
10:0 0am: Time for a hike in the North Woods! Grab a tree identification guide before you leave, and keep an eye out for squirrels, groundhogs, and white tailed deer
11:00 am: Another group is ready to play a game of Capture the Flag with you!
12:00 pm: Lunch! Each camper brought a lunch and so did you- head to your picnic pavilion to refuel together
1:00 pm: Hot weather and sunshine makes for perfect swimming! Get your campers down to the pond, and back-up the lifeguards as an extra set of eyes on the docks
2:00 pm: Many campers wear their camp shirts on Friday, so take your group to the tie-dye station and flex those creative skills
3:00 pm: The day isn't complete without a Flavor-Ice! Head back to your pickup location and debrief the day with our campers.
3:30 pm: Ensure each camper is properly signed out by an authorized pickup person, and fill parents/guardians in on the highlights of their camper's day
4:00 pm: Head home for some rest and relaxation so you come back ready for a different set of activities tomorrow! 
This information provided on this page is for general illustrative purposes and is not a guarantee of job components, outcomes, nor available work hours.