New Adult Volunteers Encouraged to Join the Conner Prairie Alliance!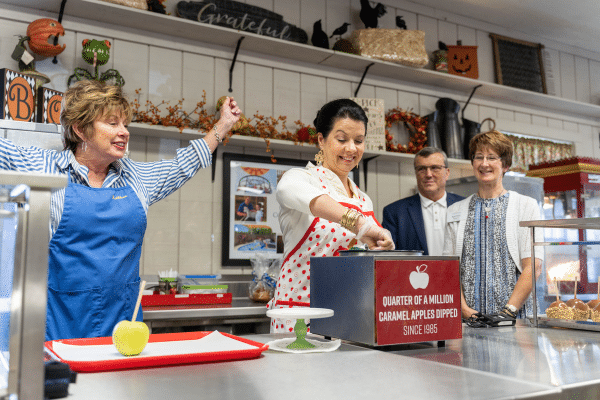 The Conner Prairie Alliance is excited to re-open its annual Apple Store at Conner Prairie on September 15th and is accepting new adult members into the Conner Prairie Alliance!
As a member of the Conner Prairie Alliance, you will have the chance to dip our famous caramel apples and serve our frosty cider slushies to the visitors that anxiously await the re-opening of our Apple Store each fall. It is an incredibly fun endeavor as you make friends and support an organization you already know and love! Our team enjoys supporting the missions of Conner Prairie as we see our efforts are rolled back into the programming, exhibits, improvements and maintenance of the buildings and grounds every day.
By joining the Alliance, you will be able to further your enthusiasm for the museum with additional "behind the scenes" exclusives and opportunities with the collections and staff.
The commitment this fall is proposed for one day a week from September through the first week of November. We have volunteer opportunities during the day, at night and on weekends. By making this commitment, you will be able to join the Conner Prairie team during our monthly meetings and participate in any of our interest groups that meet throughout the year. You will definitely grow in your appreciation of all things apple and in your appreciation of Conner Prairie.
I've always been a supporter of Conner Prairie and its programs…and now I have made more friends and have a sense of stewardship for Conner Prairie. I was surprised to find out how as a member we can impact future programming and learn about the many ways Conner Prairie seeks to preserve a unique slice of Indiana's history and make it relevant for today's audiences.
I hope you'll consider joining me as a member of the Conner Prairie Alliance!
Join us! For more information about the Apple Store, click here.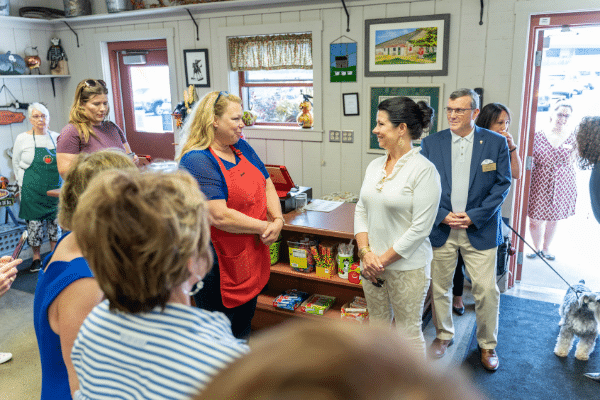 About the Author
Lori Goldsby (in the red apron) member of the Alliance since 2016.