Life at 377 Feet: The History of Conner Prairie's Balloons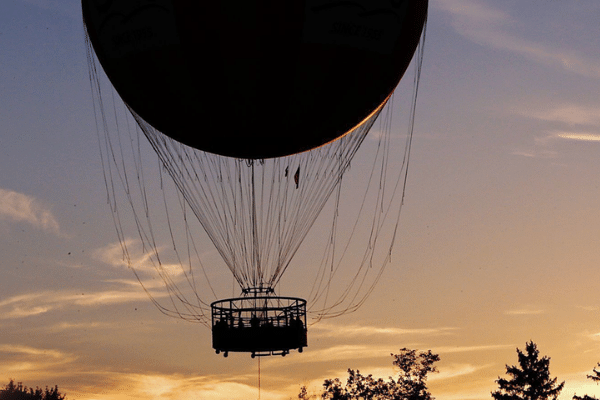 While traveling and camping west of the Grand Canyon National Park years ago, my spouse and I took in a 30-minute ranger talk one evening entitled, 'What it feels like to be a canyon'. My eyes rolled a bit at the topic, but hey, we were tourists.
Fast forward 30 year and I now sometimes speculate on what it must feel like to be a balloon…I'm not kidding. Much like our personal automobiles, inanimate objects sometimes take on their own personalities. Flying machines are no exception.
Meet Rhonda, Conner Prairie's First Balloon
Conner Prairie has been flying the same model of balloon, also known as an envelope, since 2009. Little known to most staff and the public, the balloon crew gives each envelope an unofficial name. In the keeping of maritime tradition, aircrafts typically take on feminine names as well. Our first balloon, Rhonda, began this internal trend.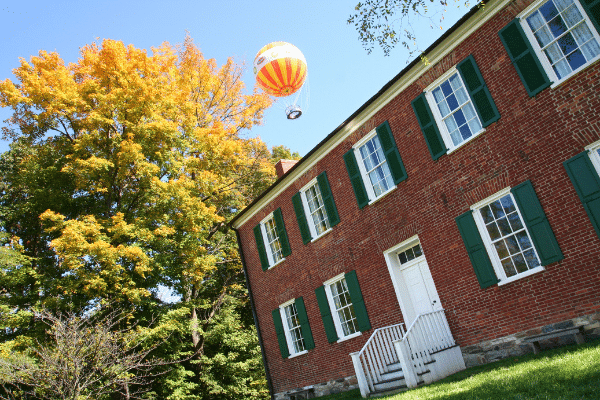 The Inflation of Amélie
Rhonda served Conner Prairie faithfully for six years until replaced by our current balloon, Amélie, who was inflated in 2015. If you've noticed a French connection between both names that is intentional. As each envelope is custom-designed in France, naturally a French name is required. In Amélie's case, it was to honor the U.S.A.'s extraordinary aviator, Amelia Earhart.
Amélie flew approximately 95,000 passengers from 2015 to November 2020, among them was a 90-year old great-grandmother whose wish list included flying our balloon for her birthday. Her family maintains she will never forget the experience. Amélie also greets a young girl every morning watching from her bedroom window from a nearby neighborhood. I know this because the youngster has written to me twice.
At 377 feet above the ground, Amélie can see 24 miles south all the way to the Indianapolis International Airport on a clear day. If she looks north, she can see more than three dozen wind turbines turning and flashing near Tipton, Indiana.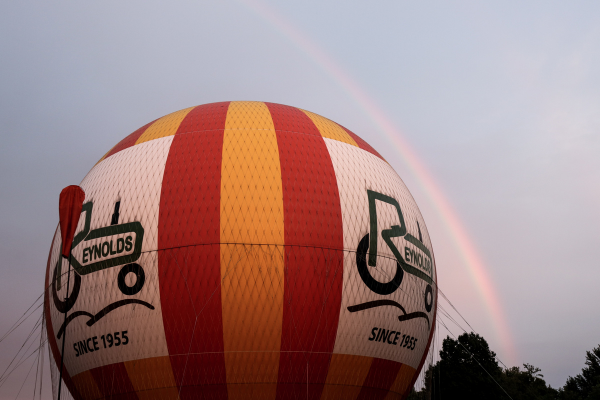 Amélie has flown guests from all paths and stages of life; exchange students, nurses, hairdressers, civil engineers, taxidermists and several veterans from several wars. She's flown folks from Brazil, Senegal, Niger, Venezuela, Canada, Japan, Switzerland, China, India, Malaysia, South Africa and Australia. And yes, France. In addition, our surrounding Amish communities seem particularly drawn to flying her and I have found they ask some of the best questions.
While we pilots tend to point out major attractions and features from our rehearsed viewpoints, her passengers oftentimes take away something much different from the balloon experience. They may not be able to see the Pyramids Office Building 15 miles to the west, but they notice how quiet it is at such an altitude. Or, the close proximity that red-tailed hawks and turkey vultures have with us at the top of each ascent. Or, how pretty and green the Prairie is below in springtime while the trees show-off all the warm colors of fall in October. Or, how clearly they can hear our sheep and goats calling out to each other while running back to the barn.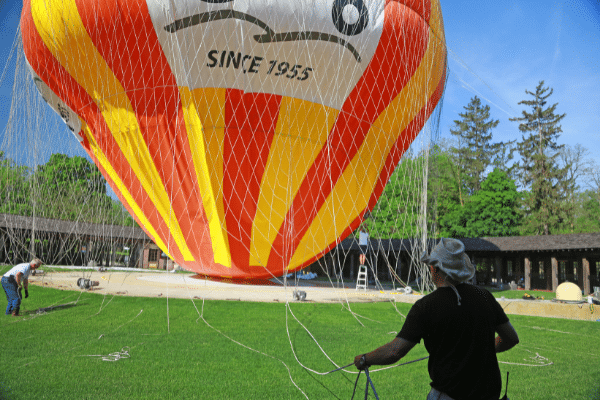 Balloon Deflation Day at 1859 Balloon Voyage
I'd like to think that Amélie was able to absorb all of these passengers' memories and experiences, store them and then pass them along from her envelope to the next. How that's achieved is a mystery, but then so is flying. Amélie is sure to be missed by us here at Conner Prairie and by her many passengers and fans. The beautiful envelope was deflated on May 21, 2021.
I am certain that when guests ask if they can fly our brand-new balloon again and again on their next visit 'she' will most certainly tell them (insert French accent here), "But of course! J'adore voler!" You can visit our new envelope starting on July 1, 2021.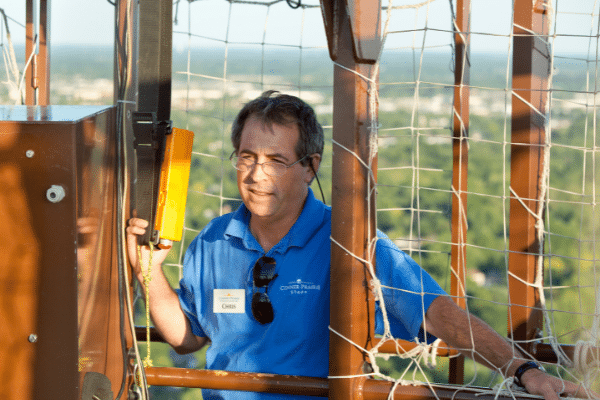 About the Author
Chris Greiling has been Balloon Manager and Chief Pilot for ten years and has worked at Conner Prairie for twenty. He lives in Fishers with his spouse, dog, cat and several unwanted chipmunks.