Exploring History Through Conner Prairie's Chautauqua Series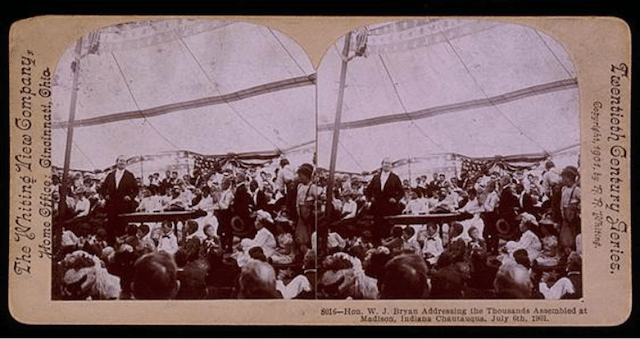 Stereograph of Madison, Indiana Chautauqua – July, 1901
In 1878, the Chautauqua Literary and Scientific Circle (CLSC) was founded to provide those who could not afford the time or money to attend college (or those excluded because of gender or geography) the opportunity of acquiring the skills and essential knowledge of a college education. The four-year correspondence course was one of the first attempts at distance learning.
The CLSC was an extension of the organized secular gatherings begun in 1873 by John Heyl Vincent, a hellfire-and-brimstone preacher, and Lewis Miller, a wealthy farm implements manufacturer from Ohio. The Chautauqua name came from the New York lake, adjacent to where the first gatherings took place.
Besides broadening access to education, the CLSC program was intended to show people how best to use their leisure time and avoid the growing availability of idle pastimes, such as drinking, gambling, dancing, and theater-going, that – in CLSC founders' opinion – posed a threat both to good morals and to good health. Under the leadership of director Kate F. Kimball, 264,000 people—three-quarters of them women—had enrolled in the CLSC by the century's end.
The Rise of a National Chautauqua Movement
With the success of the CLSC, many new traveling Chautauquas were created, known as "daughter" or "sister" Chautauquas, giving rise to a national Chautauqua Movement. By 1880, these gatherings became forums for open discussion of public issues, international relations, literature, and science. By 1900, nearly one hundred towns, mainly in the Midwest, held assemblies on grounds patterned on the original Chautauqua.
The society spread throughout rural America, bringing entertainment and culture for the whole community, with speakers, teachers, musicians, entertainers, and specialists of the day. As we entered the 20th century, these circuits served as vital links to the outside world for some 6,000 small towns. Former U.S. President Theodore Roosevelt was quoted as saying that Chautauqua was, "the most American thing in America".
In the mid-1920s, the rise of commercial radio, movies, automobiles, and an expanded consumer culture signaled the end of the circuits' popularity in rural America, and the last tent show folded in 1933. In our 21st century age of digital socialization, especially post-2020, there is a growing desire among adults to come together and engage in an informative, yet casual, way.
Chautauqua at Conner Prairie
That's just what our Chautauqua series offers. At Conner Prairie, we believe in our mission to inspire curiosity and foster learning aligns effortlessly with many of the ideals behind the Chautauqua Literary and Scientific Circle. These singular evenings are an opportunity to learn, socialize, and engage on a thematic topic. Through presentation, interactive, and hands-on activities, guests acquire knowledge across a wide range of interesting topics: historical preservation, herbal medicine, safe foraging, even Indiana's shocking history of serial killers! On-theme light appetizers and custom cocktails start off the evening, which take place in varying locations across Conner Prairie's expansive grounds.
On August 19th, we'll be exploring a brief history of beauty, focusing on the ways cosmetics changed the face – literally – of the ideal. We'll also learn about the nefarious and dangerous side of make-up, perform historical makeovers, and engage the senses by making take-home historical recipes for perfume and salve.
It would be beautiful if you joined us.
Fashion, Face-Paint, and Felonies: A Brief History of the Use and Misuse of Beauty Treatments
Thursday, August 19th
6:30pm – 9:00pm
$35 non-member/$30 member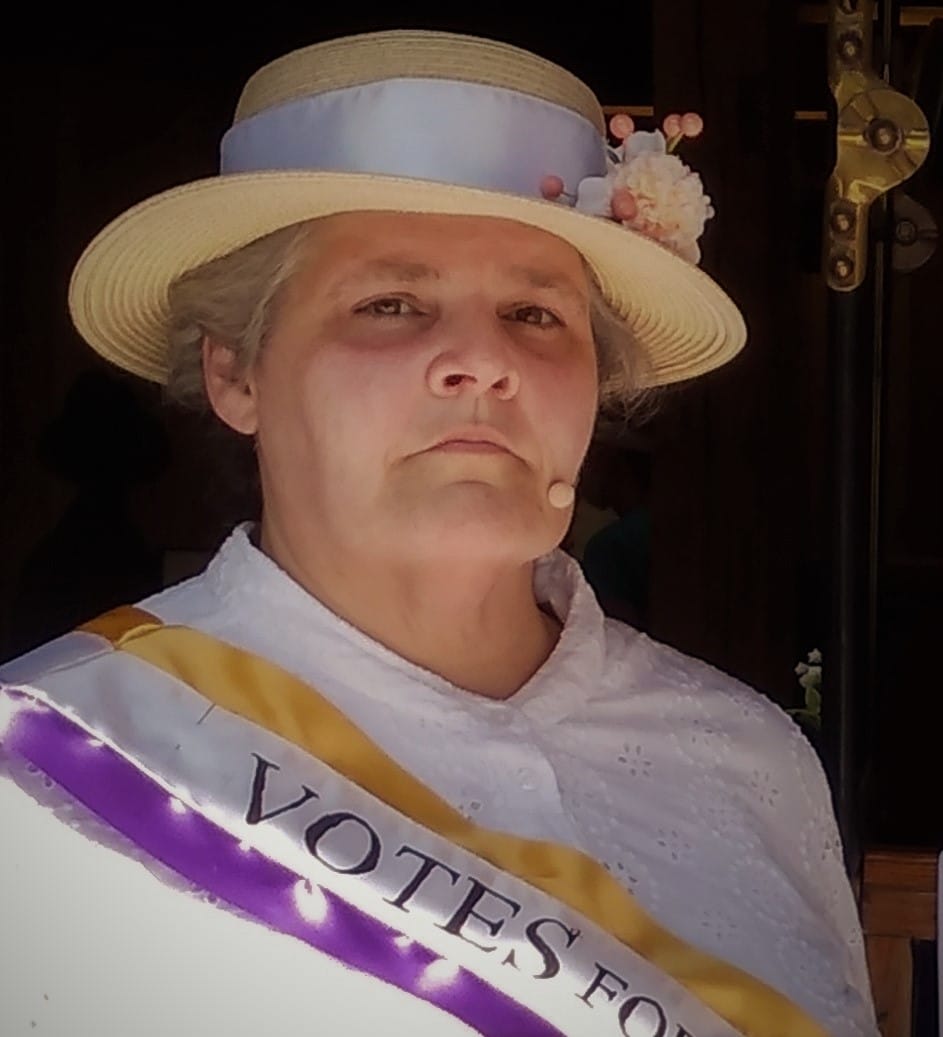 About the Author
As a Program Developer at Conner Prairie, Kim McCann creates programming content and helps to implement special events. She is an award-winning storyteller, hobby mixologist, and a lover of poetry.