Endless Exploration: Your Conner Prairie Membership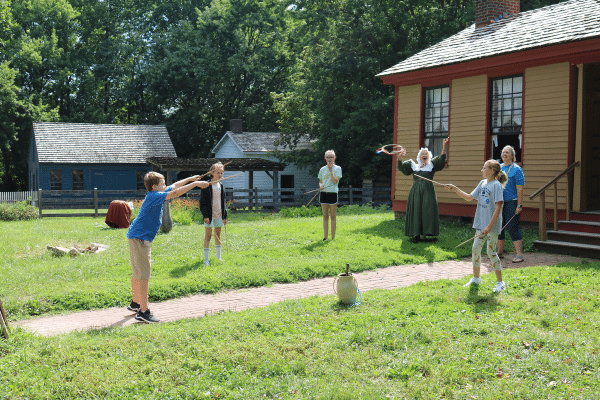 "Hey, Conner Prairie, when can we come back?"
This is a question asked by many intrepid explorers at the end of busy days spent at Conner Prairie. Frankly, they make a good point. There are many reasons to keep coming back; maybe the carpenter mentioned a project he's working on this week and you're itching to see how it turns out. Perhaps a rare-breed calf was just born and you want to watch her grow up over the summer. Whatever your reason, you might not want to wait until next year to plan your next visit.
Who says you have to wait? What if you always had a gateway to endless exploration right here at Conner Prairie?
Membership to Conner Prairie affords our guests the unique opportunity to explore this historic place whenever and however they choose. Whether planning an all-day outing or just stopping by to visit their favorite house in Prairietown, our members know that any day can be an adventure. Bring the kids, plan a date, or come by on your own; there isn't a bad way to visit! With a membership, you can learn, play, and discover on your time.
Members delve into Conner Prairie in truly special ways. For some, it's checking in and proudly saying, "I don't need a map. I know this place like the back of my hand." For others, it's bonding with a particular animal or knowing staff and volunteers by name. Member children might become mini experts on historic balloons or take up a hobby they learned about in the Loom House. In many cases, Conner Prairie can become a home away from home, a location filled not just with excitement but also with comfort and familiarity. Long-time members know that this is more than a historic site; it is a place of community.
We are lucky enough to get to know many of our regular members, recognizing them when they stop by and keeping up with their stories as they continually support ours. We've watched member children grow up and start bringing in their own families, a testament to the timeless appeal of our site. A large number of Conner Prairie employees and volunteers started out as guests who saw what this unique historic place was doing and wanted to become a part of it. There is an undeniable draw to this place and many of us just can't seem to stay away.
The Importance of Membership
Membership programs directly contribute to building up the internal community at Conner Prairie. On any given day, we may see thousands of visitors coming through our doors and a huge percentage of those individuals are members. Conner Prairie Members are our built-in audience and biggest cheerleaders, so we always plan programming with them in mind. Membership revenue feeds our ability to grow, evolve, and become better each and every year. We couldn't do it without you.
Membership Levels at Conner Prairie
Who can be a Conner Prairie member? Anybody! Whether you are a curious individual, a family of explorers, or a grandparent looking to entertain the kids– there is a Conner Prairie membership designed with your household in mind. We currently have over 29,000 members in over 6,000 households. Family memberships start at $120 and can be upgraded to include a caregiver or additional guests. Mission Impact members get even more special perks and access to unique experiences throughout the year.
If you aren't sure whether or not membership is right for you, give us a test run! General Admission tickets can be applied towards a new membership for up to seven days after your visit, so it's easy to come out for one day and then decide what's best for your household. If you come back just two or three times in one year, your membership will pay for itself.
If you'd like to learn more about our membership at Conner Prairie, stop by the FAQ page or get in touch with our team by emailing member@connerprairie.org. Whether you're a new visitor, a long-time donor, or anything in between, we're grateful to have you join us in our mission to inspire curiosity and foster learning by providing engaging and individualized experiences for everyone.
P.S. Did you know that your Conner Prairie membership gets you VIP treatment at other institutions, too? Sites participating in the Time Travelers Network grant discounts and Smithsonian Affiliate museums offer free general admission to cardholders. Call ahead of your visit to any of these locations for the most up-to-date details!
About the Author
Maggie McLeish Williams grew up visiting Conner Prairie with her parents and friends and eventually joined the Youth Volunteer program before becoming a staff interpreter in 2012. She received her bachelor's degree in Theatre Creation from Ball State University and continues to work in the performing arts alongside her current role as Membership Coordinator here at Conner Prairie. While her hobbies include modern-day ventures into visual art and design, she still devotes spare time to knitting and baking, two pastimes picked up during many formative days spent in 1836 Prairietown.