Adventures on the Prairie – The Conner Prairie-Hamilton Southeastern Schools Partnership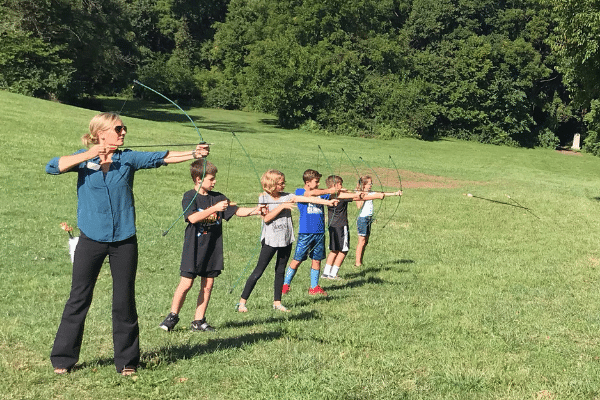 HSE Teacher-in-Residence Amy Murch teaches Archery to HSE 4th graders. Pre-Covid. Photo Credit: Unknown
The Adventures on the Prairie partnership
Here at Conner Prairie our mission is to be, "….a unique historic place that inspires curiosity and fosters learning by providing engaging and individualized experiences for everyone." One of the ways we fulfill that mission is by our incredible partnership with our local school district, Hamilton Southeastern Schools (HSE).
This partnership, titled Adventures on the Prairie is part of a larger, city-wide initiative to give HSE students opportunities to experience the many things our community has to offer. At Conner Prairie, this means we host all of the 4th graders from HSE elementary schools over the course of a given school year,often hosting each classroom multiple times!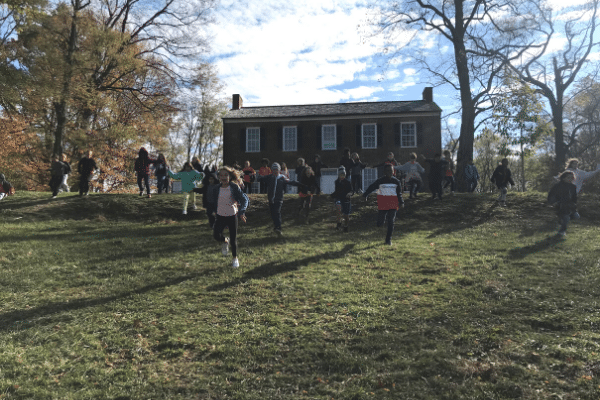 The Adventures on the Prairie partnership provides HSE teacher-in-residence, Amy Murch, with her own classroom here on the grounds. Working in partnership with Conner Prairie's Education Department over the past three years, we developed an amazing array of lessons for the HSE students. These lessons make use of Conner Prairie's amazing natural surroundings and incredibly knowledgeable staff. Lessons are designed around the Indiana Department of Education's State Standards and are enhanced by the brilliant interpretation of the Conner Prairie staff.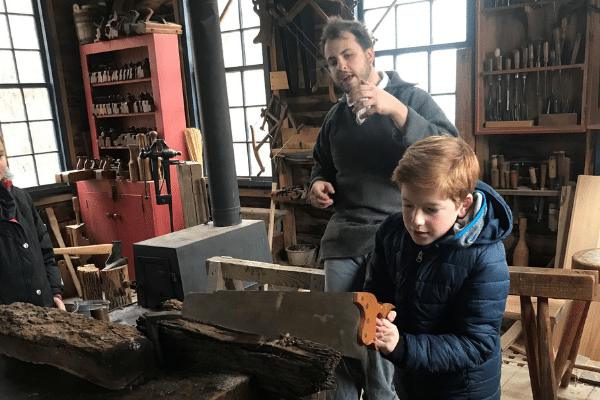 Mrs. Murch coordinates with HSE 4th grade classroom teachers from all 13 HSE elementary buildings to choose the topic(s) they are interested in covering at Conner Prairie and a date(s) to visit. On the day of their trip, the students board the bus for Conner Prairie in the morning and spend most of their school day here. Depending on what topic they cover, students may be hunting for simple machines in Prairietown, shooting a bow and arrow while learning about forces and motion, marching with a Civil War soldier, visiting the White River to test their understanding of buoyancy, throwing a tomahawk to learn about forces of flight, or another interactive activity on the grounds. Over the course of our first school year, Conner Prairie successfully hosted over 5,900 HSE 4th grade students!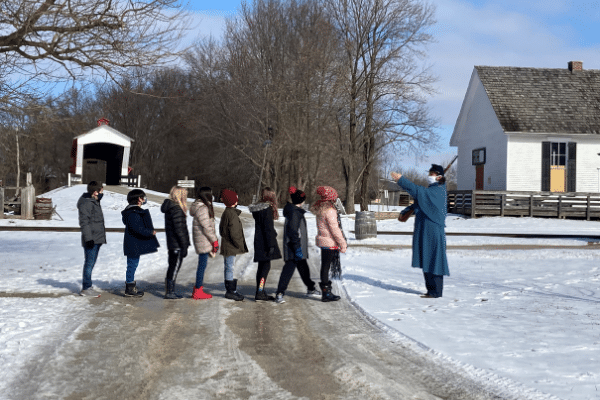 This unique partnership gives both parties amazing opportunities. For the school district, students have deep experiences in a unique classroom and see that learning can, and does, happen everywhere. For Conner Prairie, we provide unique experiences to students who get to see and use our resources and grounds, as well as engage with people in new and powerful ways.
Past Student Activities:
Searching for simple machines throughout our 1836 Prairietown village
Interviews with 1859 Balloon Voyage pilots about simple machines and forces of flight
Study buoyancy in the White River by building boats out of cardboard
Examine forces and motion with tomahawk throwing, archery, and sledding
Practicing debate and persuasion by collecting evidence around a claim by interviewing interpretation staff and historians in the 1823 Conner House
Learning about the Underground Railroad by interviewing four historic characters
Understanding perspectives by visiting 1863 Civil War Journey and engaging with staff and interactive theatrical equipment
Discovering types of energy by learning how people started fires and chopped wood
Studying changes in nature by:

Working with Agriculture staff to learn about livestock genetics and offspring
Learning about plant & animal adaptations with Prairietown characters
Understanding ways wool and plants are used to create yarn and textiles
Talking with a fur trader to understand the fur trade and ways animals were used for survival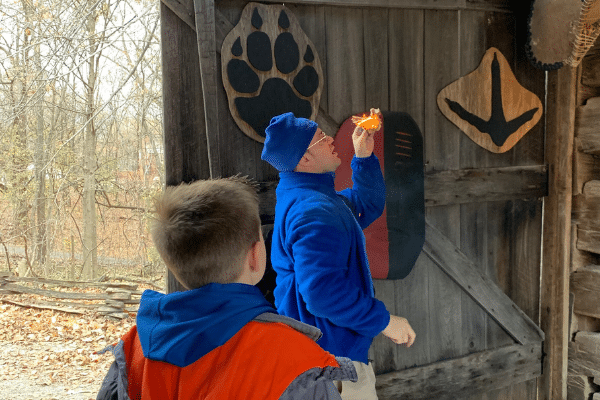 The 2020-2021 School Year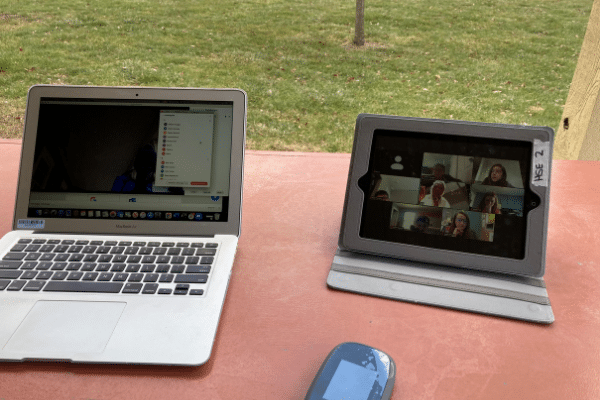 With the current COVID-19 pandemic, obviously, things had to change for the 2020-2021 school year. Despite most field trips in the Hamilton Southeastern School district being cancelled, we were able to continue with our curriculum-based learning with adjustments to meet with every 4th grade student in the district. While in the past, often two or sometimes three classrooms visited at a time for two consecutive days, this year, only one classroom visited Conner Prairie on any given day. Additionally, our goal became for as many classes as possible to visit safely in person at least once, instead of the usual two to four visits.
When HSE was 100% virtual,Mrs. Murch and Conner Prairie's Education and Interpretation Departments worked together to create virtual experiences for students. This meant adventures like using Zoom breakout rooms so that students could work in small groups with multiple historic characters or exploring through Prairietown by carrying a laptop to connect to the students and another to connect to the internet throughout all historical buildings and barns. As of today, the virtual program allowed both Conner Prairie to stay connected with over 1,900 HSE 4th graders!
When HSE adjusted their school schedule to make all Fridays eLearning days, we decided to use this time to address a challenge we found classroom teachers facing: not enough time during the week to cover science. We began doing a variety of Zooms that addressed different 4th grade science topics which classroom teachers could sign up to join. Some of the things we did included finding evidence of weathering and erosion at Conner Prairie where we explored ravines/creek beds to see erosion and examined repairs on historic buildings to see the difference between new and old materials. We explored life cycle and biology by spending a day at the chicken coop and demonstrated forces and motion by sledding down a snowy hill!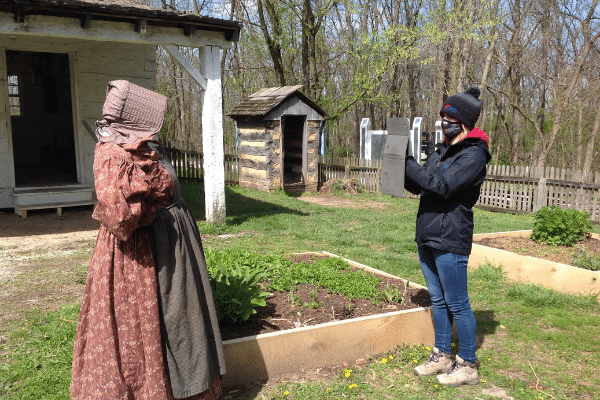 While this past school year has not been what we expected, the partnership between Conner Prairie and Hamilton Southeastern Schools, Adventures on the Prairie, proved that by working together, we can continue to find new, innovative, and creative learning opportunities for students, now and in the future.
K-12 Education at Conner Prairie is proudly supported by OneAmerica Financial Partners.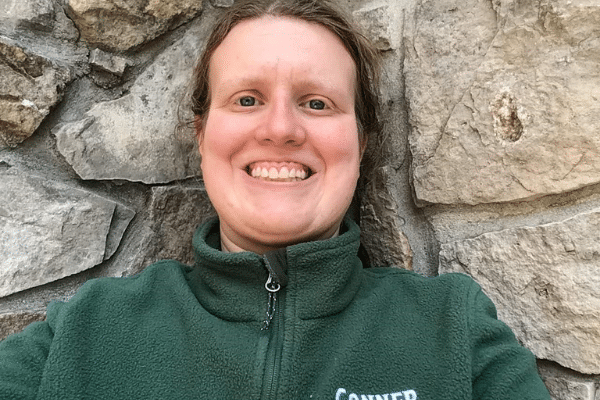 About the Author
This blog post was written by Laura Mortell in partnership with Amy Murch, HSE Teacher-in-Residence.
Laura Mortell is the School Programs Coordinator at Conner Prairie. She started at Conner Prairie as a youth volunteer in 2004 and has been on staff since March 2010. Over the past 11 years she has been in many roles including working in the Welcome Center and in historic clothing in 1836 Prairietown. She now works in the Education Department on a variety of school projects.